Recipes
Buffalo Chicken Burgers
We have brought you a number of variations on Buffalo wings over the years. We even shared a recipe for Buffalo shrimp. We are long overdue in sharing this great recipe for Buffalo Chicken Burgers. Buffalo sauce is whipped together from scratch and mixed into the patty along with crumbled blue cheese. We add a hint of celery flavor by mixing the seeds into the mayonnaise we spread on the buns. As written, this recipe is mild in spiciness. For hotter burgers, add a little dried cayenne pepper to the patty mixture.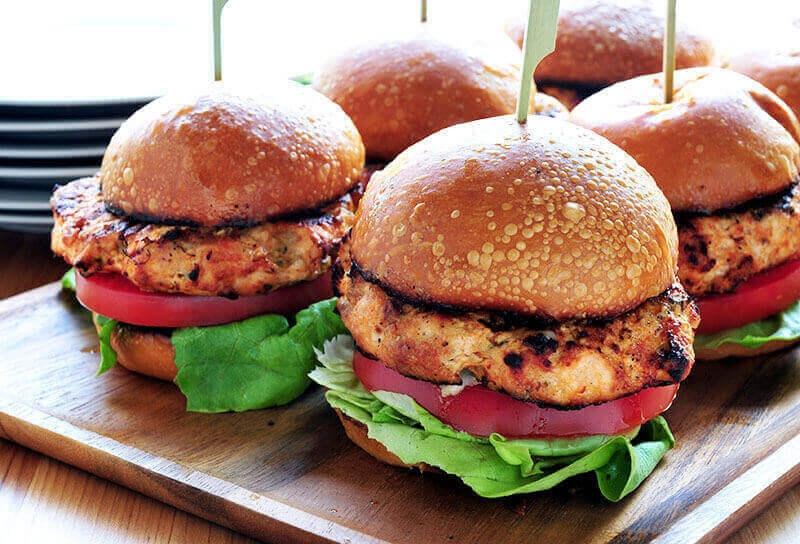 ---
Ingredients
2 tablespoons melted butter
1/4 cup hot sauce (I use Cholula)
1 dried pasilla ancho chile, stemmed, seeded and ground
3 pounds ground chicken breast
1/2 pound Maytag blue cheese, crumbled
Bread crumbs (optional)
Extra virgin olive oil
Fine sea salt
Coarsely-ground black pepper
3/4 cup mayonnaise
1/2 teaspoon celery seed, finely ground
6 golden hamburger buns
1 head butter lettuce
6 slices tomato
Directions
Prepare the grill for direct grilling over a hot fire.
Whisk together the butter, hot sauce and ground chile in a large bowl. Add the chicken breast and blue cheese. Gently fold the ingredients together with a spatula. (Try not to over-work the ground chicken. I think it ruins the texture of the burger.) You may need to add a little bit of bread crumbs if the mixture is too soft. Form into 6 patties shaped so that they are slightly thinner in the middle (a trick from Bobby Flay to keep burgers flat once they begin puffing up in the center). Lightly brush the patties with olive oil and season with salt and pepper.
Stir together the celery seed and mayonnaise. Spread a thin coating of the mixture onto the cut sides of each bun. Reserve the rest.
Grill the chicken burgers for 3 to 4 minutes per side, turning only once, until cooked through. Grill the buns until lightly toasted.
Spread a small amount more mayonnaise onto the bottom half of each bun. Add a lettuce leaf, a tomato slice and the burger. Finish with the top bun and enjoy. Serve with a little extra hot sauce on the side for people, like me, who love their Buffalo burgers spicy.