Recipes
Brussels and Beans Salad
I was thinking about variations on traditional bean salads that I could share with you, but wasn't having much luck. Then I saw the gorgeous Brussels sprouts at the market, and that was all the inspiration I needed. The roasted sprouts taste great with kidney and garbanzo beans, taking on a flavor somewhere between meaty and nutty. And, of course, everything tastes better with bacon!
This salad can be served cold, several hours after preparing, or it can be served warm from the grill. You will need a perforated grill pan for roasting the sprouts.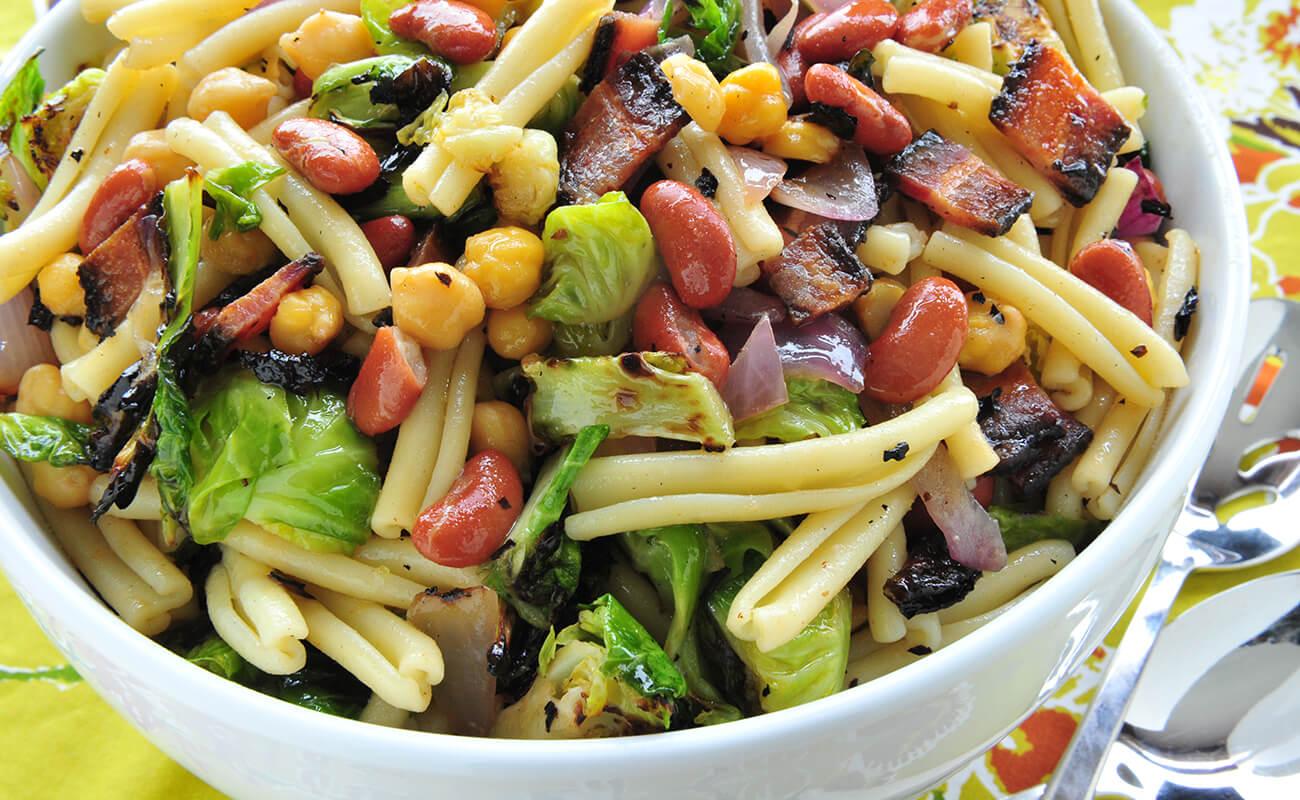 ---
Ingredients
1 pound bacon (I use dry-rubbed Black Forest bacon cut nice and thick)
1 pound pasta (I use dried casarecce)
Extra virgin olive oil
1 pound Brussels Sprouts, trimmed and quartered
1 red onion, halved (leave the outer layers on)
Fine sea salt
1 pound frozen garbanzo beans, thawed (use canned if you can't find frozen)
1 pound canned kidney beans, rinsed and drained
For the dressing:
1/4 cup Champagne vinegar
2 tablespoons light brown sugar
1/2 cup extra virgin olive oil
Directions
Cook the bacon until crisp. Cut up and reserve in the refrigerator.
Cook the pasta al dente then rinse immediately under cold water to stop the cooking. Toss with a little olive oil to avoid sticking and reserve in the refrigerator.
Prepare the grill for high-temperature roasting (indirect grilling) at 500º to 600ºF.
Toss the sprouts in just enough olive oil to lightly coat and season liberally with salt.
Brush the cut sides of the onion with olive oil and season with salt.
Place the onion directly over the fire with the cut-side down. Place the sprouts in a single layer on a perforated grill pan in the indirect zone. Roast with the hood closed, turning the sprouts occasionally, until they are brown on the edges and cooked through, about 12 minutes. Move the onion to the indirect zone after about 5 minutes and let it finish with the sprouts. (If you cannot reach such high temperatures in an indirect zone, keep the sprouts in the grill pan directly over the fire for some of the cooking time and turn more frequently.) Remove all from the grill.
Make the dressing while the onion and sprouts cool a little. Combine the vinegar and sugar in a small saucepan. Bring to a simmer over medium heat until the sugar dissolves. Remove from heat. Whisk together the olive oil and vinegar mixture to form an emulsion.
Coarsely chop the onion. Fold together the bacon, pasta, sprouts, onion and beans along with the dressing. Serve warm or refrigerate for serving later.