Recipes
Broccoli Raab and Ricotta Cream Pizza
We start with rich and smooth ricotta cheese and heavy cream for a luscious base. Then we top it with caramelized onions for sweetness, Meyer lemon for its bright zing of citrus flavor, and the herbaceous bitterness of broccoli raab adds an interesting element to round out the exciting palette of flavors. This is another great summer pizza that can be served as an appetizer or entrée.
Serves Two 11 to 12 inch pizzas
---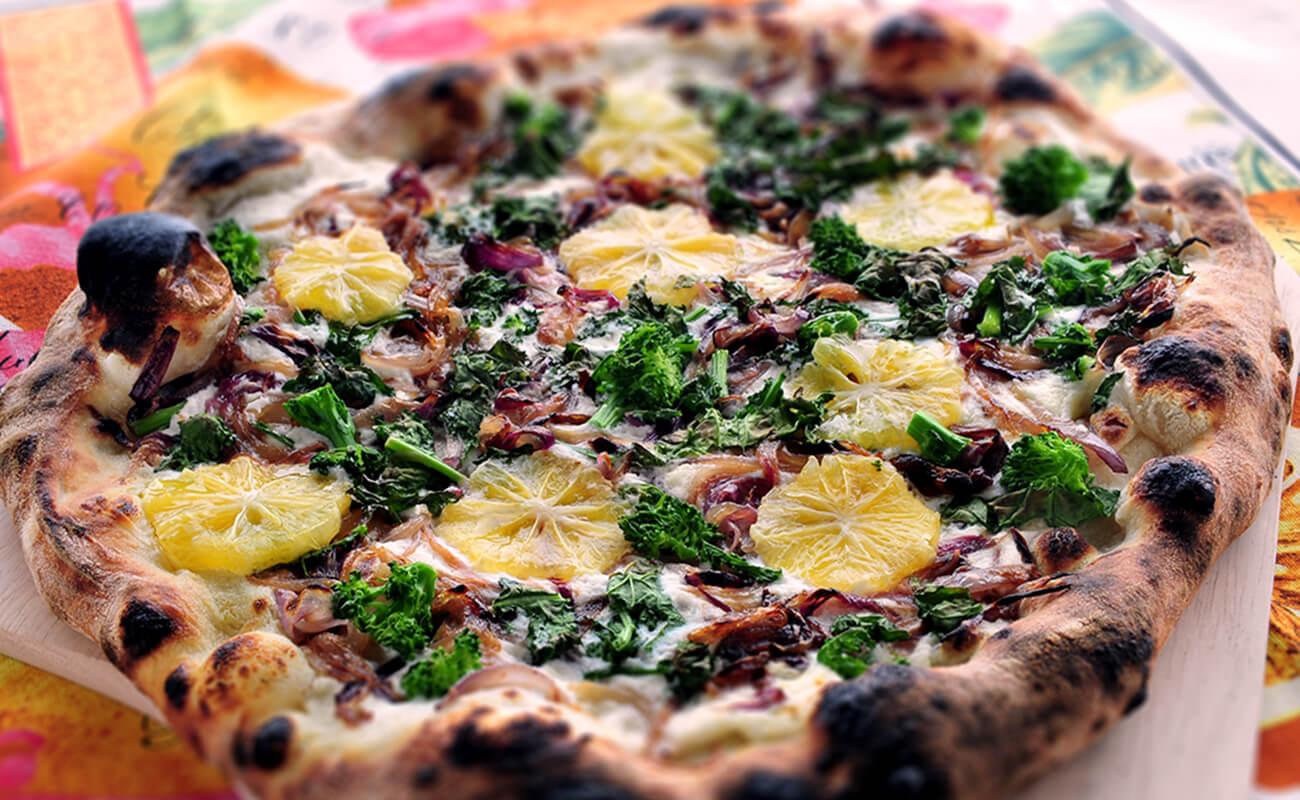 ---
Ingredients
Note: Because of the extra prep work involved in caramelizing the onions and shallots, this recipe is written to yield 2 pizzas.
1 batch White Wine Pizza Dough, about 28 ounces, split into two equal parts
1 tablespoon butter
Three large shallots, sliced lengthwise
2 small red onions, sliced lengthwise
1/2 teaspoon kosher salt or sea salt
1/2 cup ricotta cheese
1/4 cup heavy cream, whipped (for this small amount, I suggest whipping the cream by hand with a whisk)
1 Meyer lemon, sliced as thin as possible, peel and pith removed
Tender tips and leaves from 4 to 5 stems broccoli raab, chopped
Extra virgin olive oil
Directions
Prepare the outdoor pizza oven or grill for cooking pizza. See our instructions for cooking pizza on the grill.
Melt the butter in a medium skillet over medium heat. Add the shallots, onions and salt. Cook over medium heat for about 10 minutes, stirring occasionally, until browned and sweet, but still showing some red color.
Form one dough ball to roughly a 12-inch pizza crust. Depending on your personal preference, place the dough on a pizza peel with enough flour or corn meal beneath to allow the pizza to slide easily — or assemble your pizza on the work surface and then slide the peel underneath at the last minute. Either way, the less time the dough spends on the peel, the less likely it is to stick.
Fold the whipped cream into the ricotta. Use a soft spatula to spread half of it onto the pizza. Top with half of the shallots and onions, half of the lemon slices and half of the broccoli raab. Transfer to the oven or grill and cook until the crust is done.
Drizzle with olive oil before serving.
Enjoy!