Recipes
Brat Burgers with Fennel Mustard Seed Slaw
One of the best parts of cooking from scratch is that you know exactly what is in the food you eat. This has never been truer than with sausage. While it's a great food, there are often questions as to what is actually in there. These Brat Burgers are made from pork shoulder and delicately spiced with juniper berries and fragrant cardamom pods. The fennel slaw on top will make your mouth water.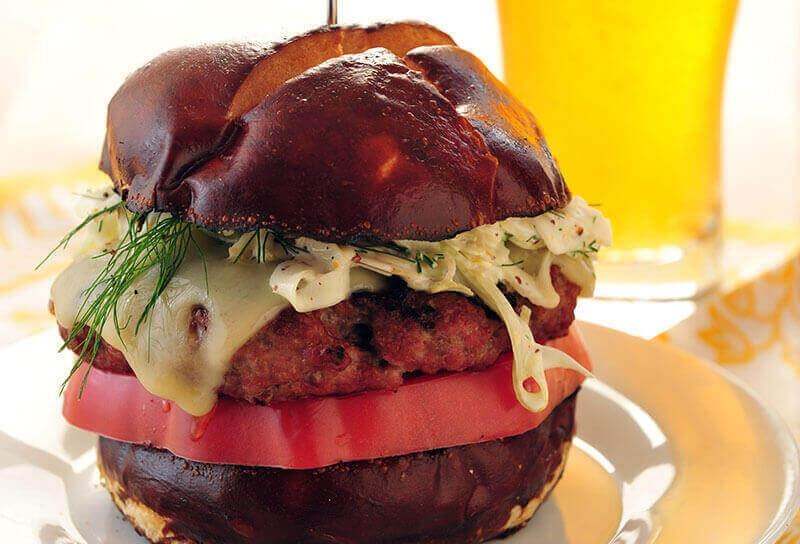 ---
Ingredients
3 pounds pork shoulder
1 teaspoon kosher salt
1/2 teaspoon ground Aleppo chili (you can find this at Williams Sonoma)
1/2 teaspoon freshly-ground coriander
1/2 teaspoon freshly-ground cardamom
1/2 teaspoon freshly-ground juniper berries
1/4 cup mayonnaise
1 teaspoon whole black mustard seed, coarsely-ground
1/2 teaspoon champagne vinegar
2 pinches fine sea salt
About 6 ounces of thinly-shaved fennel bulb plus the wispy fronds
6 slices Emmenthaler Swiss cheese
6 pretzel hamburger buns, sliced
6 large tomato slices
Directions
Cut the pork shoulder into 1/2 –inch cubes. Pork shoulder is roughly 80% lean, so it is perfect for a grilled burger application like this.
Place the meat pieces in a single layer and sprinkle evenly with the salt, Aleppo chili, coriander, cardamom and juniper berries. Please note that the flavor of freshly-ground spices is much stronger than pre-ground spices. A coffee grinder is a perfect piece of equipment for the task.
Transfer the seasoned meat to a metal bowl, cover and refrigerate for 1 to 2 hours. A metal bowl will help transfer the cold to the meat. It is important that the fat be well-chilled prior to grinding.
Place the mayonnaise, mustard seed, champagne vinegar and salt in a medium mixing bowl. Whisk to thoroughly combine. Toss in the fennel and reserve.
Use a meat grinder, a food grinder attachment on your mixer or a food processor to finely grind the meat. Form into 6 equal patties, slightly larger than the buns and recessed in the middles (check out Bobby Flay's burger tip in our Heavenly Burgers recipe).
Prepare the grill for direct grilling over a medium-hot fire, about 500°F. Grill the burgers, turning once, until cooked through, about 5 minutes per side. Add a slice of cheese to each for the last minute of cooking. Lightly toast the buns on the grill at this time.
Assemble the burgers with a slice of tomato and the fennel slaw and serve.