Recipes
Bourbon Gingerbread Pudding
This festive dessert is perfect for the holiday table. Preparing it on the grill with wood smoke adds a welcome layer of flavor. The molasses, candied ginger, bourbon and spices thoroughly infuse the brioche bread, creating an incredibly tasty dessert. If you would like to eliminate the bourbon from the pudding, simply increase the whole milk to a full cup. Lastly, we whipped up a sweet bourbon sauce to top things off and really amp up the festive flavors.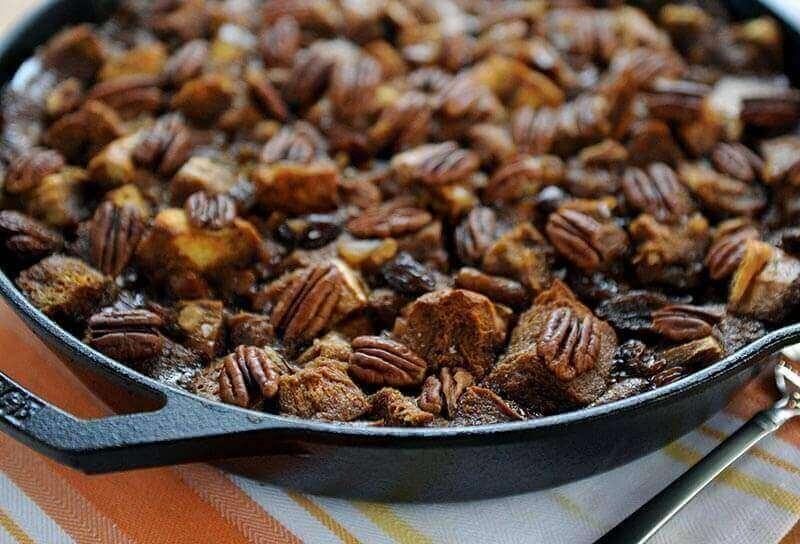 ---
Ingredients
2 large eggs
3 egg yolks
1/2 cup light brown sugar
1/2 cup unsulphured molasses
3/4 cup whole milk
1/4 cup bourbon
3 cups half and half
1 tablespoon of vanilla extract or paste
1/4 teaspoon ground cinnamon
1/2 teaspoon freshly grated nutmeg
3/4 cup golden or green raisins
1/4 cup of finely-chopped candied ginger
Unsalted butter to grease the skillet
18 ounces brioche loaf, cut into cubes
1/3 cup pecan halves
Wood chips or pellets for smoking
Sweet bourbon sauce like this easy recipe from Epicurious.com
Directions
Prepare the grill for indirect cooking at 325°F, preferably with wood smoke. Pecan wood is an ideal choice. For a Kalamazoo Hybrid Fire Grill, run the ignition burner on MEDIUM and a single main burner on LOW (far left, or far right). Wood smoking envelopes can be placed over the active main burner.
Whisk the eggs and yolks together in a large mixing bowl. Whisk in the brown sugar and molasses. Then add the milk, bourbon, half and half, vanilla, cinnamon and nutmeg, whisking one last time to thoroughly combine. Stir in the raisins and candied ginger.
Coat a 12 inch cast iron skillet with butter. Place the bread cubes in the skillet. Slowly and evenly pour in the egg mixture, making sure all of the bread is soaked. Top with carefully-placed pecan halves.
Place the pudding on the grill in the indirect zone. Cook with the hood closed until the internal temperature reaches 170 degrees, about 45 minutes to 1 hour.
Remove the pudding from the grill and let cool for 10 minutes. Drizzle with bourbon sauce and enjoy!