Recipes
Blueberry Pork Chops
Pork and fruit are well-matched, especially pork and blueberries. These glorious chops combine smoky, sweet and savory flavors.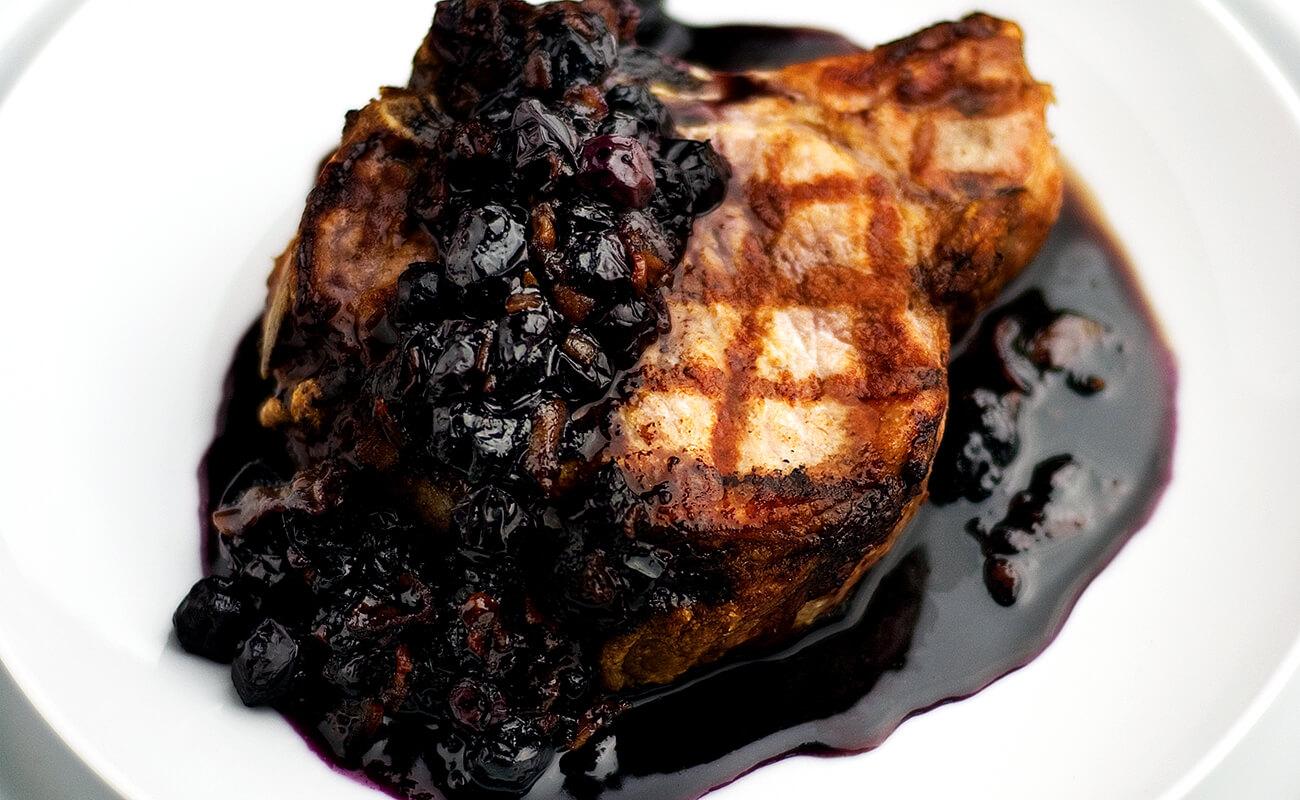 ---
Ingredients
4 pork loin chops, preferably bone-in, about 1-1/2 inches thick
6 ounces pancetta, cooked crisp and broken up
1/2 cup maple syrup
1 pint blueberries
1/2 teaspoon smoked salt, plus salt for the chops
Extra virgin olive oil
Directions
Preheat the grill for combination direct cooking and indirect cooking. The indirect zone should be at about 500°F. While the grill is heating, lightly brush the chops on all sides with olive oil and sprinkle with salt. Smoked salt will jump start the smoky flavor, and is good to use for this recipe even when grilling over a wood fire.
Leave the chops sitting at room temperature while the grill is getting ready, up to 20 minutes. Wash the blueberries and measure out the other ingredients at this time.
Grill the pork chops over direct heat for about 2 minutes per side and then transfer them to the indirect cooking zone. Close the grill and cook the chops for about 20 minutes, turning once halfway through, until an instant-read meat thermometer measures 155°F when inserted away from the bone.
As soon as you have moved the chops to the indirect zone, combine the maple syrup, blueberries and smoked salt in a large saucepan (although the ingredients would easily fit in a smaller pan, the broader bottom should help reduce the sauce more quickly) and bring to a strong simmer over medium heat.
Stir the sauce frequently and avoid a rapid boil. If bubbles begin to build on top of bubbles, lower the heat to avoid burning the sauce. When cooked to 155°F internal temperature, remove the chops from the grill and transfer to plates.
Let the chops rest for 3 to 5 minutes. During this time, stir the cooked pancetta into the blueberry sauce.
Top the chops with sauce, serve and enjoy.