Recipes
Blueberry Peach Crumble
We loved grilling with Chef Wolfgang Puck and his team as they filmed some beautiful cooking action on a Kalamazoo K750HS Hybrid Fire Grill. Towards the end of the day, Chef Sherry Yard prepared a fantastic cherry crumble on the grill. Her approach was genius, using crumbled almond cookies for the topping so that the dish could be grilled quickly and entirely using heat from below. Best of all, there was no need to spend extra time cooking a raw flour topping.
Our recipe adopts her approach with a different flavor profile. There is a hint of fresh ginger in the fruit and a touch of nutmeg in the sugar cookie topping. This recipe is quick, easy and perfect for a summer barbecue.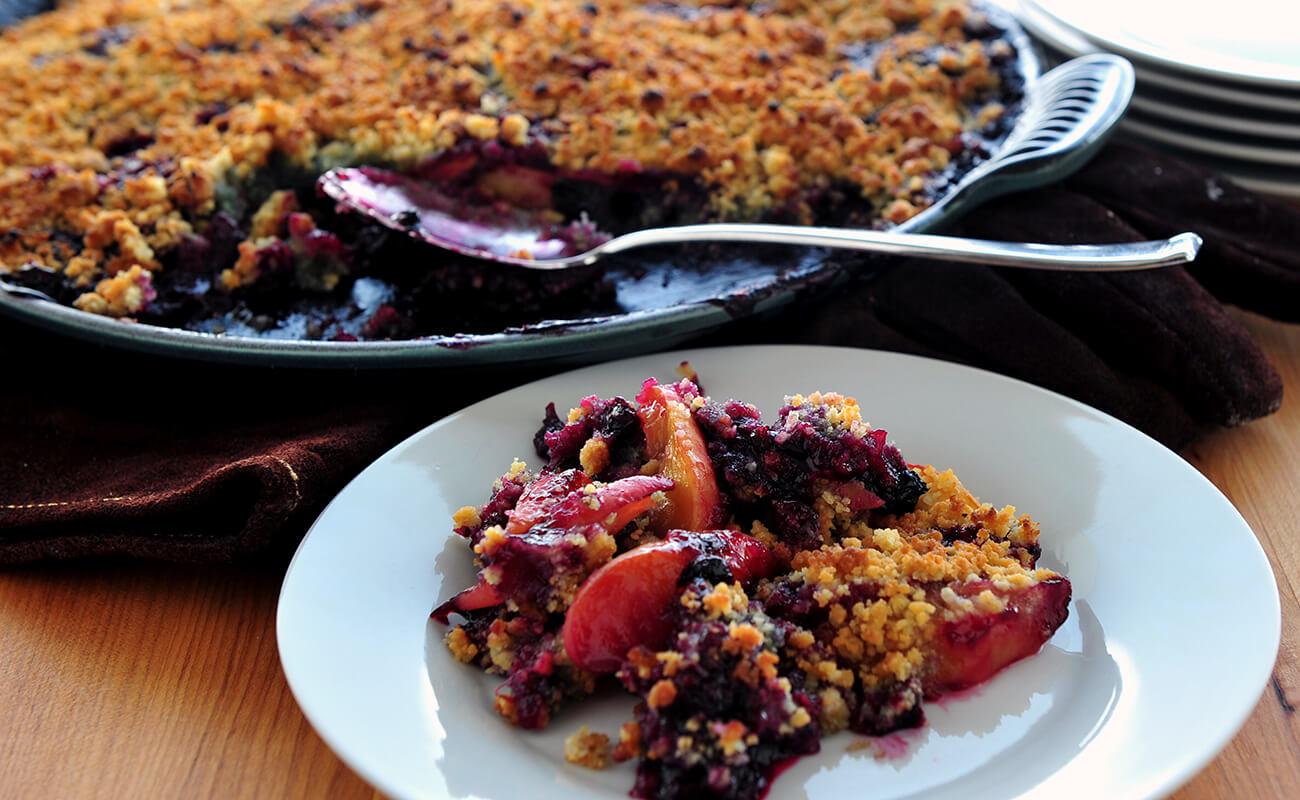 ---
Ingredients
1 pound sugar cookies, broken up
1 teaspoon fine sea salt
Freshly-grated nutmeg, about 1/4 teaspoon
1/4 cup melted butter
1/2 cup blueberry juice
1/2 cup granulated sugar
1 tablespoon tapioca starch (or corn starch)
1 teaspoon freshly-grated ginger
Finely grated zest of 1 lemon
1 pint blueberries
3 peaches, pitted and thinly-sliced
Directions
Prepare the grill for direct and indirect grilling over a hot fire. The indirect zone is optional if you don't have room for both.
Place the cookies into a blender or food processor and pulse until they have become coarse crumbs. Transfer to a bowl. Stir in the salt, nutmeg and melted butter.
Combine the juice, sugar, tapioca starch, ginger and lemon juice in another bowl. Whisk to combine. Stir in the fruit.
Pour the fruit mixture into a heavy, grill-safe 12-inch round pan (you can use a cast iron skillet or enameled cast iron pan like this). Top with the cookie crumble.
Place the pan over the hottest part of the fire. The fruit mixture should begin bubbling within 2 minutes. Once bubbling, close the grill hood and continue cooking for 3 minutes more. If the crumble has not browned, move the pan to the indirect zone, close the hood, and cook for a few minutes more. The dish should need no more than 10 minutes cooking time.
Remove from the grill and serve warm. Serve with vanilla ice cream if desired.
Note: The keys to this dish being easily and quickly cooked on the grill is the pre-cooked cookies for the topping and a thin layer of the fruit mixture. It is important to use a 12-inch round pan or a rectangular pan sized such that there is a single layer of fruit and a thin layer of cooking topping.