Recipes
Blackened Tuna Burger Po' Boys
Few sandwiches can compare to a great Po' Boy. This version combines a blackened patty of tuna and shrimp with a flavorful remoulade. The recipe yields a medium heat/spice, but you can back it off or amp it up as you like. The grill is an ideal tool for Cajun-style blackening, not only because of the heat you can achieve but also because all the smoke that is inherent in blackening is taken outside.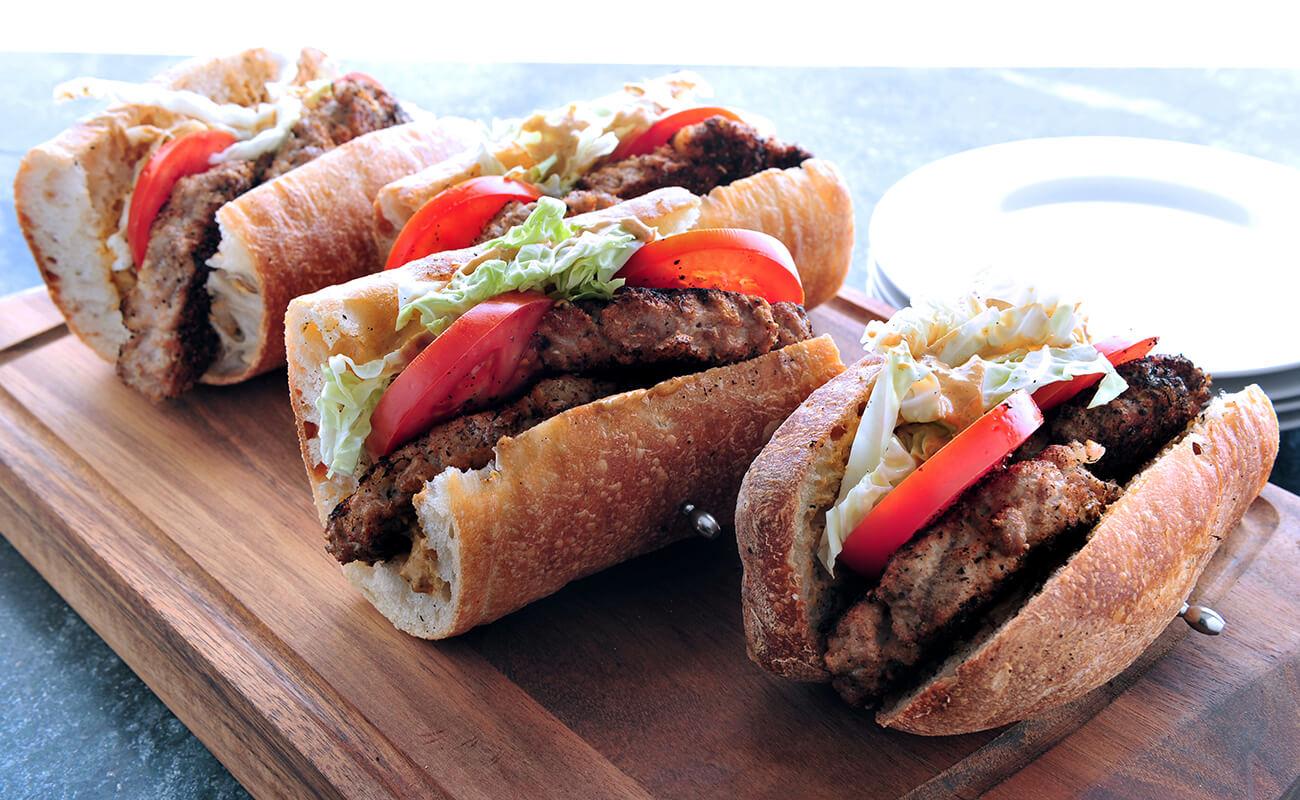 ---
Ingredients
For the remoulade
1/4 cup mayonnaise
2 tablespoons Dijon mustard
2 heaping teaspoons salt-cured capers
1/2 teaspoon Worcestershire sauce
1 teaspoon prepared horseradish
1 tablespoon ketchup
1 tablespoon freshly-squeezed lemon juice
1/2 teaspoon Tabasco sauce
1 teaspoon extra virgin olive oil
1 green onion, cut up
1/2 teaspoon paprika
1/2 teaspoon dried thyme
1/2 teaspoon granulated garlic
For the blackening spice blend
1 tablespoon paprika
1 teaspoon dried thyme
1 teaspoon dried rosemary leaves coarsely ground
1 teaspoon dried oregano
1 teaspoon ground white pepper
1 teaspoon onion powder
1 teaspoon granulated garlic
1/2 teaspoon ground cayenne pepper
1/2 teaspoon ground black pepper
For the sandwiches
1 pound fresh tuna steak, cut up, cold
1/2 pound fresh shrimp, cut up, peeled and deveined, cold
1 tablespoon extra virgin olive oil
1 tablespoon Safflower oil or other high temperature oil
French baguette (not too hard), sliced
1 1/2 cups thinly sliced savoy cabbage
Tomato slices
Cast iron griddle or large cast iron skillet
Directions
To make the remoulade sauce, place all ingredients in a blender and process until smooth. Cover and refrigerate until use.
Combine all ingredients for the blackening spice blend and reserve.
Prepare an outdoor grill for direct grilling over a hot fire. Preheat a cast iron griddle or large skillet in the hot zone.
Place the cold tuna, cold shrimp and olive oil in a food processor. Process until the texture is such that the mixture can be formed into patties but is still chunky. Form into 4 equal patties and cover both sides with blackening spice blend.
Add the safflower oil to the hot griddle. Use caution, as you may easily be past the flash point temperature of the oil. (If the oil does ignite, you may proceed with cooking – we are blackening after all -- just be careful not to burn yourself. As always when grilling, make sure you are not wearing loose-fitting clothing.) Quickly add the patties. Cook, flipping once, until done. These patties need to be fully cooked because of the shrimp mixed in.
Spread a little remoulade onto each sliced baguette. Cut each patty in half and add to the baguettes along with some cabbage and tomato slices. Drizzle a little more remoulade over the cabage. Enjoy!