Recipes
Blackened Scallops with Lemon Mustard Stinger Sauce
The aromatic blackening spice blend used here features fennel, coriander and green peppercorns, so these scallops will sing with flavor. The intensity of the mustard in the stinger sauce may remind you of wasabi, so a little dab will do.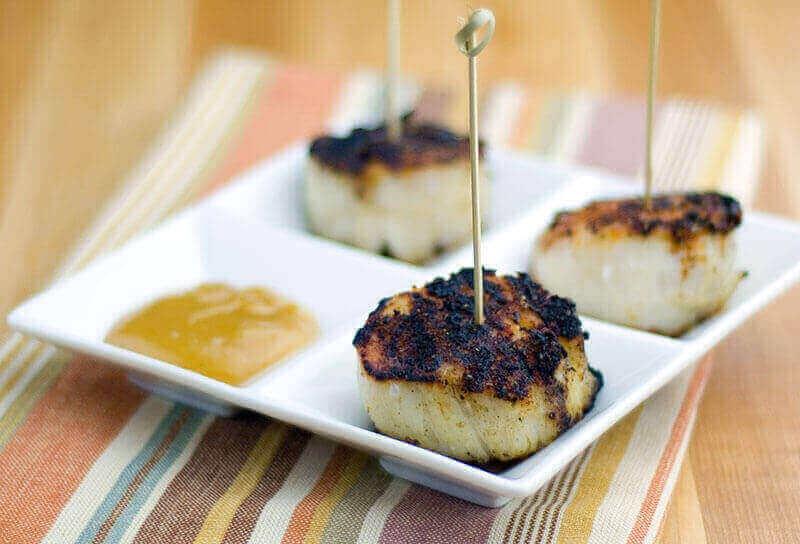 ---
Ingredients
One batch Aromatic Blackening Spice Rub (see recipe)
12 large scallops, about 1 pound
1 teaspoon Colman's mustard powder
1/2 teaspoon water
1/2 teaspoon soy sauce
2 tablespoons lemon curd (found with the jellies and jams at the supermarket)
Directions
Prepare the grill for direct cooking at 500 °F.
Rinse and thoroughly dry the scallops. Let them rise to room temperature, about 10 minutes.
While the scallops are coming up to room temperature, combine the mustard powder and water in a small dish and mix together thoroughly. Stir in the soy sauce and then the lemon curd. Transfer to a serving dish.
Dry the scallops one more time. Spread the blackening spice rub on a plate. Press the flat sides of each scallop gently into the spice rub, keeping the sides as free of spices as possible. There is no need to pick up a large amount of the blackening spice on the scallops because the flavor is quite intense.
Grill the scallops over direct heat, turning once, for about 6 minutes per side. Remove from the grill and serve with the sauce on the side. From the January, 2008 issue of our Hot Off The Grill newsletter.