Recipes
Blackberry Polenta Fennel Salad
This one's a little bit out there, but I think the flavors and textures, although unusual, are great for special occasions. The visual alone makes it a star of the table. The quick and easy orange honey vinaigrette dressing is appropriate for a wide variety of summer salads, and the polenta is good enough that it is worth making a double batch.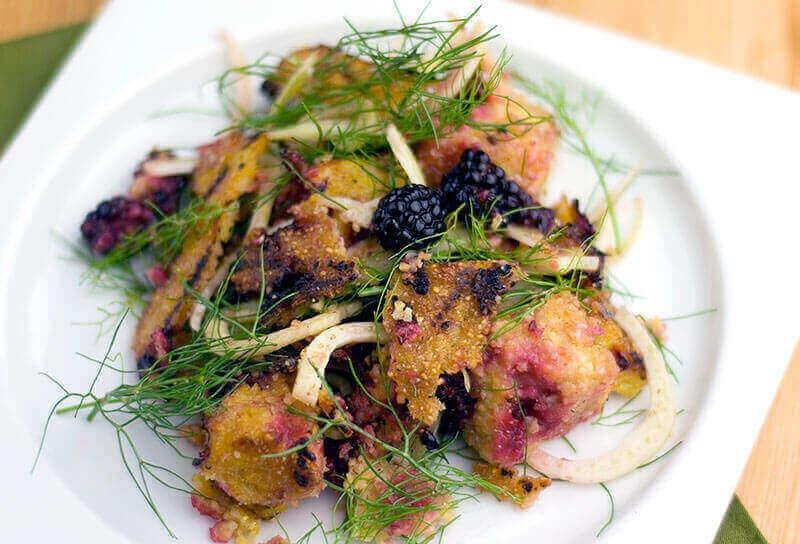 ---
Ingredients
2 cups water
1 tablespoon butter
3/4 teaspoon kosher salt or sea salt
3/4 cup polenta
6 ounces blackberries, cut in half lengthwise
2 tablespoons extra virgin olive oil, plus some to brush on the polenta
2 tablespoons fresh orange juice
1 tablespoon honey
1/4 teaspoon black pepper
3 ounces fennel bulb, sliced very thin, plus the greens
Directions
The polenta needs a couple of hours to set, so start it early or make it the night before. To make the polenta, bring the water to a boil in a medium sauce pan.
Add the butter and stir to melt. Whisk in the polenta and salt and return to a simmer. Reduce the heat to a low simmer and cook for 10 to 15 minutes, stirring frequently, until very thick.
Fold in the blackberries and transfer the mixture to an oiled 8" x 8" baking dish or plastic food container. Smooth the mixture out evenly with a spatula and let it cool. Once the polenta is cooled, cover it tightly and refrigerate for at least 2 hours.
Prepare the grill for direct cooking at about 400°F. While the grill is heating, whisk together the olive oil, orange juice, honey and pepper to make the dressing. Remove the polenta from the dish and slice it into large pieces, about 4" x 4" so that they are easy to handle.
Immediately before grilling, lightly brush both sides of each piece with olive oil. Grill the polenta over direct heat until nicely marked and heated through, about 6 minutes per side. Remove from the grill and slice into cubes.
Gently toss together the grilled polenta, fennel and dressing. It may be best to use your hands in order to avoid breaking down the polenta too much. You might like it with a little more honey drizzled on top after plating if you find the fennel is particularly bitter.