Recipes
Blackberry Ginger Martinis
My first taste of Domaine de Canton ginger liqueur was at the Miami Food & Wine Festival when we were there helping Chef Art Smith cook biscuits in our pizza oven at Rachel Ray's Burger Bash. It was so delicious I could clearly recall the flavor when I later read the New York Times review that declared it nearly impossible to mix anything other than a wonderful cocktail with it. Interesting flavor that is easy to experiment with... perfect for the newsletter! These tasty Blackberry Ginger Martinis are the first experiment. Perhaps more will follow.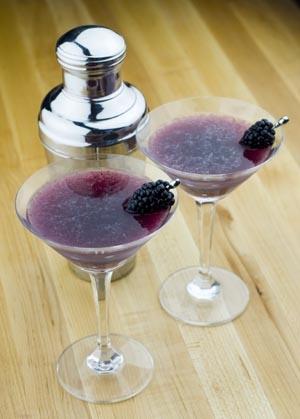 ---
Ingredients
1 1/2 ounces blackberry juice plus 2 blackberries for garnish
1 1/2 ounces Domaine de Canton ginger liqueur
3 ounces North Shore Distiller's Gin No. 6
1 tablespoon honey
Ice
Directions
Press fresh blackberries through a mesh strainer to extract the juice
Combine the blackberry juice, ginger liqueur, gin and honey in a cocktail shaker half-filled with ice.
Shake vigorously for one minute, and then strain into glasses. Garnish with blackberries.
Note: The honey will not fully mix with the drinks, but it will lend a little sweetness. If you desire a sweeter drink, substitute 2 teaspoons simple syrup for the honey.