Recipes
Beef Tenderloin Roast with Zinfandel Reduction and Herbed Butter
Tenderloin is the most succulent and tender cut of beef and a popular choice for the holiday table. However, the tenderloin doesn't always shine because it can easily come out a little bit bland, especially when it is overcooked. This recipe not only offers a reliable method for cooking the roast perfectly, it elevates the flavor with an herbed butter topping and a bold zinfandel reduction.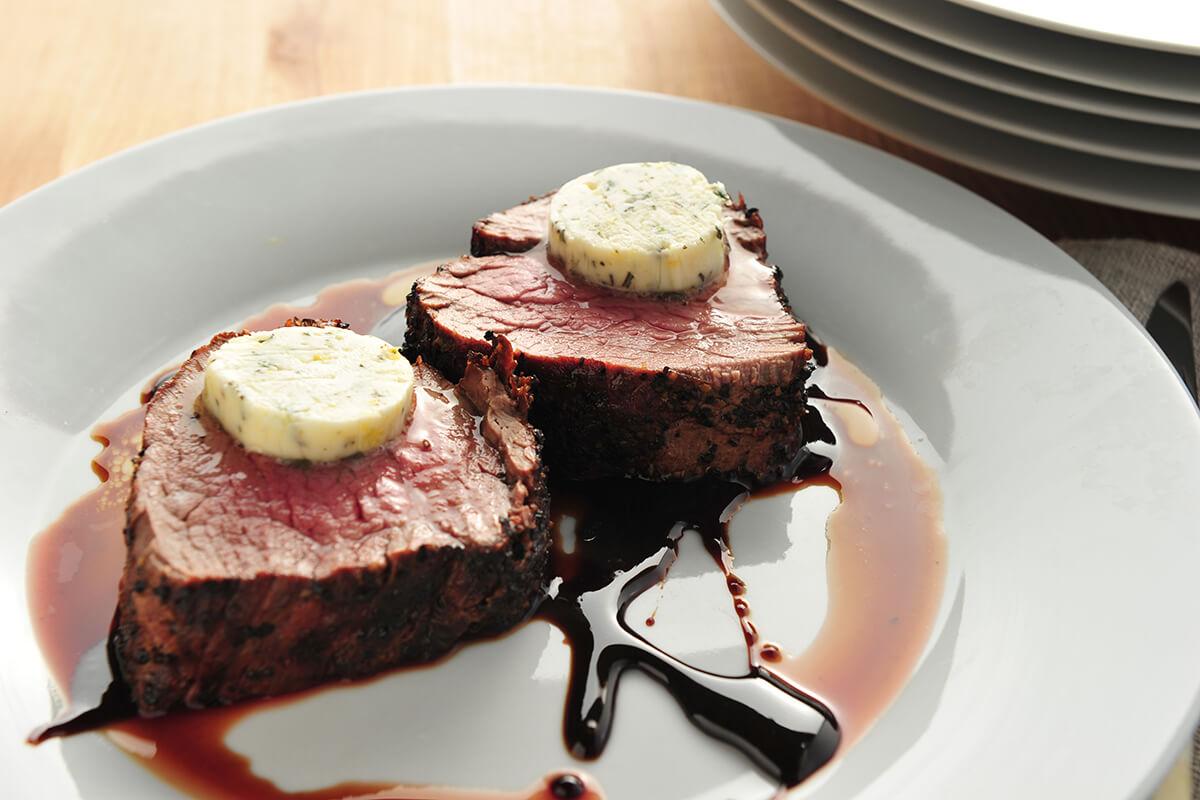 ---
Ingredients
For the Herbed Butter
1/2 cup unsalted sweet cream butter at room temperature
Leaves from 1 sprig fresh thyme
Leaves from 1 sprig fresh rosemary, finely chopped
1 clove garlic, finely chopped
Finely-grated zest of 1/2 lemon
1/4 teaspoon course sea salt (I used a smoked Maldon for the flaky texture)
For the Zinfandel Reduction
2 cups Zinfandel wine
1 cup beef broth
1/4 cup soy sauce
3/4 cup light brown sugar
For the Roast
2 1/2 pound beef tenderloin, trimmed
Extra virgin olive oil
Kosher salt
Cracked black pepper
Directions
To make the butter, work together all the ingredients for the herbed butter. I use a pastry cutter for the task, but a food processor will also do the job well. Form a 1-inch-thick log-shape down the center of a sheet of plastic wrap. Fold the wrap over the top and press tightly along the length of the compound butter. Roll it up to form a uniform cylinder. Refrigerate for 2 to 3 hours before serving.
To start the Zinfandel reduction, combine the Zinfandel, beef broth and soy sauce in a wide pan. Bring to a boil over medium-high heat. Simmer and reduce to about 1/2 cup volume. Remove from heat and reserve.
Prepare the grill for indirect cooking at 450°F to 500°F with a hot direct grilling zone.
Brush the outside of the beef tenderloin with olive oil. Season with salt and pepper.
Grill the roast over the hottest part of the fire to brown the outside, turning it to the four "sides" for uniform cooking all around, about 8 minutes total. Transfer the roast to the indirect zone and close the hood. Continue indirect cooking for about 10 to 20 minutes depending on the grill. Remove the roast when the internal temperature reads 120°F for rare (because the outside is so thoroughly browned, only the very center will be red). Be careful not to overcook the roast. Wrap in foil and let rest for 10 minutes.
While the roast is resting, reheat the Zinfandel reduction and whisk in the brown sugar.
For serving, drizzle a little Zinfandel reduction on each plate. Slice the roast into 1/2 inch thick slices and place on or beside the reduction. Top the roast with a slice of herbed butter and enjoy.