Recipes
Barbecued Shrimp Skewers with Peach Salsa
The spiced rub on the shrimp is balanced by sweet peach salsa in this fantastic summer appetizer.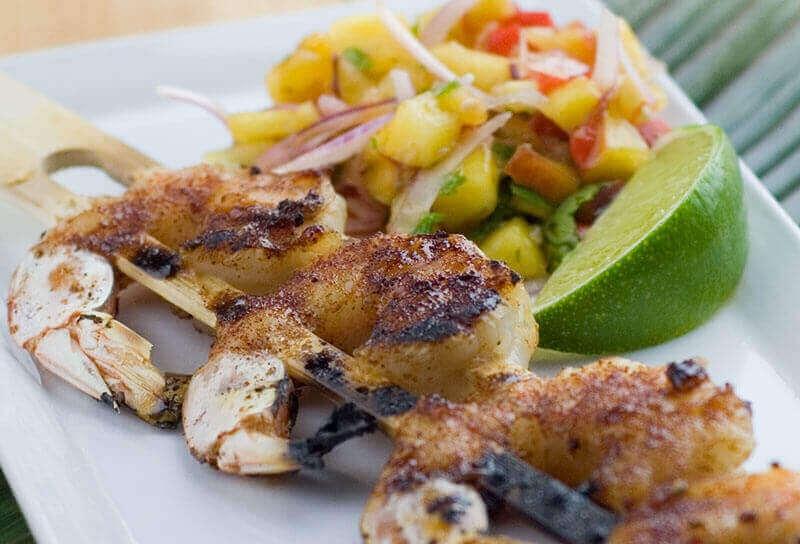 ---
Ingredients
For the Peach Salsa
1/2 lime
3 ripe yellow peaches
1/4 red onion, sliced very thin
1/4 red bell pepper, diced
2 tablespoons fresh cilantro leaves, chopped
1 jalapeno, seeded and finely chopped
Sugar (optional)

For the Barbecued Shrimp
32 shrimp, 10 to 15 per pound size, shelled and deveined, tails left on
1 tablespoon Not-So-Basic Barbecue Rub (see recipe)
2 tablespoons light brown sugar
16 bamboo skewers (or 8 if they are double-pronged like in the photo)

For serving
Directions
To make 3 cups of peach salsa: Juice the 1/2 lime into a medium-sized bowl. Dice the peaches and immediately stir into the lime juice. Add the onion, red pepper and cilantro. Stir in 1/2 of the jalapeno and test the salsa for heat. Add as much of the remaining jalapeno as appropriate for your taste and the tastes of your guests. If the peaches were not ripe enough or otherwise did not deliver enough sweetness, add a small amount of sugar as desired. Cover and refrigerate until ready to serve, up to 4 hours.
Prepare the grill for direct grilling over medium-high heat (about 400°F).
Use double-pronged skewers (like the one in the photo above) or pairs of skewers to prevent the shrimp from turning. Build 8 double-prong skewers with 4 shrimp each.
Combine the Not-So-Basic Barbecue Rub with the brown sugar and sprinkle over both sides of the shrimp skewers.
Grill the shrimp over medium-high heat for about 6 minutes, turning once. The shrimp are fully cooked when they become opaque. Try not to overcook the shrimp or they can become tough.
Serve the shrimp (on or off the skewers) with the peach salsa and lime wedges.