Recipes
Barbecue Pork Pizza
Succulent pulled pork is the star of this pizza, with an award-winning supporting cast of fresh jalapenos and pineapple. The Bourbon Barbecue Sauce serves as the perfect base, adding a delicious tangy flavor to the mix. This is a new take on a classic combination, and a great use for leftover barbecue.
Serves 1 10-to-12-inch pizza
---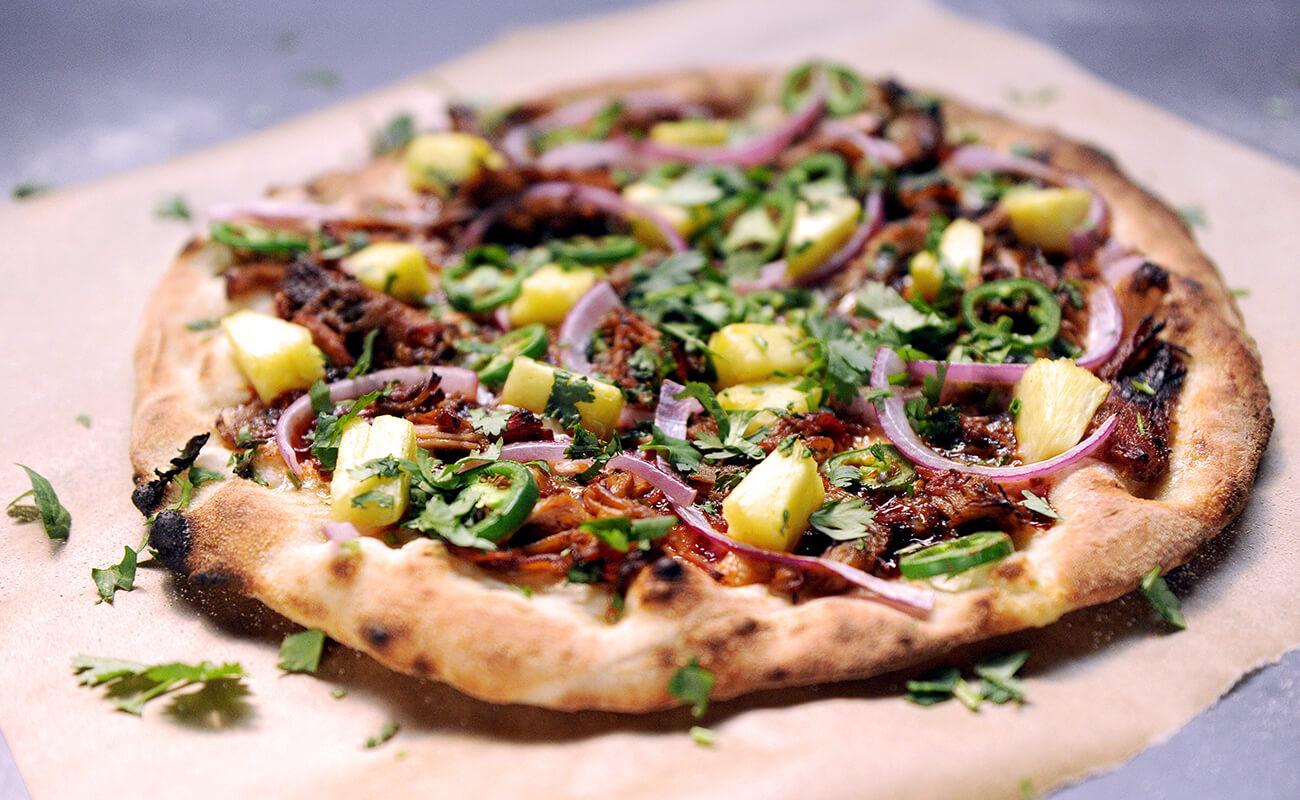 ---
Ingredients
1 10-ounce ball Artisan Fire Pizza Dough
2 ounces Bourbon Barbecue Sauce (or another barbecue sauce of your liking)
1/4 cup shredded Monterey jack cheese
1 tablespoon chopped fresh cilantro
1/4 pound leftover pulled pork
1/4 of a small red onion, thinly sliced
1 ring of peeled and cored pineapple, cut into segments
1 small jalapeno, stemmed and sliced
Directions
Prepare the outdoor pizza oven or grill for cooking pizza.
Working on a lightly-floured surface (we use Caputo '00 flour or semolina flour), gently form the dough with your hands into a 10-inch pizza.
Use a soft silicone spatula to spread the barbecue sauce into a thin layer on top of the dough. Spread the cheese evenly on top, followed by cilantro, pulled pork, red onions, pineapple and jalapeno.
Place the pizza on a pizza peel and then transfer to the oven or grill. Cook until the cheese is melted and the crust is nicely browned.
Cooking in a hot pizza oven will take less than 3 minutes. Cooking in a conventional oven at 500⁰F or on a grill will require closer to 10 minutes.
Tips for cooking in the Artisan Fire Pizza Oven:
Pizzas with a lot of toppings like this one need a bit more time for the crust to cook through – especially in the center. Cook this pizza with the lower burner control set to LOW, and the upper burner control set to HIGH. After the bottom of the pizza has taken on a moderate amount of color cooking directly on the ceramic cooking deck, slide a pizza screen underneath to slow down the cooking from below, or simply hold it up off the surface using your banjo peel.