Recipes
Balsamic Barbecue Chicken
The complex flavors of balsamic are first sweetened and concentrated by reducing it with honey. After thickening our glaze with a little tomato paste and some brown sugar, we add a touch of hot sauce. The delicious mixture, once kissed by the fire of the grill, caramelizes on the chicken for a delightfully layered set of flavors.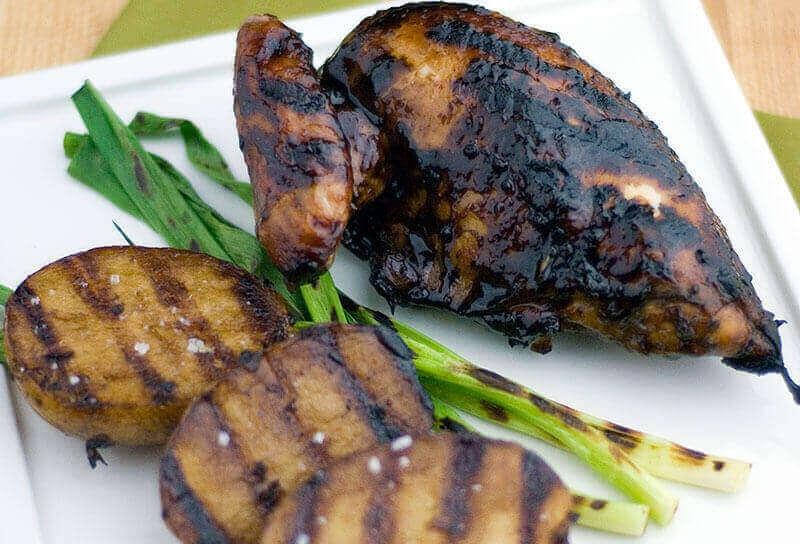 ---
Ingredients
1 whole fryer chicken, quartered
1/2 cup Balsamic Honey Reduction
1/4 cup olive oil
4 cloves garlic, crushed
2 tablespoons brown sugar
1 tablespoon tomato paste
1/2 teaspoon hot sauce
Directions
Whisk together 1/4 cup Balsamic Honey Reduction with 1/4 cup olive oil and the garlic. Place the chicken quarters in a zip-loc plastic bag together with the balsamic mixture, seal and marinate in the refrigerator for 2 to 4 hours.
Prepare the grill for indirect grilling at about 500°F.
To create the Balsamic Barbecue Sauce, whisk together the remaining 1/4 cup Balsamic Honey Reduction with the brown sugar, tomato paste and hot sauce.
Remove the chicken quarters from the marinade and discard the marinade. Place the chicken in the indirect cooking zone skin-side-up. Baste with Balsamic Barbecue Sauce, close the grill hood, and cook with indirect heat for 20 minutes.
After 20 minutes, baste the chicken with more sauce and rotate the pieces (without flipping them over) for even cooking. Close the hood again and cook for 5 to 10 minutes more. The chicken is done when you pierce the meaty part of the thigh and the juices run clear — or when a meat thermometer registers 170°F.
Remove from the grill, serving immediately with grilled green onions and Balsamic Glazed Potatoes.