Recipes
Bacon-Wrapped Stuffed Chicken Breast with Pan Sauce
Roasting chicken in the Artisan Fire Pizza Oven is a fun way to use the oven for more than just pizza. These bacon wrapped stuffed chicken breasts come together in under an hour and the bacon and filling take an ordinary chicken breast to extraordinary.
---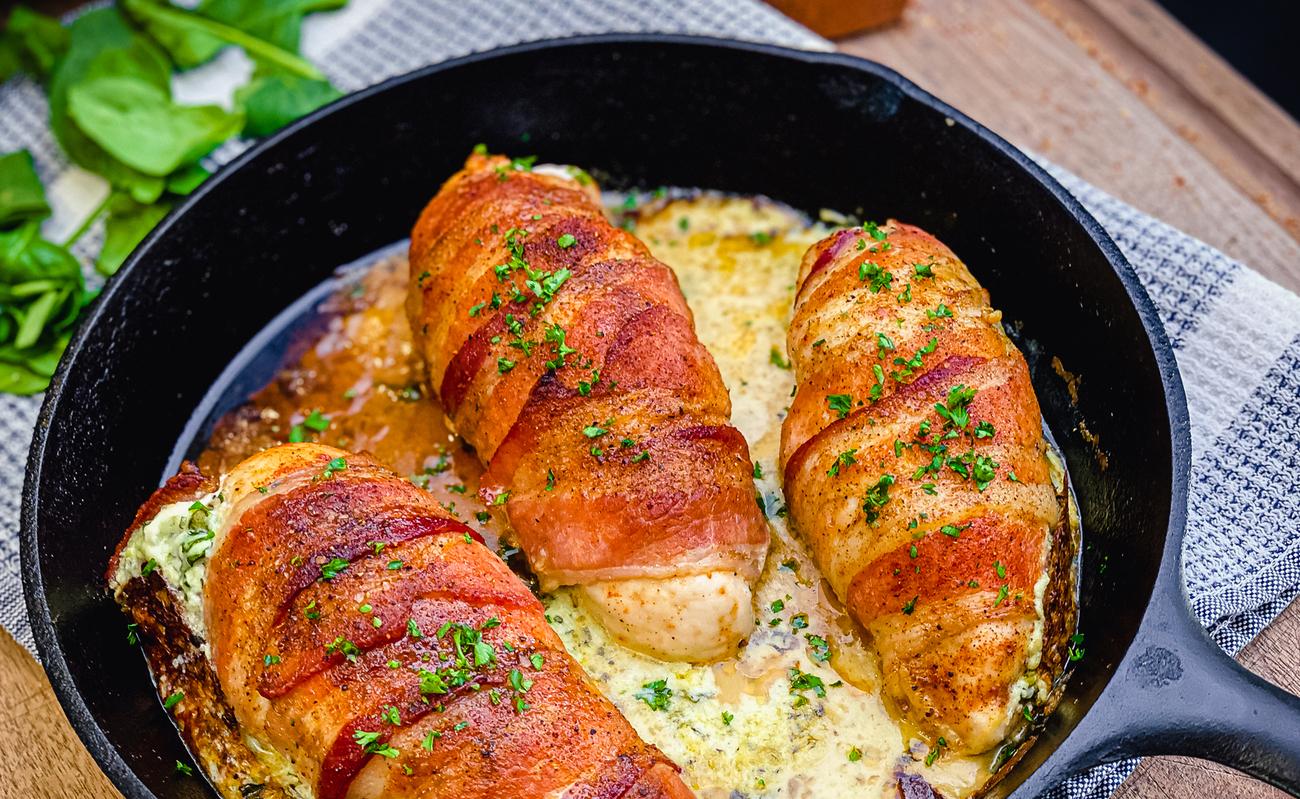 ---
Ingredients
3 large boneless skinless chicken breasts
9 strips thin sliced bacon
3 ounces Boursin cheese (garlic & herb)
¼ cup cream cheese
½ cup shredded mozzarella cheese
1 cup fresh spinach, chopped
zest from one small lemon
¼ cup Basic Barbecue Rub
1 tablespoon all purpose flour
1 ½ cups low sodium chicken broth
Directions
Start by lighting your oven and setting the temperature to 375°F. This can be achieved by setting the bottom burner to high, and the back burner to one tick mark above low. (This will maintain an oven temperature of about 375°F.) Place a wire cooking rack on the cooking deck.
While the oven is preheating, mix together the room temperature cheeses, ¾ cup of spinach and lemon zest in a medium sized mixing bowl and set it aside.
Then, use a sharp boning knife and cut a pocket into each chicken breast. Stuff the pockets with an equal portion of the cheese mixture, and lightly season the outside of the chicken with the barbecue rub.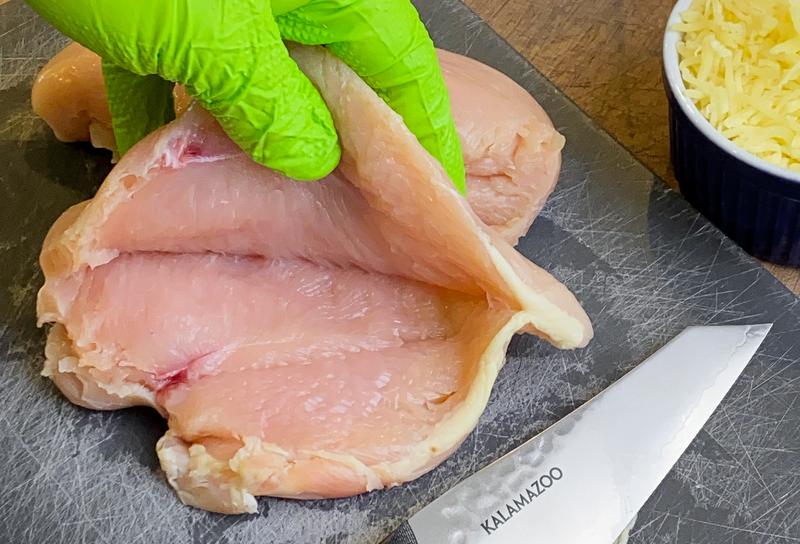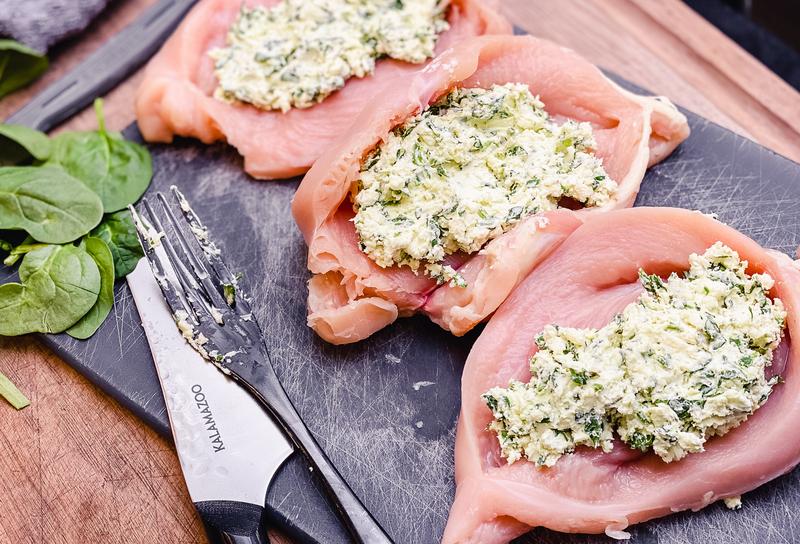 Then, tightly wrap each stuffed chicken breast with bacon. Be sure to position the end of each slice on the bottom of the chicken breast.
Lightly season the bacon wrapped chicken breasts, and place them in a cast iron or stainless steel skillet.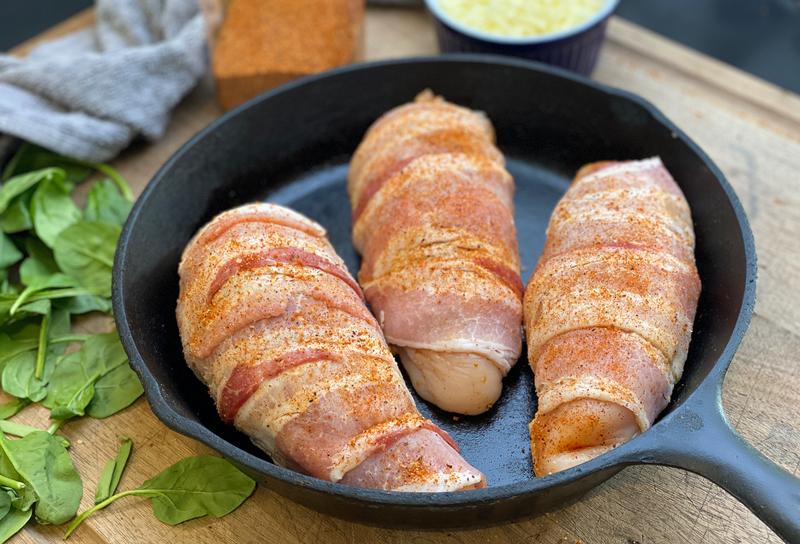 Place the skillet inside the oven, on the wire cooking rack. Let the chicken roast for 30-35 minutes, rotating the skillet 180° every ten minutes.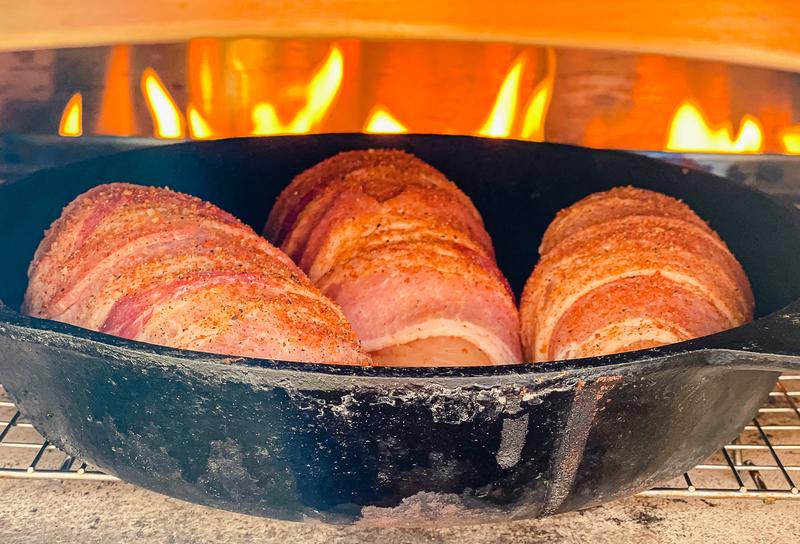 When the chicken is done, remove the pan from the oven and set the chicken breasts on a cutting board to rest. Spoon out and discard all but one tablespoon of the rendered bacon fat, leaving any cheese that leaked out in the pan.
Place the pan on a cooktop over medium heat, and add the flour. Whisk the flour constantly for two minutes. Then, slowly add the chicken broth and continue whisking until the sauce is the consistency of syrup, about three minutes. Add in the remaining chopped spinach, and serve with the chicken breasts.