Recipes
Avocado, Goat Cheese and Heirloom Tomato Appetizer Pizza
This appetizer pizza is light and refreshing on a warm and sunny day. Mild goat cheese and buttery avocado are complimented by the bright flavors of fresh tomato and tart lemon juice.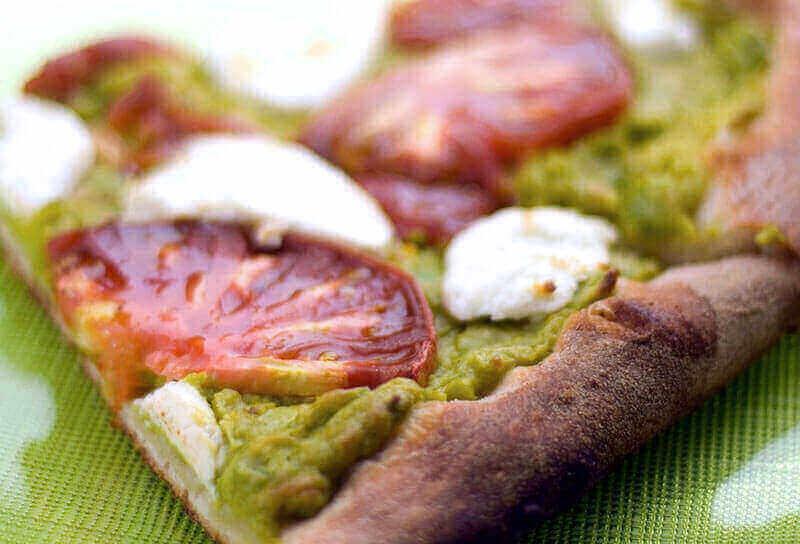 ---
Ingredients
1/2 batch White Wine Pizza Dough, about 14 ounces
Freshly-squeezed juice of 1/2 lemon
1 1/2 medium avocados, ripe (see note)
1 teaspoon fine sea salt
2 teaspoons extra virgin olive oil
1 large heirloom tomato, sliced (I used a Paul Robeson variety, or substitute about 1 cup halved sweet grape tomatoes)
2 ounces soft goat cheese
Freshly cracked black pepper
Directions
Prepare the pizza oven or grill for baking pizza at 500°F (see our guide for perfect pizza on the grill). Roll out the dough and transfer to the pizza peel before preparing the avocado mixture.
Squeeze the lemon juice into a glass or other non-reactive bowl. Slice the avocados into the bowl and stir immediately to coat the avocados. The citric acid will help prevent the avocados from browning. Add the salt and olive oil to the mixture and mash until it is the consistency of guacamole.
Spread the avocado mixture onto the pizza dough and then top with the sliced tomatoes. Add pieces of goat cheese in the spaced between the tomatoes.
Transfer to the preheated pizza stone and bake for about 10 minutes until the crust is crispy and nicely browned around the edges.
Note: The best tip I know for selecting ripe avocados comes from Chef Rick Bayless. The color of an avocado is a good clue to how ripe it is (Haas avocados are usually turning black when they are ripe), but not always reliable. To select perfect avocados, press your thumb gently into the base of the avocado. The avocado should yield somewhat but resist enough that it doesn't feel mushy. Because the base of the avocado is the last to ripen, one that yields to gentle pressure is ready to use right away without being overripe.