Recipes
Asian Tuna Burgers with Sriracha Mayo
These delicious burgers contrast sweet and spicy with a ginger and garlic flair.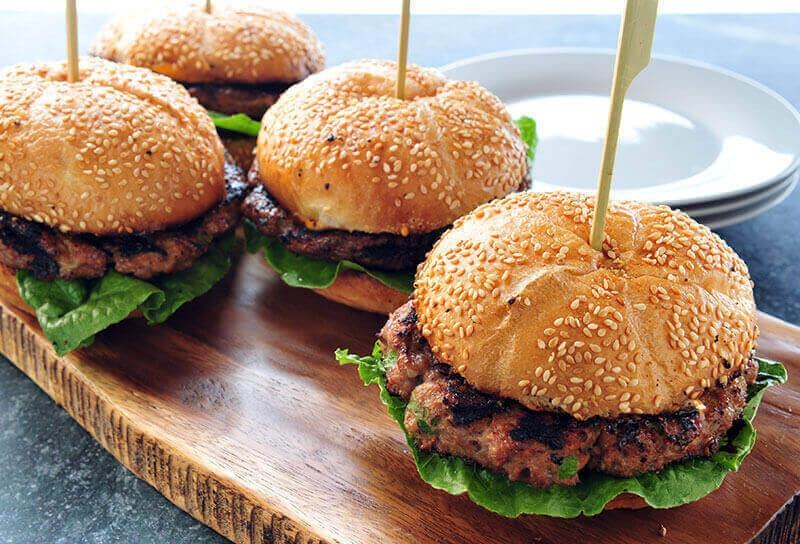 ---
Ingredients
For the Sriracha Mayo
1/4 cup mayonnaise
2 teaspoons sriracha hot sauce (I use Huy Fong Sriracha with the rooster on the bottle)
1 teaspoon freshly-grated lemon zest
For the Teriyaki Sauce
1/4 cup light brown sugar
2 tablespoons toasted sesame oil
2 tablespoons soy sauce
2 teaspoons freshly grated ginger
1 clove garlic, crushed
For the sandwiches
1 pound fresh tuna steak, cut up, cold
2 tablespoons bread crumbs
2 green onions, sliced
Extra virgin olive oil
4 sesame sandwich rolls, sliced
Fine sea salt
Romaine lettuce
Directions
Stir together the ingredients for the Sriracha Mayo. Cover and refrigerate until use, up to 4 hours.
Whisk together the ingredients for the Teriyaki Sauce. Cover and refrigerate until use, up to 4 hours.
Prepare the grill for direct grilling over a medium-hot fire.
Combine the cold tuna, bread crumbs and green onions in a food processor along with 3 tablespoons of the Teriyaki Sauce (reserve the rest). Pulse-process until the texture is such that the mixture can be formed into patties but is still chunky. Form into 4 equal patties and lightly brush the outsides with olive oil.
Generously brush the insides of the rolls with olive oil and season with salt.
Grill the tuna patties and lightly toast the rolls. Flip the tuna patties when cooked about half way. Brush some of the reserved Teriyaki Sauce on the grilled side. Finish cooking most of the way, then flip the patties and quickly brush more sauce onto the second side. Flip again to caramelize the sauce and remove from the grill.
Spread some Sriracha Mayo onto each roll. Add a patty and some lettuce and enjoy.