Recipes
Apple Bake with Almonds and Dried Cherries
Casual, simple and delicious — baked apples come hot off the grill infused with a glorious apple wood smoke flavor. Baking and serving in individual dishes will delight your guests.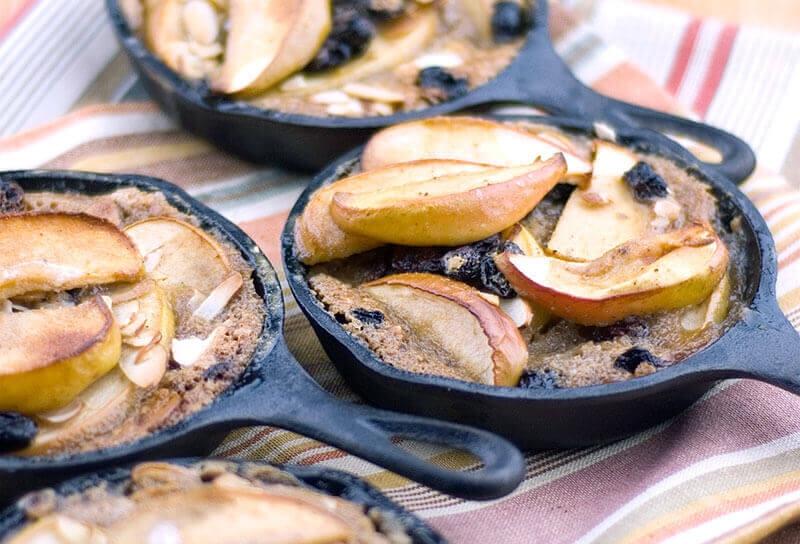 ---
Ingredients
1 egg
1 cup heavy cream
2 teaspoons vanilla
1 cup light brown sugar
3 tablespoons flour
¼ teaspoon ground nutmeg
¼ teaspoon ground cloves
4 Braeburn apples with the skins left on, cored and sliced in 16ths
¼ cup dried tart cherries
¼ cup sliced almonds
2 cups apple wood chips, soaked for at least 1 hour
6 small cast iron skillets, about 3-1/2" diameter
Butter
Directions
Prepare the grill for indirect grilling with wood smoke at 300°F (Although I prepare this on a Kalamazoo Hybrid Grill, I set it up for gas grilling and made a foil smoking envelope).
In a medium-sized mixing bowl, beat the egg. Whisk in the cream and vanilla, and then the sugar, flour, nutmeg and cloves. Butter the individual skillets. Intermingle the apples, dried cherries and almonds into each skillet.
Pour the egg mixture into the skillets until each is about 2/3 full. Place the skillets in the indirect cooking zone and bake at 300°F for 1 hour. Rotate the skillets twice during this time. The grill hood should remain closed as much as possible and the skillets should remain uncovered, letting the apple wood smoke infuse itself into the ingredients.
Remove from the grill and let cool for at least 10 minutes before serving in the individual skillets.
Note: This same recipe can be prepared in a single, medium-sized skillet if you do not have small ones available.