Recipes
Alpine Grilled Cheese Sandwich
I love the flavor of our Alpine Breakfast Pizza so much, that when it came time to create these grilled cheese recipes, I just had to do the sandwich version of it. This grilled cheese sandwich offers big, bold flavors. The kick of Gruyere cheese is mellowed by crème fraiche. Add fresh chives, smoky bacon and sourdough bread, and how can you go wrong?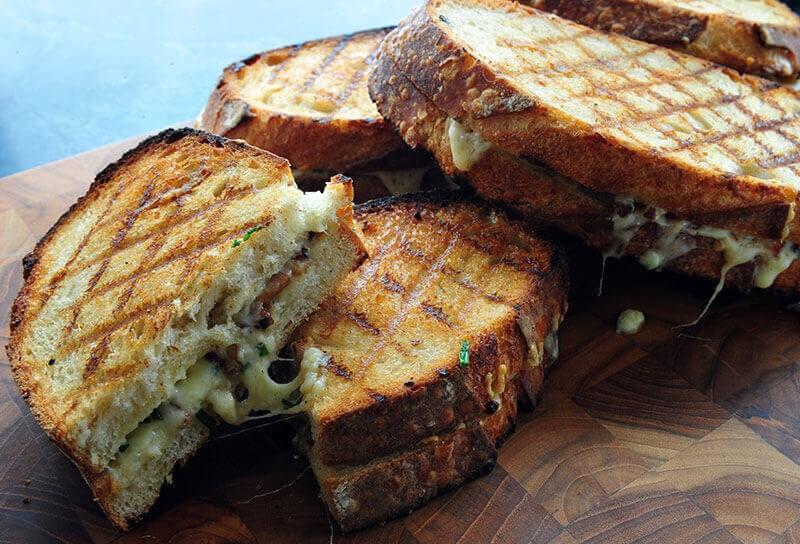 ---
Ingredients
4 slices applewood-smoked bacon, 1/4" thick, about 8 ounces
8 slices sourdough bread, about 3/4" thick
About 2 tablespoons butter, softened
8 ounces crème fraiche
8 ounces Gruyere Swiss cheese, shredded
12 stems fresh chives, chopped
Directions
Prepare the grill for direct grilling over a medium fire, about 400°F.
Cut the bacon slices crosswise into 1/4-inch sticks. Preheat a small skillet over medium heat. Add the bacon and cook until browned but not quite crisp. Drain on paper towels and reserve.
Lightly butter one side of each slice of bread (the outside of each sandwich). Spread crème fraiche on the other side (the inside of each sandwich). Fill with shredded Gruyere, bacon and chives. Top off each sandwich with the other slice of sourdough.
Place the sandwiches on the grill. Keep the hood closed as much as possible while grilling to help melt the cheese. Turn once after the first side is toasted and lightly marked by the grill grate, about 2 minutes. (Note: for cross-hatched grill marks, rotate the sandwich about 90 degrees halfway through grilling each side.)
After turning the sandwiches over, grill the second side until toasted, about 2 more minutes. If the cheese is not thoroughly melted by the time the bread is toasted to your liking, lay out a sheet of heavy-duty aluminum foil on the grill grate (preferably in the coolest zone of the grill) and transfer the sandwiches on top of the foil. Close the hood and continue cooking until the cheese is melted through (up to 6 minutes more).
Paired with Two Brothers Cane & Ebel Red Rye Ale at our Grilled Cheese and beer event September 29.