Recipes
Adobo Marinade
Adobo de Chile Ancho
Like most marinades, this simple version of the punchy, rich, red chile seasoning spread will keep for a long time. (Though it contains "preserving" ingredients like vinegar, salt, red chile, garlic and sugar, it will stay fresh longer if you store it in a closed container in the refrigerator.) These classic flavors are as at home on a meaty steak as they are on a piece of fish; and adobo-marinated chicken is a Mexican benchmark of flavor. Modern cooks have slathered it on sweet potatoes, heirloom potatoes and mushrooms, just before roasting or grilling.
---
Ingredients
1 tablespoon vegetable or olive oil
4 garlic cloves, peeled and finely chopped or crushed through a garlic press
1/3 cup ground ancho chile powder (available from national companies, like McCormick, Mexican groceries and internet sites)
2 tablespoons vinegar (apple cider vinegar is common in Mexico)
1 teaspoon dried oregano, preferably Mexican
1/2 teaspoon sugar
3/4 teaspoon salt
Directions
In a small saucepan, heat the oil over medium. Add the garlic, stir until fragrant but not browned, about 1 minute, then add the remaining ingredients and ¾ cup water, whisking to combine thoroughly. Simmer over medium-low heat for about 10 minutes to blend flavors and eliminate the "raw" ancho taste. Allow to cool to room temperature, then scrape into a jar and cover. Refrigerate for up to a month or more.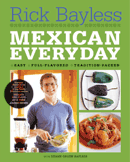 Recipe from Mexican Everyday by Rick Bayless with Deann Groen Bayless.