Recipes
Tequila Barbecue Chicken Kebabs
Our quick and easy Tequila Barbecue Sauce lends robust flavor to these chicken kebabs. Make a little extra sauce if you want to try it in other dishes.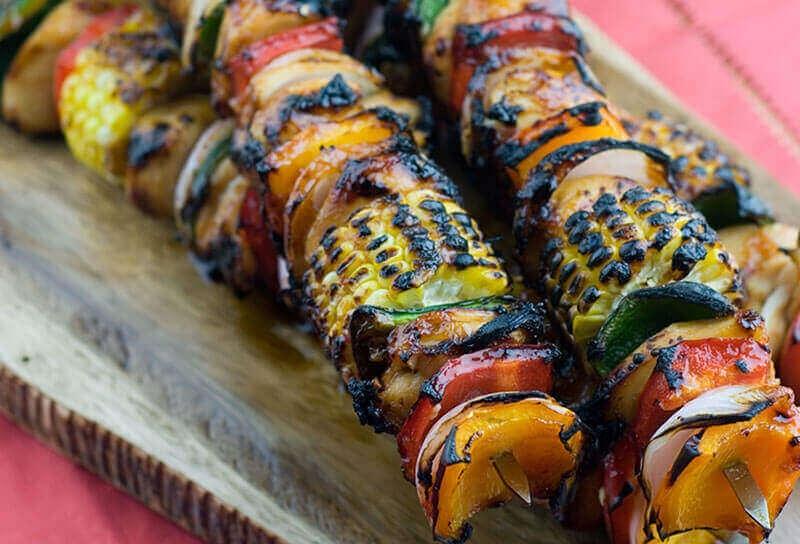 ---
Ingredients
2 cups Tequila Barbecue Sauce (recipe follows)
1½ pounds boneless, skinless chicken breasts
3 red bell peppers (or use 1½ red and 1½ orange for added color), cleaned and cut into squares
2 poblano chiles, cleaned and cut into squares
2 ears corn on the cob, shucked and cut into 1-inch pieces
1 red onion, cut into squares
6 skewers, about 8 inches long

Tequila Barbecue Sauce
1 cup ketchup
6 tablespoons pomegranate molasses (look for it in the aisle with Asian specialty ingredients)
1 cup light-brown sugar
2 teaspoons hot sauce
1 cup tequila
8 cloves garlic, crushed

Combine all ingredients. Yields about 2 cups. Store in a covered container in the refrigerator.
Directions
Cut the chicken into large cubes for the kebabs and place them in a zip-top freezer bag with 1 cup of tequila barbecue sauce. Remove as much air as possible, seal and refrigerate for 2 to 4 hours.
When it is time to prepare for cooking, get the grill ready for direct grilling at about 500°F.
Assemble the kebabs, alternating between chicken, bell peppers, poblanos, corn and red onion.
Grill the kebabs over direct heat for a few minutes per side, brushing with the reserved 1 cup of barbecue sauce each time you turn them. The chicken should be cooked through in about 15 minutes. Be careful not to slop too much barbecue sauce onto the grill while you baste because the sugars will burn quickly.


Note: A lot of companies are offering nice grilling tools these days, including some pretty fancy skewers for kebabs. Some are forged stainless steel and some have "pusher" disks to help you transfer the kebab bits to your plate without getting your fingers dirty.
The most important skewer design feature, in my opinion, is a flat blade. A flat blade will help keep the pieces of food from rotating on the kebab. The blade doesn't have to be very wide to do this, just markedly wider than it is thick (see the skewers in the picture on the left).
When the piece of food can rotate on the skewer, it is harder to turn the skewer for even cooking. Worse yet, when some of the pieces are rotating and some are not, you have to realign them over and over or totally forget about even cooking. A flat blade will keep all the food aligned so that you can easily cook everything evenly with a few turns of the skewer.
I've tried several different types of flat bamboo skewers for cooking. All of them work well. Some have double prongs, which make for a nice presentation. If you can't find flat bamboo skewers, you can use pairs of round skewers in parallel to accomplish the same thing. Bamboo skewers can be soaked for an our before use to help prevent them from burning on the grill. You can also lay a folded strip of aluminum foil on the grill grate underneath exposed skewer ends to protect them.