Recipes
Roasted Carrots and Radishes with Meyer Lemon Sauce
I grill a lot of asparagus, zucchini, Brussels sprouts, mushrooms, potatoes and onions. It was time for something new. This recipe for roasted carrots and radishes is a great complement to the roasted rabbit, both in flavor and in theme. The brightly flavored Meyer lemon sauce with honey and butter adds a subtle complexity to the flavor.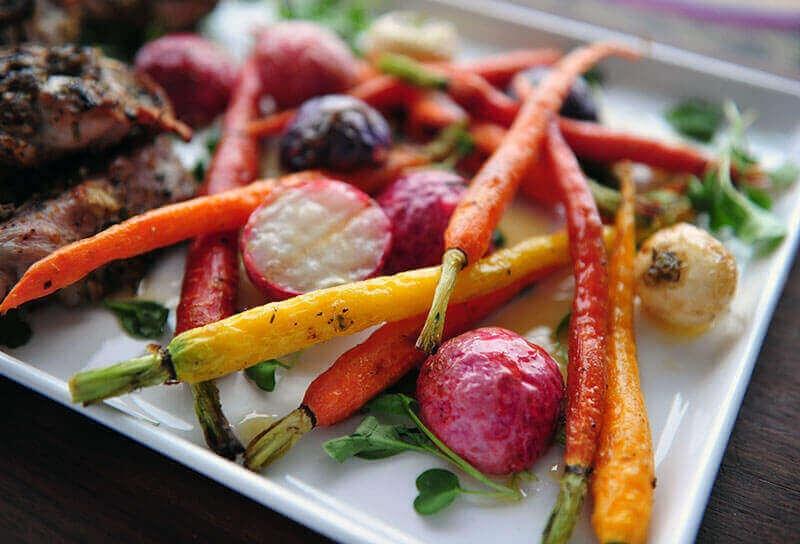 ---
Ingredients
6 Easter egg radishes, trimmed
10 small carrots, trimmed and peeled
Extra virgin olive oil
Fine sea salt
Juice of two Meyer lemons
1 tablespoon honey
1 1/2 tablespoons unsalted butter
Directions
Prepare the grill for roasting with an indirect fire at 500°F.
For even cooking, cut larger radishes in half. Smaller ones should be left whole. Toss the vegetables in olive oil to coat, then season liberally with salt.
Place the vegetables on the indirect cooking zone and close the grill. Roast for 20 minutes at 500°F, turning once about half way through. The radishes should be wrinkled and tender, and the carrots should be lightly browned.
While the vegetables are roasting, whisk together the lemon juice and honey in a small skillet. Reduce over medium heat on a cooktop to about 1/3 the original volume. Remove from heat and reserve until the vegetables are done. Right before serving, return to medium heat and whisk in the butter until melted and combined. Drizzle over the roasted vegetables on the serving dish, or on individual plates.
Enjoy!