Recipes
Pepperoni, Sausage and Onion Pizza
A mixture of chorizo and Italian sausage is the secret to this pizza. The raw tomato sauce and red onion taste light and fresh against the decadent flavors of the sausage and cheese.
Serves One 11 to 12 inch pizza
---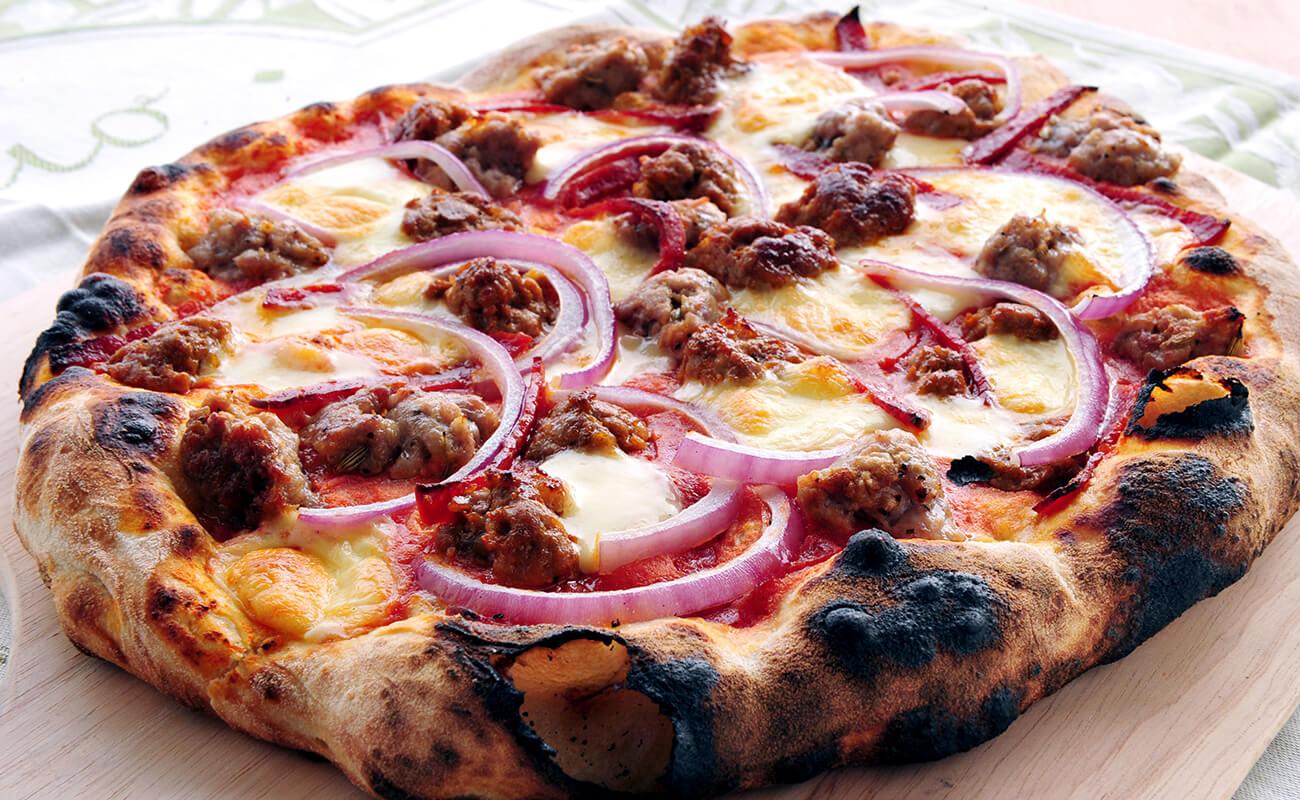 ---
Ingredients
1/2 batch White Wine Pizza Dough, about 14 ounces
2 ounces Raw Tomato Sauce for Pizzas
1 raw chorizo sausage
1 mild Italian pork sausage
1 ounce provolone cheese, cut into 1/2-inch cubes
2 ounces low moisture mozzarella cheese, cut into 1/2-inch cubes
1 ounce pepperoni, sliced and then cut into strips
Red onion, sliced (Use an amount to your liking. I used about 1/8 of a large onion.)
Directions
Remove the casings and break up the sausages. Cook in a skillet over medium heat until browned and just cooked through. Drain off the grease. Cover and refrigerate until it is time to assemble the pizza.
Prepare the outdoor pizza oven or grill for cooking pizza
Form the dough to roughly a 12-inch pizza crust. Depending on your personal preference, place the dough on a pizza peel with enough flour or corn meal beneath to allow the pizza to slide easily — or assemble your pizza on the work surface and then slide the peel underneath at the last minute. Either way, the less time the dough spends on the peel, the less likely it is to stick.
Spread the tomato sauce onto the dough. Add the cheese cubes, sausages, pepperoni and onion. Transfer to the oven or grill and cook until the crust is done and the cheese is thoroughly melted. Cooking in a hot pizza oven will take less than 3 minutes. Cooking in a conventional oven at 500⁰F or on a grill will require closer to 10 minutes.
Enjoy!