Recipes
Kale Slaw
This crisp vibrant salad has a hint of barbecue sauce, making it the perfect side for a summer holiday barbecue. Lacinato kale is softer than other varieties, making it ideal for raw salads like this one. This is the perfect accompaniment to heavier beef dishes, particularly grilled burgers or steaks.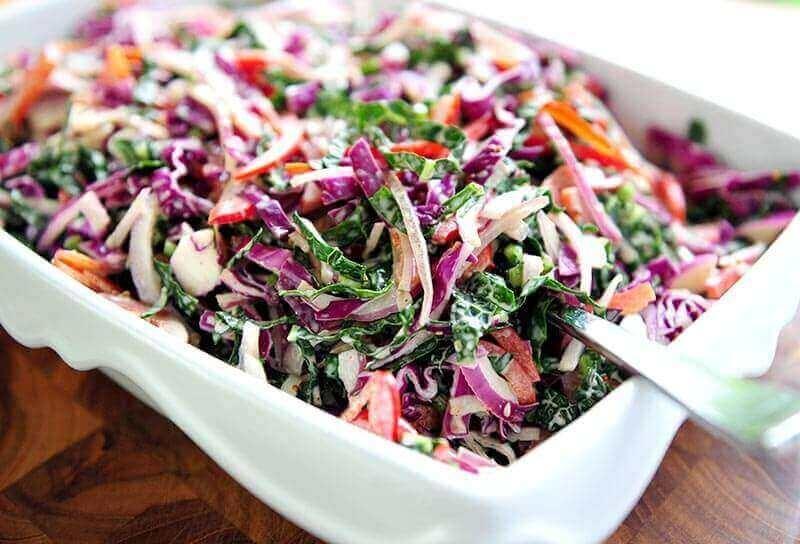 ---
Ingredients
1/2 head red cabbage, cut up and thinly sliced
10 ounces Lacinato kale leaves, thinly sliced, stems discarded
2 red bell peppers, stemmed, seeded and thinly sliced
1/2 red onion, quartered then thinly sliced crosswise
For the Dressing
1 tablespoon prepared barbecue sauce (we used Lillie's Q Smoky Barbecue Sauce)
2 tablespoons whole grain Dijon mustard
1 tablespoon sherry vinegar (we used Blis 9)
1 tablespoon honey
1/2 teaspoon smoked salt
1/2 teaspoon garlic salt
1/4 teaspoon ground cayenne pepper
Directions
Thoroughly combine the first 4 ingredients in a large bowl.
Whisk together the ingredients for the dressing. Gently fold into the slaw.
Cover tightly and refrigerate for 1 hour before serving.