Recipes
Hedgehog Po' Dogs
Not long ago, I was dared by colleagues to cook hot dogs for a client demo. At first, I laughed. But then, the grillmaster in me rose to the challenge, and I set out to prepare hot dogs the Kalamazoo way. Of course, I had to figure out what that would be. The result was so fun and delicious, I knew I had to share the recipe.
I score the hot dogs creating a "hedgehog" effect to maximize the flavor and texture when they are browned on the grill. Decadent brioche hot dog buns are toasted on the grill, and then filled with remoulade, micro greens, heirloom tomatoes and those beautiful dogs.
If you don't want to make your own remoulade, I suggest the Whole Foods brand prepared remoulade.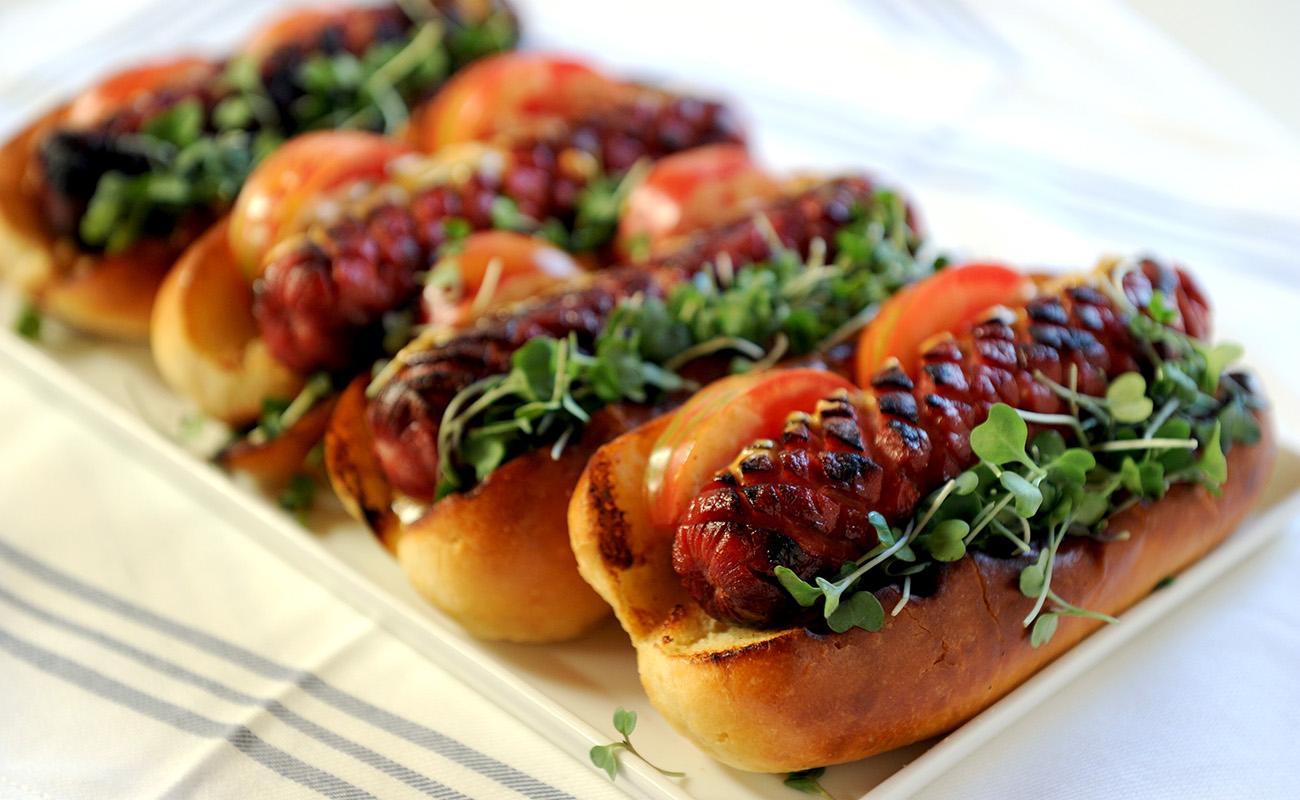 ---
Ingredients
8 all-natural uncured beef franks, Wellshire Farms suggested
8 brioche hot dog rolls
Mayonnaise
Broccoli microgreens
1 large heirloom (or vine-ripened) tomato
Directions
Prepare the grill for direct grilling over high heat. A charcoal fire is preferred.
Carefully score the hot dogs all over in a cross-hatch pattern, creating a hedgehog effect using 1/8 inch deep slices about 1/4 inch apart.
Use a soft spatula to spread mayonnaise on the insides of the hot dog buns.
Slice the tomatoes into thin wedges.
Grill the hot dogs, rolling them occasionally to deeply brown them on all sides, about 10 minutes cooking time.
Lightly brown the mayonnaise-coated sides of the hot dog buns on your warming rack, or in a cooler zone of the grill.
To assemble, spread or drizzle a moderate amount of remoulade in the center/bottom of the buns. Add the grilled hot dogs, sliced tomato and microgreens.