Recipes
Grilled Vegetable Pizza
Celebrate summer produce with a delicious vegetable pizza. Zucchini, yellow squash and red onions all take on a roasted flavor over the open flame of the grill. A quick red sauce brings fresh tomatoes to the party.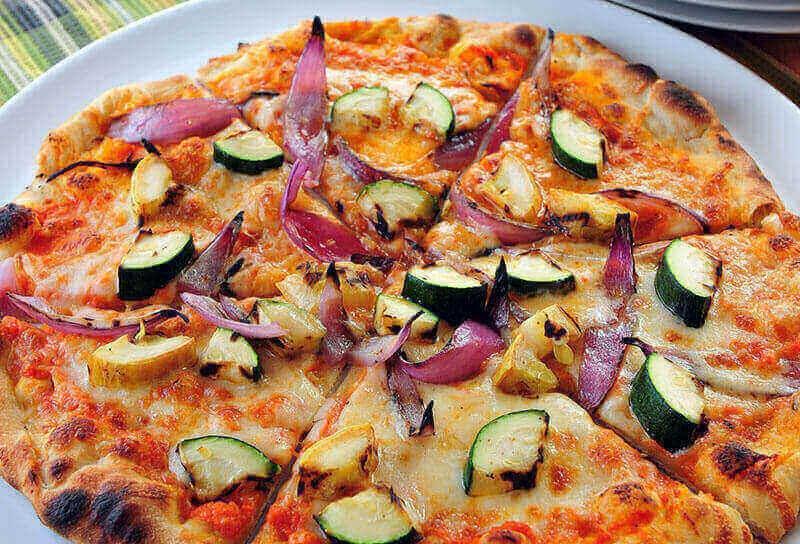 ---
Ingredients
1/2 zucchini squash
1/4 yellow squash
1/4 red onion
Extra virgin olive oil
Kosher salt
1/2 batch White Wine Pizza Dough, about 14 ounces
2 ounces (1/4 cup) fresh tomato red sauce (recipe follows)
3 ounces Scamorza cheese, shredded
Fresh Tomato Red Sauce

Yields about 1 1/2 cups
2 1/2 pounds Roma tomatoes, roughly chopped
6 cloves garlic
1 teaspoon sea salt
2 tablespoons extra virgin olive oil
Directions
Fresh Tomato Red Sauce
Combine the tomatoes, garlic, sea salt and 2 tablespoons olive oil in a blender or food processor. Thoroughly process until the liquid is smooth and frothy. Transfer to a large sauce pan. Bring to a simmer over medium heat and reduce to a thick sauce. Store any extra sauce in the refrigerator in an air-tight container for up to 4 days.

Pizza
Prepare the grill for direct grilling over a hot fire. A charcoal fire is preferred for grilling the vegetables because of its drier heat characteristics.
Quarter the squash lengthwise. Slice the onion into narrow wedges. Pierce toothpicks through the layers of the onion to help keep the wedges together on the grill. Brush all with olive oil and sprinkle generously with kosher salt.
Grill the vegetables over the hot fire until nicely marked. The pieces will continue to cook on the pizza, so pull them off the grill before they are fully tender. Slice the squash into smaller pieces for the pizza. Separate the layers of the onion wedges. Prepare the pizza oven or grill for baking pizza (see our online guide for perfect pizza on the grill).
Roll out the pizza dough to about 14″ and transfer to a pizza prep peel lightly dusted with corn meal. Spread on the sauce (a 2 ounce ladle is a handy tool if you make pizzas often), sprinkle on the cheese and distribute the vegetables.
Bake the pizza until the crust is golden brown and the toppings are hot. At 500 degrees it should take about 10 minutes. At 750 degrees it will take only about 3 minutes.