Recipes
Frenched Lamb Rack with Toasted Pistachio Herb Crust
Created by our Australian dealer Winning Appliances, this dish looks and tastes great. In true French-cuisine fashion, herbs de Provence is used to elevate the already flavorful meat. The crust consists of toasted pistachios, Dijon mustard and honey yielding the perfect balance of sweet and salty. For best results, we like to cook this on the Hybrid Fire Grill using premium cooking wood.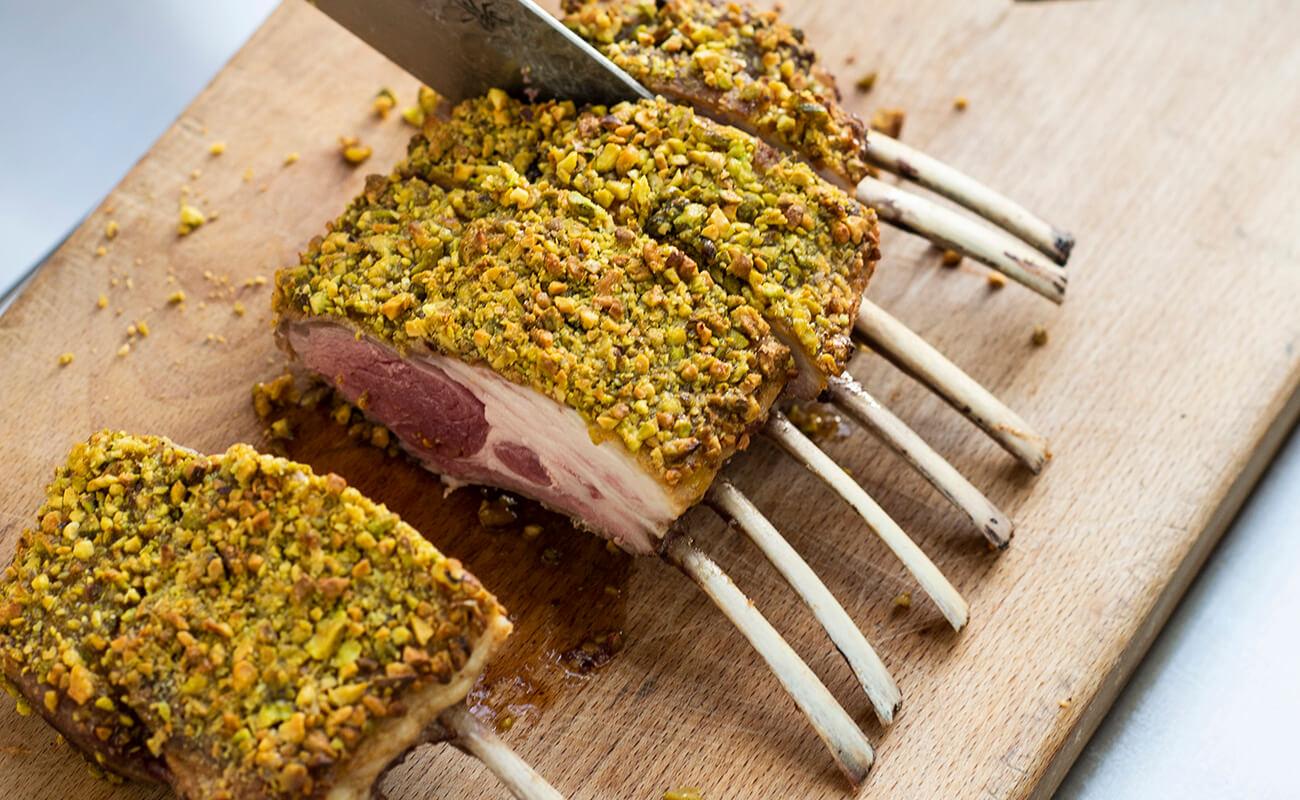 ---
Ingredients
INGREDIENTS
2 Frenched lamb racks, fat trimmed (6-9 bones per rack)
2 tbsp herbs de Provence
1 tbsp vegetable oil
1 cup (150g) pistachios, toasted, finely chopped
2 tbsp (40g) bread crumbs, toasted
2 tbsp garlic oil
1/4 cup (60g) Dijon mustard
2 tbsp walnut honey
Directions
Prepare the grill for indirect cooking at 350°F to 375°F.

Pat the lamb rack dry and coat with herbs de Provence and salt and pepper to taste.

In a medium cast iron skillet, heat oil over medium on the gas cooktop side burner. Place the lamb on the hot skillet and brown on all sides for 5-7 minutes or until golden. Set aside to rest for 10 minutes.

While the lamb is resting, in a medium bowl mix pistachios, bread crumbs and garlic oil. Combine Dijon mustard and honey. Brush the mustard all over the lamb racks. Then press the pistachio mixture onto all sides, ensuring the mustard layer is completely covered.

Place the lamb racks in the indirect cooking zone with the bone-side down, and the bones pointed away from the heat source. After 20 minutes wrap each exposed bone with aluminum foil to prevent the bones from burning and becoming brittle. Continue to roast with the hood closed until the instant-read thermometer measures 120°F to 130°F, about 14 minutes.

Remove the lamb from the grill and let it rest for about 5-7 minutes before slicing in 2-bone increments. Serve immediately.