Recipes
Eastern Carolina-Style Smoked Pork Shoulder
Traditional American BBQ styles change from region to region. In fact, they often change from one part of a state to another. That's definitely the case when it comes to the Carolina's. You'll often hear reference to Carolina-Style BBQ which is somewhat confusing, given there are three distinct styles of BBQ in the Carolina's.

Today, we're focusing on Eastern Carolina and their vinegar-based BBQ. If you haven't had this style of BBQ and are more familiar with the tomato based BBQ found in other regions of the country, you're in for a treat! As a heads-up, this is a long cook; 16 hours or more depending on the size of the pork shoulder. Don't be scared away by the cooking time, the efficiency of the Shokunin makes it relatively effortless, you won't be up all night tending to the fire like you would with other grills. The end result is a smoky, tangy, tender and juicy pork shoulder that will be the talk of the neighborhood, assuming you're willing to share it.
---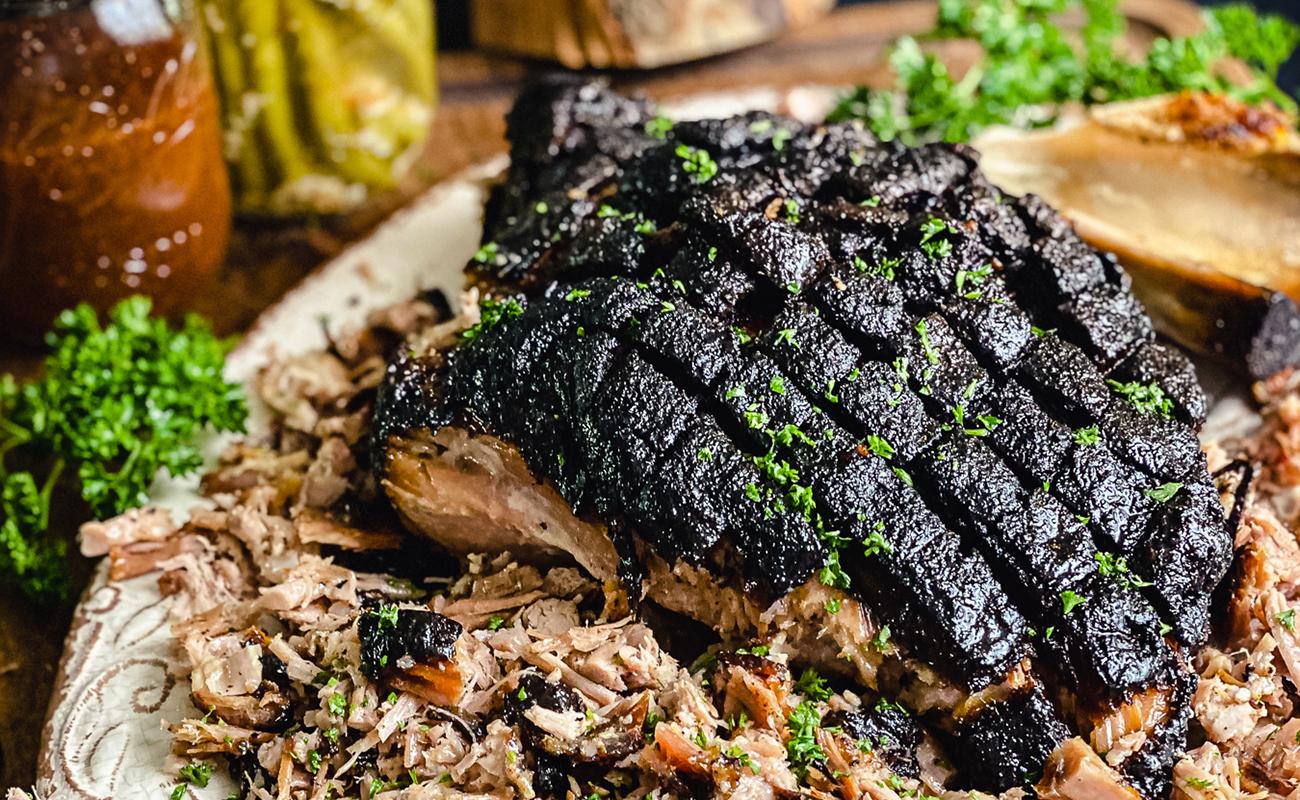 ---
Ingredients
1 8 lb bone in pork shoulder
1 tbs yellow mustard
For the rub
½ cup light brown sugar
½ cup smoked paprika
1 Tbsp. fresh ground black pepper
1 Tbsp. kosher salt
1 Tbsp. ground savory
1 Tbsp. chili powder
1 Tbsp. garlic powder
1 Tbsp. onion powder
1 Tsp. ground cayenne pepper
For the Sauce
1 cup cider vinegar
1 cup distilled vinegar
½ cup water
¼ cup packed brown sugar
¼ cup hot sauce (Texas Pete is king in Eastern Carolina, but use what you like)
1 Tbsp. sea salt
1 Tbsp. Crushed Red Pepper
1 Tsp. fresh ground black pepper
1 Tsp. garlic powder
1 Tsp. smoked paprika
Directions
Let's start by setting up the Shokunin Kamado for low and slow cooking. Follow the easy steps for that in our guide about Shokunin low and slow style cooking. For pork shoulder I recommend a combination of pecan and apple hardwood. Maple is also great with pork, so use what you like best.

While your grill is coming up to temperature, let's prepare the shoulder. Unlike a beef brisket that requires a decent amount of trimming, a pork shoulder is relatively low maintenance as far as trimming goes. Rinse off your pork shoulder using cold water, and pat dry with a paper towel. Set on your cutting board fat side up and use a sharp chef's knife to score the fat cap in a cross-hatch pattern.

Scoring the pork this way allows the fat to render more easily, allows seasoning to get down into the meat, creates more surface area for the smoke to adhere to, and best of all provides some incredible pork snacks to munch on at the end of the process.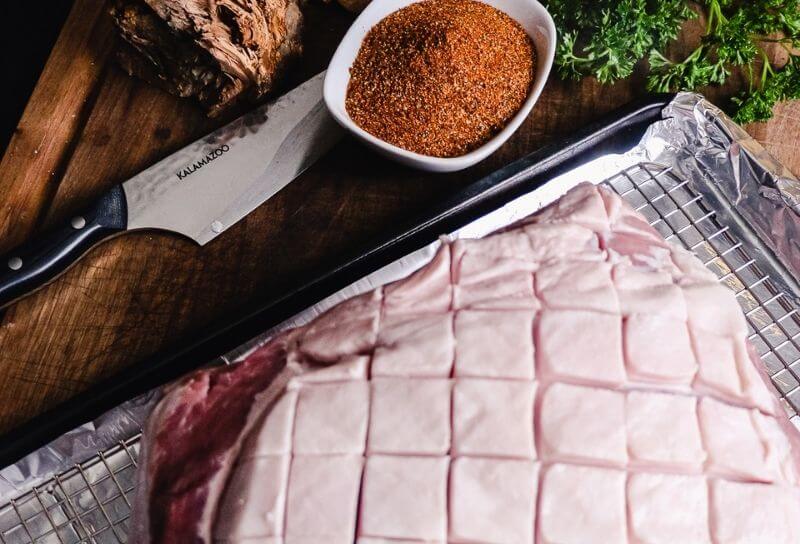 Combine all ingredients for your rub into a shaker bottle and shake them up to get a good mix. Cover the entire pork shoulder with a thin coat of yellow mustard. The mustard isn't going to provide any flavor, it's simply used as a binder to keep the seasoning on the pork. Liberally apply the seasoning to the pork, ensuring you cover all sides.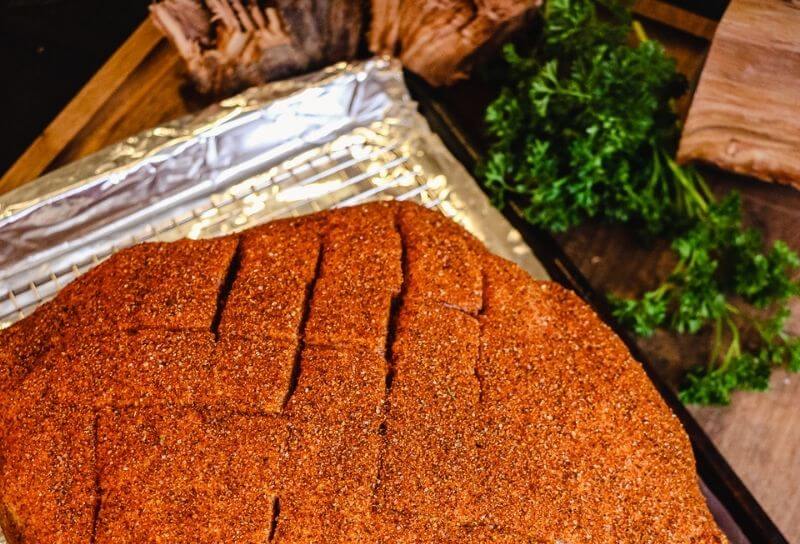 For ease of cleanup, I recommend lining an 11 X 17 inch cookie sheet with aluminum foil and then placing a wire cooling rack on the cookie sheet. Position your seasoned pork shoulder, fat side up on the cooling rack. Insert a reliable leave in meat thermometer probe into the center of the pork before placing the cookie sheet on the grill. Close the lid on the grill and monitor grill temperature. Minor adjustments to the exhaust vent may be needed in order to maintain your grill temperature at 225°F, but adjustments will be few and far in between.

The use of the cooling rack allows smoke to envelop the entire pork shoulder while the drippings are caught in the cookie sheet - this makes for an easier clean up. If you don't have a cooling rack, don't use the cookie sheet at all as an entire half of your pork shoulder won't get any smoke. Instead, just place the pork directly on the cooking grates.

Now let's make that sauce that screams Eastern Carolina. In a medium saucepan over medium heat, add vinegar and water. Once it has reached a low boil, add in the remaining ingredients for the sauce and whisk till sugar is dissolved. Allow the sauce to cool, pour half into a bowl and the rest into a glass jar.

After the pork has been on the grill for an hour, we are going to start building that Eastern Carolina flavor by mopping the sauce from the bowl onto the pork. Do this as quickly as possible as opening the lid to the grill supplies a rush of oxygen to the coals and will cause temperature spikes. Repeat this process every hour for six hours.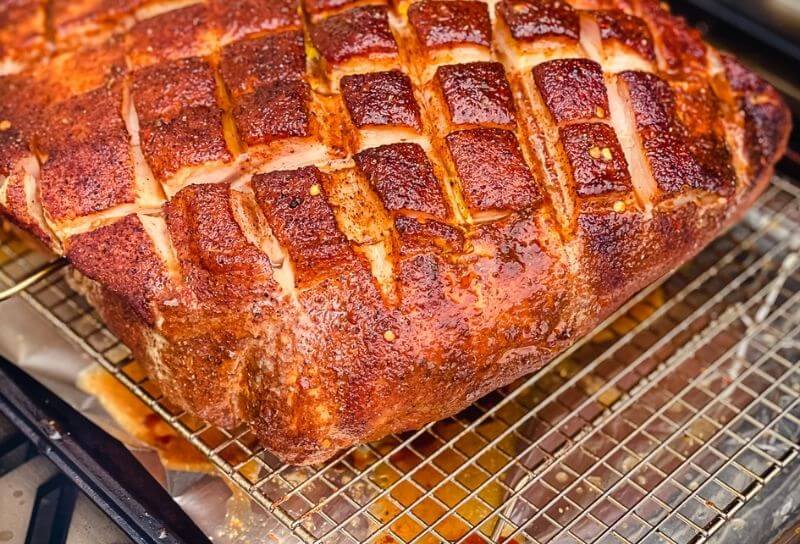 Mopping the pork is not to ensure the pork stays moist. That's required in almost every other cooker; not so with the Shokunin. It's such an efficient and sealed cooker, your pork will not need any added moisture while cooking, this is simply to build the flavor profile.

After six hours of basting, it's time to close the lid for the last time, and not disturb the shoulder until it's reached and internal temperature of about 195°F. This is where it gets just a tiny bit tricky. At 195°F it may be done and ready to come off the cooker, or it might not. Wiggle the bone in the shoulder and if it feels like it's ready to pull out without much resistance, the pork is ready. If the bone is still tight, let the pork go till the temperature reaches closer to 205°F. Each shoulder is different, so you'll have to make the judgement call. Once you pull the pork off the grill, place it in a raised edge dish and tent it with aluminum foil, allowing it to rest for an hour before pulling.

Using some insulated gloves, pull the shoulder into a nice shredded texture and remove any inedible fat. Top with reserved sauce and serve. This makes excellent sandwiches or can be eaten plain.


Tips For Smoking Pork Shoulder
The Stall: You'll notice on your leave in thermometer that the pork temperature will increase pretty steadily to about 150°F or so, then it stagnates (and may even decrease) for a period of time. This is known as the stall and happens when the meat tightens up enough to start squeezing juice to the surface. The juice causes some evaporative cooling which is responsible for the stall. Don't worry, it's normal. Some people will wrap the shoulder in butcher paper or foil at this point, as it helps to push through the stall. I prefer not to wrap pork, but that's personal preference. Feel free to wrap it if you like.

Timing: This is a long cook, plan on about 1.5 to 2 hours of cook time per pound of pork and back that time up based on when you plan to eat.