Recipes
Crispy Speck-wrapped Pizza Oven Asparagus Appetizers
The pizza oven is perfect for appetizers at any outdoor party, and one of our most popular appetizer recipes is our Crispy Speck-wrapped Asparagus. The asparagus takes on a meaty flavor profile when roasted at a high temperature in the pizza oven – much different than the flavor of sautéed or steamed asparagus, which has a more grassy profile. This flavor melds beautifully with the herbed garlic cheese and crispy speck. A touch of fresh lemon zest brightens the taste.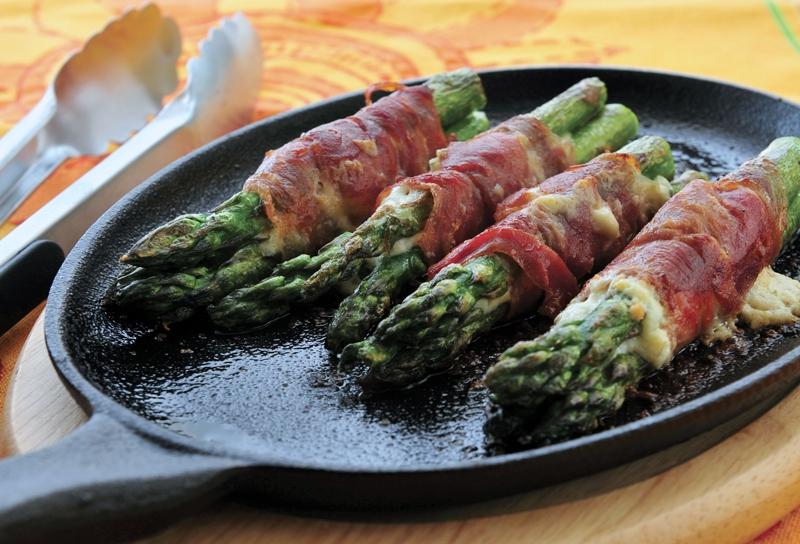 ---
Ingredients
3 tablespoons Boursin garlic herb cheese
Finely-grated lemon zest from 1/2 lemon
12 spears fresh asparagus, bases cut off
1 tablespoon extra-virgin olive oil
1 tablespoon lemon juice
4 slices speck (like prosciutto, but smoke-cured)

Cast iron fajita pan
Directions
Preheat the Artisan Fire Pizza Oven with the upper burner control on HIGH and the lower burner control on LOW. Preheat a cast iron fajita pan in the oven.
Combine the Boursin and the lemon zest.
Toss the asparagus in a bowl with the olive oil and lemon juice.
Lay out a slice of prosciutto on a clean work surface. Lay 2 asparagus spears across one end of the prosciutto. Place a dollop of Boursin mixture on the center of the spears. Press a third spear into the top of that. Roll tightly into the prosciutto slice to make the first bundle. Repeat 3 more times.
Place the bundles in the preheated pan and put the pan into the oven. Roast the bundles for about 4 minutes, turning once or twice with tongs until the prosciutto is crisp. Use caution to avoid overcooking the asparagus.