Recipes
Bacon Bison Burgers
While in Charleston earlier this year, I had the pleasure of visiting The Bar at Husk. Their burger is awesome! They are one of many places that blend bacon into the beef in their burgers, but their specimen is the best I have had. I've been thinking about the blend ever since, and have finally pulled together a recipe to share with you. In this version, I use lean bison that adds an incredible delicate flavor, mixed with apple wood-smoked bacon. The toppings are quite simple to let the smoky, grilled flavor of the meat really shine. Some high-quality butter pickles, a little secret sauce and some cold-packed cheddar are all you need to complete this phenomenal burger.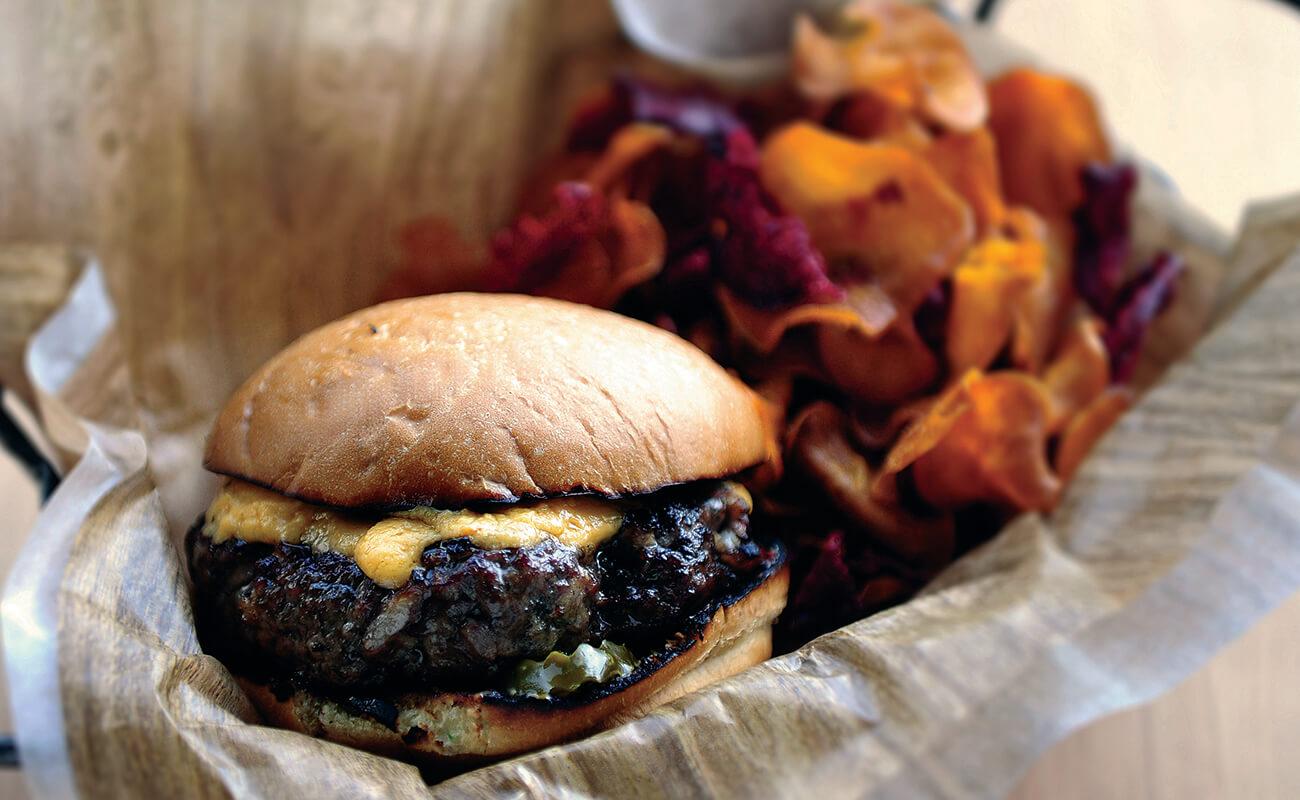 ---
Ingredients
1/2 pound good quality apple wood-smoked bacon
2 1/2 pounds ground bison
Extra virgin olive oil
Fine sea salt
6 golden hamburger buns
Cold-packed cheddar cheese
For the Secret Sauce
2 green onions, light green and medium green parts only, thinly sliced
1/4 cup mayonnaise
2 teaspoons whole grain Dijon mustard
1 teaspoon ketchup
1/2 teaspoon prepared horseradish
1/4 teaspoon paprika
1/8 teaspoon ground cayenne pepper
A pinch of fine sea salt
Directions
Prepare the grill for direct grilling over a medium-hot fire, preferably a charcoal fire.
Finely chop the bacon with a knife so that it is similar in texture to the ground bison. Gently mix the chopped bacon into the bison. Use caution not to overwork the meat blend, or the texture of the finished burgers will not be as desirable. Divide the mixture into 6 equal parts and form into patties slightly larger than the hamburger buns. Recess the centers of the patties so that when they plump up they take on a flat profile (thank you Bobby Flay for the tip). Brush the patties lightly with olive oil and season generously with salt.
Let the burger patties rest for a few minutes while you prepare the buns and the Secret Sauce. For the sauce, whisk together all of the ingredients. For the buns, brush them generously with olive oil on the cut sides and season lightly with salt.
Grill the burgers directly over the fire until cooked to medium-well (170°F), about 4 minutes per side. It is important to cook to at least medium-well because of the bacon worked into the mixture. After the burgers have been flipped, top each with a spoonful of cold-packed cheddar cheese. (Note: cold-packed cheddar cheese has some of the mild "cheeseburger flavor" qualities of American cheese, but it is real cheese and has a bit more character.)
While the cheese is melting, lightly grill the hamburger buns.
Spread a little secret sauce and add a few pickle slices to the bottom half of each bun. Add the burgers and the top of the buns and serve. These burgers are incredibly flavorful – no additional condiments should be necessary.
Enjoy!