San Francisco, California
This spectacular San Francisco house was fully renovated complete with a spacious rooftop deck featuring a Kalamazoo kitchen.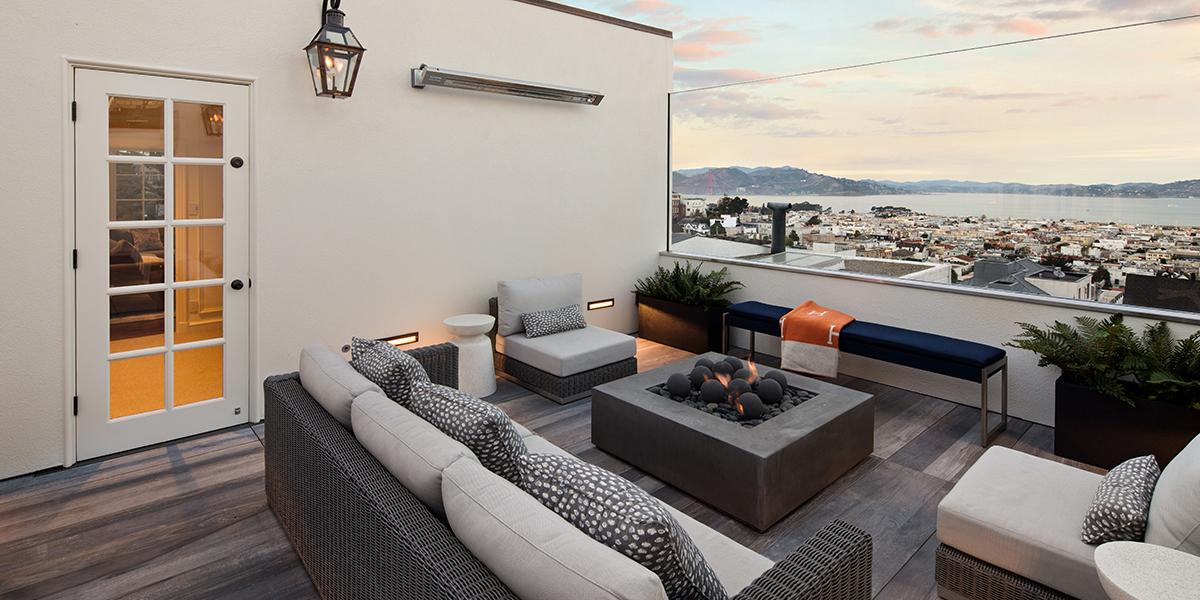 San Francisco, California
By Jeff King & Company
This 4,750 square foot stunner is located in the idyllic Pacific Heights neighborhood of San Francisco. A complete renovation of the house, built in 1929, offered the homeowners a chance to increase their living space with an expansive rooftop deck. The design architect, Keith Anding (SKA Architecture + Design) and team collaborated extensively with the homeowners to bring their vision to life. Keeping some original features of this Beaux-Arts house, the team modernized the space to create an oasis the family is happy to call home.
Serene views of the Bay Area and Golden Gate Bridge surround the outdoor kitchen and entertaining space, making it a premier spot to enjoy cooking and entertaining with friends and family. The rooftop entertaining space was designed to include ample seating and a fireplace, perfectly situated to enjoy the city and water views. The Kalamazoo outdoor kitchen offers the best in functionality and convenience for the chef and guests through thoughtful design and product solutions.
The rooftop kitchen is fully equipped to function independently of the indoor kitchen. The Kalamazoo Hybrid Fire Built-in Grill serves as the focal point. This incredibly versatile grill can cook with gas, wood and charcoal, making it the powerhouse of the outdoor kitchen.
The Artisan Fire Pizza Oven can reach over 800°F and cook delicious Neapolitan-style pizzas in just two minutes. It preheats quickly, making impromptu pizza nights with friends and family possible.
The Signature Series weather-tight cabinets allow the homeowners to keep cooking utensils and other necessities outdoors all year. Hand-welded, seamless rain gutters surround every door and drawer opening guarding against water and debris. And, keeping food chilled outside is convenient with the Signature 24-inch Outdoor Refrigerated Drawers that maintain a set internal food-safe temperature even in the blazing sun, to keep food fresh.
The homeowners can enjoy gathering and cooking with family and friends for years to come in this thoughtfully designed rooftop space.
GET STARTED WITH OUR OUTDOOR KITCHEN PLANNING GUIDE
Our outdoor kitchen design team has compiled this handy guide chock-full of great advice and recommendations. It includes tips on getting started, planning your kitchen layout, selecting products and some key mistakes to avoid.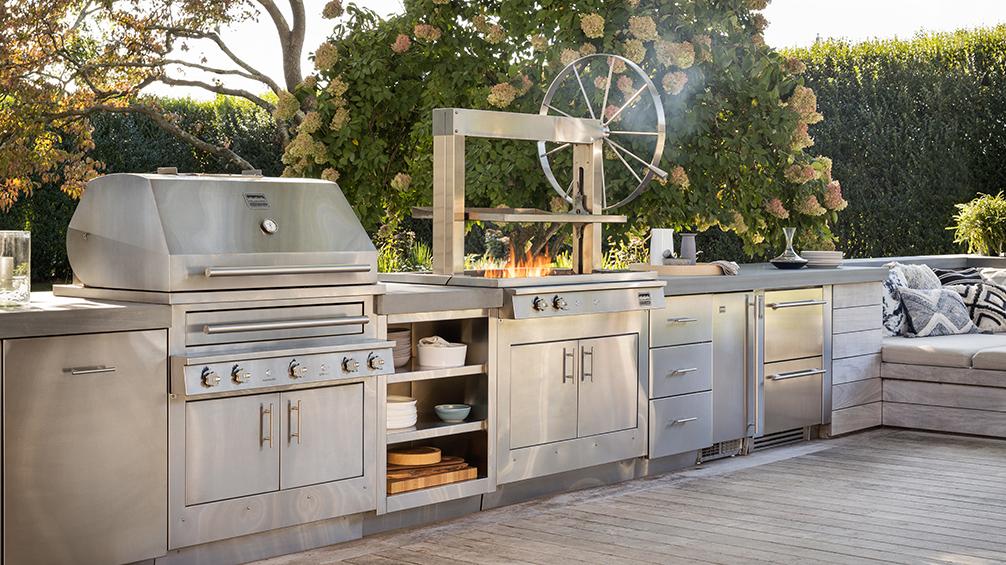 EXPERT DESIGN SUPPORT AT EVERY STAGE
Our team of expert designers is here to help create your dream outdoor kitchen. From space planning to product selection to installation support and everything in between, we can help. Leverage our experience to create an outdoor space to enjoy for many years to come. Let's get started today. LEARN MORE