Rye, New York
A statement making house in Rye, NY features a galley style outdoor kitchen with the Kalamazoo Hybrid Grill and cabinetry.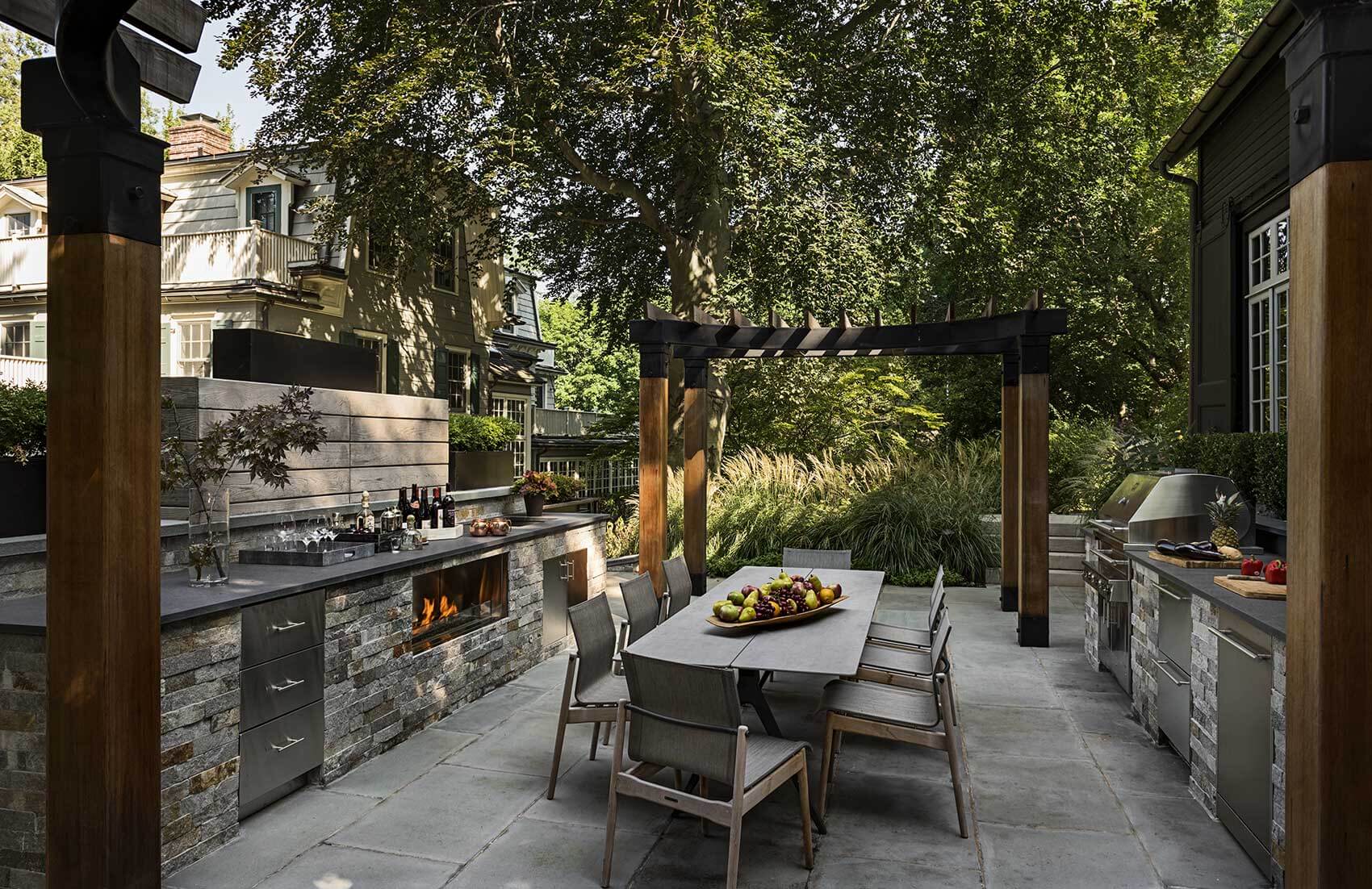 This statement making estate in Rye, New York features an expansive multi-purpose backyard that sits beneath a canopy of trees surrounded by a flourishing grassy landscape. This massive outdoor entertaining area and kitchen were designed by Crisp Architects in partnership with Conte and Conte, LLC landscape architects in 2017.
The outdoor kitchen extends off the back of the main house and is located on the top level of this multi-level landscaped backyard. Bookended by two pergolas, the galley style outdoor kitchen features a large dining table in the middle with seating for eight. A built-in gas fireplace, adjacent to the table, is perfect for those chilled fall evenings extending time spent outdoors late into the season.
Central to the elongated kitchen sits the Kalamazoo Hybrid Fire Grill, this powerful piece of grilling equipment interchangeably cooks with gas, wood and charcoal offering the homeowners the ultimate versatility in cooking. Surrounding the grill is an abundance of gray countertop offering ample space to prepare and cook meals with friends and family. Signature Series weather-tight cabinetry and refrigerator and freezer doors are built into stone masonry for convenient outdoor cooking.
Parallel staircases from the outdoor kitchen lead to a large entertaining area with a fireplace as the focal point of the space. Continuing with the symmetrical design, two identical seating areas are situated on either side of the fireplace allowing for large gatherings.
Blacks and neutral tones are carried throughout the design whether it's the stone wall off the fireplace, the plush sofas or the flooring. The extensive stone work features pops of greenery to help make this backyard oasis feel lush like the surrounding woods. Tall grasses surround walkways leading from the back of the house to the kitchen, entertaining area and to an intimate gathering spot surrounding a fire pit.
Whether it's sitting by the fireplace with family after cooking a meal or entertaining friends at dinner parties, the homeowners can enjoy this multi-functional outdoor space and kitchen making memories for years to come.