Palo Alto, California
A fully independent, year-round kitchen creates a welcoming space for family and friends to gather.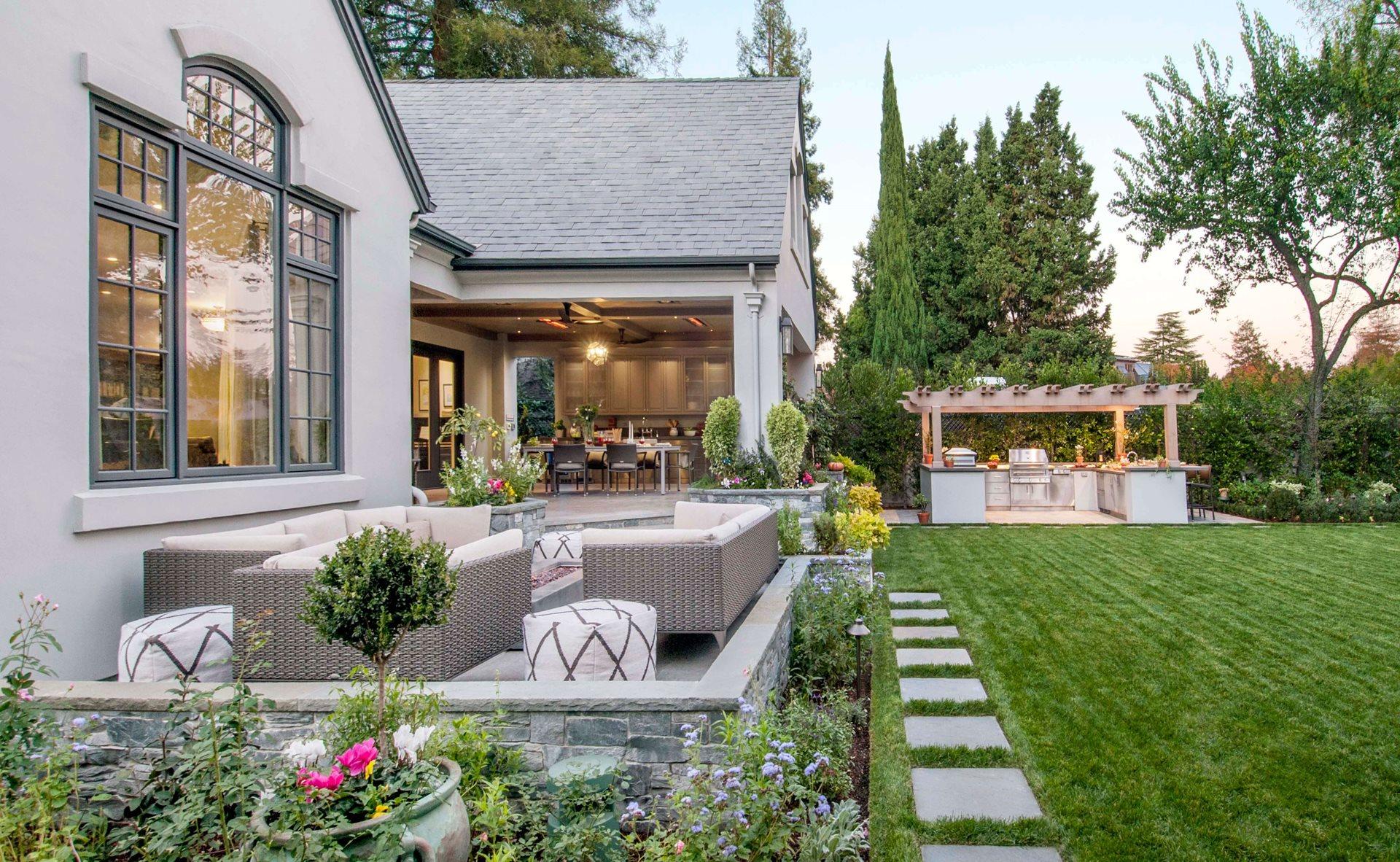 This Palo Alto-based family wanted a fully functional, year-round outdoor living space, including a complete gourmet kitchen. The family planned to take full advantage of the temperate California climate with a wide range of events throughout the year, so it was imperative that their new outdoor kitchen be dynamic enough for everything from informal family cookouts to large catered dinner parties. The space also needed to be self-contained and independent so the chef wouldn't have to go back and forth to the indoor kitchen. Kalamazoo Outdoor Gourmet made this possible by designating hot zones, dry zones, wet zones, and cold zones to separate kitchen tasks and create workflow efficiencies.
The new outdoor kitchen features a full suite of Kalamazoo Outdoor Gourmet appliances and products. The homeowners wanted a powerful gas grill that could also cook with charcoal and wood, and they found the perfect match in their built-in Hybrid Fire Grill. While they love the convenience of cooking with gas for quick meals, they really enjoy the dry, searing heat that charcoal generates, and the incredible flavors they can achieve by grilling with aromatic wood limbs. Custom grill surfaces optimized for meat, fish, and vegetables prevent food from falling through the grates. They are also designed to retain heat, ensuring food doesn't stick to the surface.
The new outdoor kitchen is also outfitted with a pizza oven. The Artisan Fire Pizza Oven's 40-minute heat-up time (compared to 3.5 hours for traditional wood-burning pizza ovens) makes impromptu pizza nights possible. With temps over 1,000°F, the Artisan Fire Pizza Oven can cook a Neapolitan-style pizza in just 2-3 minutes – and friends and family love to take turns doing just that.
Weather-tight storage cabinets keep dishes and other essentials close at hand and protected from the weather with seamless rain gutters. Cooking ingredients and beverages stay cold even on hot days in the refrigerated drawers, while the 24" warming cabinet provides plenty of warm food storage for catered events. Well-designed placement of the sink, dishwasher and a waste and recycling cabinet make cleanup a breeze and give the homeowners the total outdoor cooking experience they wanted.
The space was thoughtfully designed for all-weather functionality and features fans and heaters to create comfort in every season. A variety of ambient and task lighting options accommodate morning, afternoon, evening, and late-night cooking, so the outdoor kitchen is always ready to enjoy. Now the family looks forward to spending relaxed evenings making pizzas or cooking on the grill in their happy, informal outdoor entertainment space. Having everything on hand for an outdoor cooking session makes the experience seamless, stress-free and enjoyable – everything a Kalamazoo Outdoor Gourmet kitchen should be.
GET STARTED WITH OUR OUTDOOR KITCHEN PLANNING GUIDE
Our outdoor kitchen design team has compiled this handy guide chock-full of great advice and recommendations. It includes tips on getting started, planning your kitchen layout, selecting products and some key mistakes to avoid.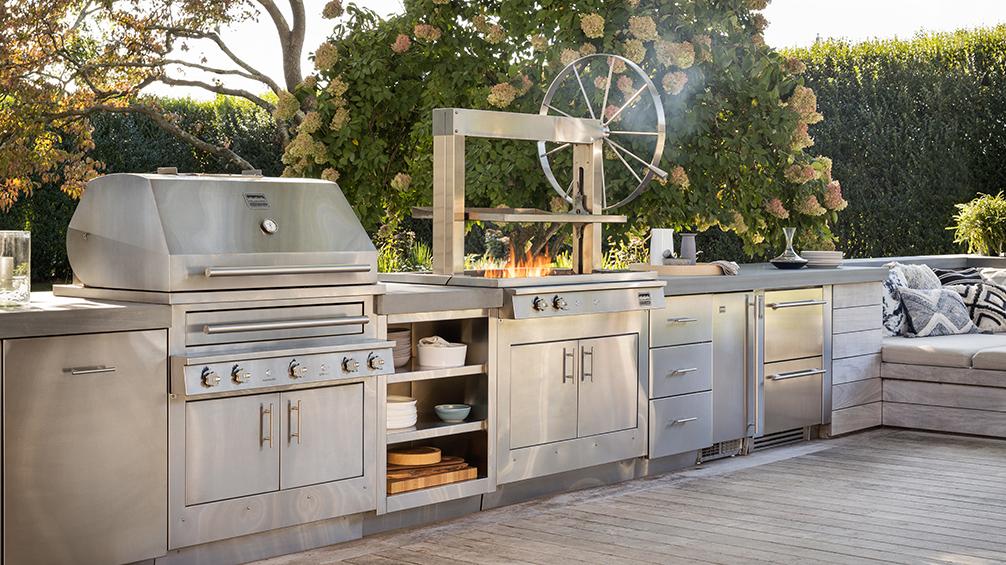 EXPERT DESIGN SUPPORT AT EVERY STAGE
Our team of expert designers is here to help create your dream outdoor kitchen. From space planning to product selection to installation support and everything in between, we can help. Leverage our experience to create an outdoor space to enjoy for many years to come. Let's get started today.