Orinda, CAlifornia
This expansive outdoor kitchen overlooking the lush hillside is the perfect spot to entertain, relax and cook.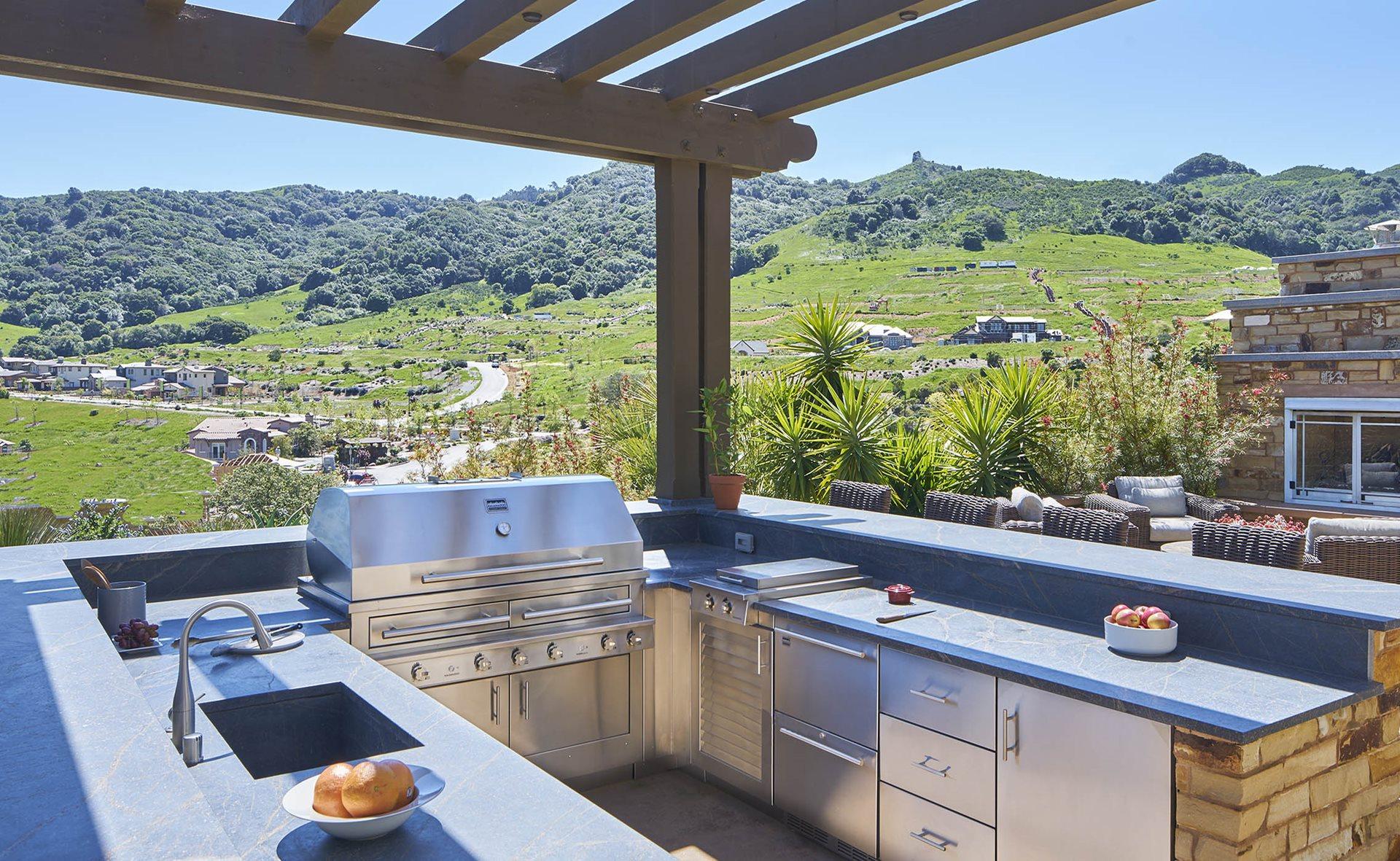 Orinda, California
By Homestead Design Collective
In the idyllic town of Orinda, CA (ranked the second most friendly town in America by Forbes), this expansive outdoor living space overlooking a lush hillside offers its homeowners the perfect place to cook, relax, and entertain guests. Homeowners Stephanie Katleman and Paul Grinberg felt an outdoor kitchen was a natural fit to extend their outdoor lifestyle in California. "...We knew that an outdoor kitchen would be a focal point for entertaining, whether it was just a few people getting together or much larger parties," said Paul. They dreamed of creating a space where they could share their passion for food and friends.
Their landscape architect, Terry Camp from Camp & Camp, alongside the landscaping team of Stefani Bittner from Homestead Design Collective and Jim Zygutis from GreenGo Landscaping helped make their outdoor entertaining and cooking wishes a reality. They worked closely with Stephanie and Paul to design an outdoor kitchen with convenience and functionality in mind. The homeowners wanted the outdoor kitchen to operate independently, so they could spend more time with friends and family rather than going back and forth to their indoor kitchen. Kalamazoo's products were a natural fit for this project, offering design flexibility, performance, and features that others they explored simply did not. "With the 'plug and play' nature of the Kalamazoo design, all we had to do was discuss which specific products we wanted and how much space we had to work with," said Paul.
The Hybrid Fire Grill is the heart of this outdoor kitchen and the homeowners use it often. "When we discovered the Kalamazoo Hybrid Fire Grill and not having to make a choice between wood, gas, or charcoal, we started leaning towards choosing this as the foundation of the kitchen design," Paul said.
The U-shaped design of the outdoor kitchen features an abundance of Kalamazoo's weather-tight Signature Series cabinetry. Paul and Stephanie keep these cabinets fully stocked year-round without worrying about water and debris getting inside. The space features a pull-out waste and recycling unit, dish and utensil storage, refrigerated drawers, an outdoor beverage center, and sink base cabinets. The range of cabinetry and their proximity to the cooking zone creates efficient workflows for both the chef and guests. Ample refrigeration and freezer storage was incorporated into the kitchen so the homeowners can keep everything they need on hand to prep, cook, and eat meals in this gorgeous outdoor setting.
The homeowners worked closely with their landscape architect, landscaping team, and the design experts at Kalamazoo to create the kitchen of their dreams. The result is a highly functional and beautifully designed outdoor kitchen they can enjoy while making lasting memories for many years to come.
GET STARTED WITH OUR OUTDOOR KITCHEN PLANNING GUIDE
Our outdoor kitchen design team has compiled this handy guide chock-full of great advice and recommendations. It includes tips on getting started, planning your kitchen layout, selecting products and some key mistakes to avoid.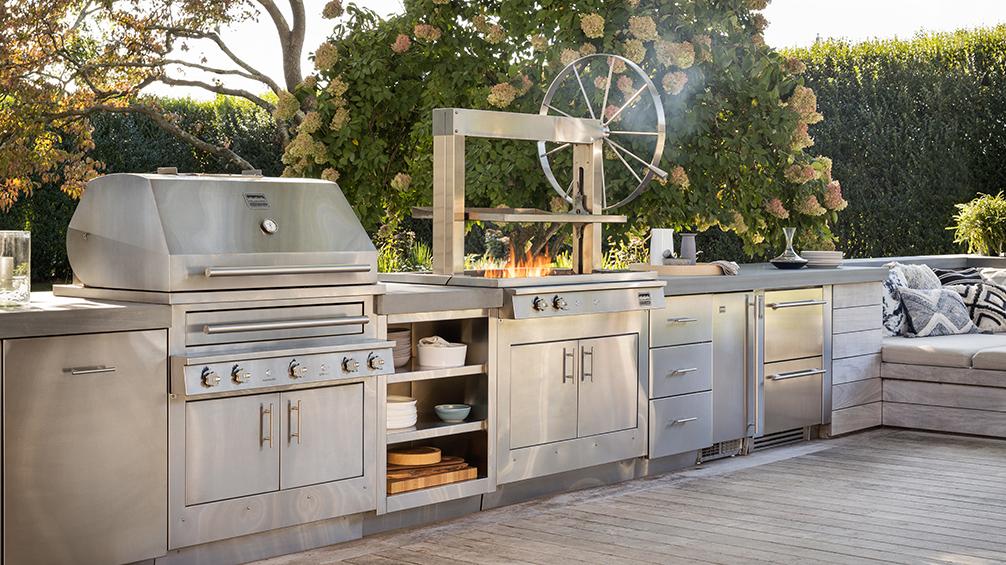 EXPERT DESIGN SUPPORT AT EVERY STAGE
Our team of expert designers is here to help create your dream outdoor kitchen. From space planning to product selection to installation support and everything in between, we can help. Leverage our experience to create an outdoor space to enjoy for many years to come. Let's get started today.