New Orleans, Louisiana
A total renovation of a classic New Orleans home is complete with the addition of a sleek new outdoor kitchen.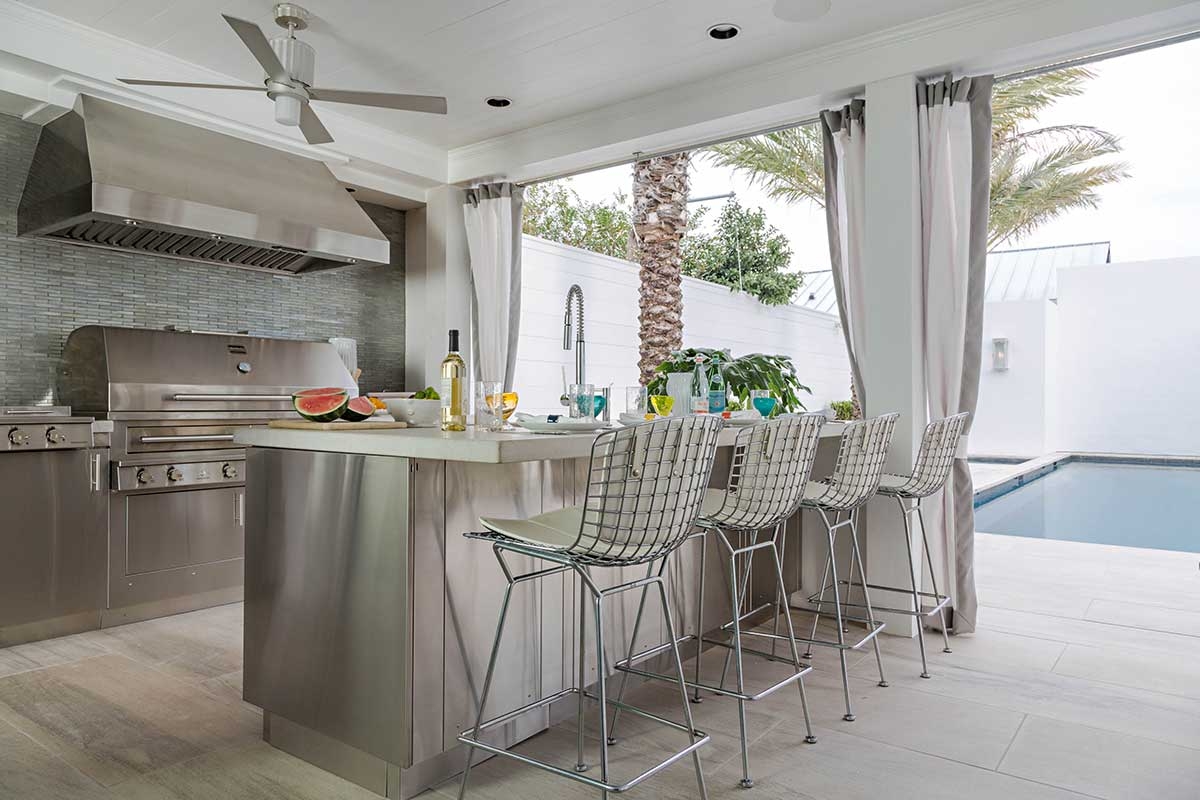 Following on the heels of a whole-house renovation, the new outdoor kitchen was styled with the same modern, white aesthetic. Smart design strategies for this client's outdoor kitchen make it a workhorse for all styles of entertaining, from winter football celebrations to summer pool parties.
The new outdoor kitchen is fully outfitted with Kalamazoo Outdoor Gourmet appliances and products. Without overhead storage, an island was essential to providing enough weather-tight cabinetry to accommodate pull-out trash, dish and utensil storage, refrigerated drawers, and an icemaker. Flanking the cooking zone with refrigeration creates efficient workflows for both the chef and guests. A beverage refrigerator located to the right of the grill and near the pool and play area provides easy access to drinks, without requiring guests to cross into the cook's territory. To the left of the grill and adjacent to the entry to the home, refrigerated drawers are a convenient drop-off location for ingredients, sheet trays, and other supplies from the indoor kitchen. Between these two refrigerators, the chef can enjoy an uninterrupted, compact cooking & prep zone comprised of the Hybrid Fire Grill and double cooktop, prep counter, and sink.
At 51 inches wide, Kalamazoo's largest, most powerful Hybrid Fire grill is the most flexible element of this New Orleans kitchen. The huge primary grilling area makes it easy to cook for 50+ guests, with gas, charcoal, wood, or a combination. This puts every outdoor cooking technique within reach, from "low and slow" American barbecue to intense searing heat in excess of 1,000 degrees.
The space was thoughtfully designed for year-round use in the warm New Orleans climate. Covered island seating provides shelter on both warm and cool days. Floor-to-ceiling drapes can keep wind and rain out of the cooking and dining area or simply make the space feel more cozy and contained. The 65-inch TV is perfectly positioned for convenient viewing from the counter seating, dining table, and pool, making the space an outdoor haven for watching sports.
Considering the family's entertainment and functional needs resulted in a well-designed, compact Kalamazoo Gourmet kitchen that makes cooking and entertaining a joy.