New Buffalo, Michigan
An industrial farmhouse style home with a gorgeous outdoor kitchen that sits on the banks of the Galien River.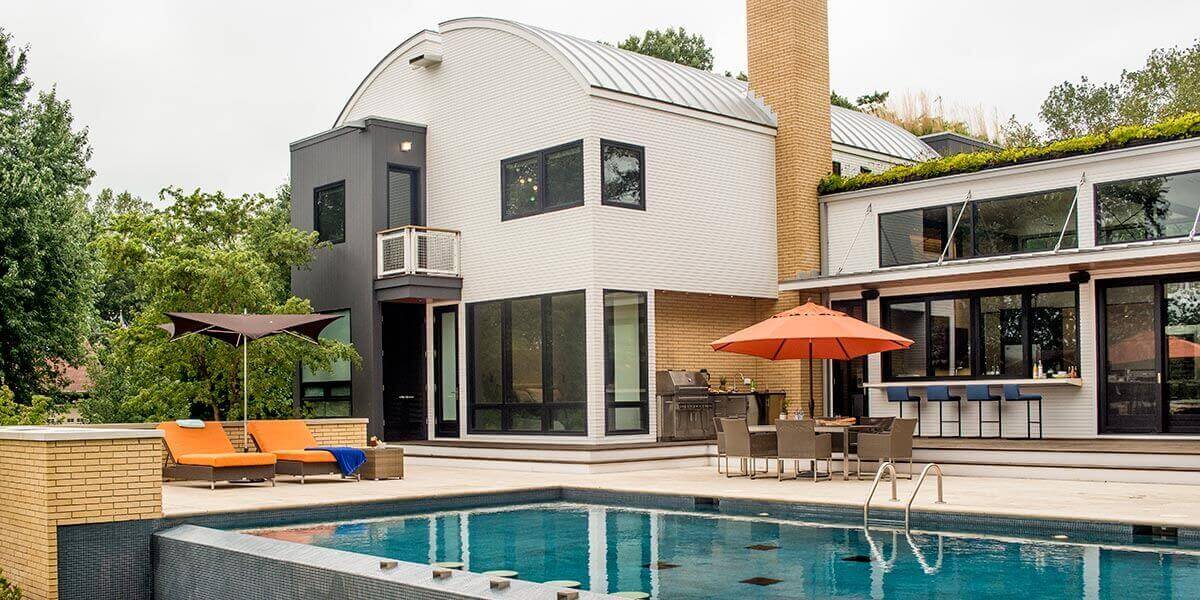 New Buffalo, Michigan
By Crescent Rock
Only an hour away from Chicago, this New Buffalo, Michigan, home feels like a total escape from the big city. With breathtaking views of the Galien River, an infinity pool, and a luxurious Kalamazoo Outdoor Gourmet kitchen, this industrial farmhouse style home combines beautiful, but functional architectural style.
The homeowner says that while the kitchen needed to look amazing, it also had to excel at outdoor cooking, and would be used often. With that in mind, a design was created to ensure that cooking in this outdoor kitchen was both easy and enjoyable. The Kalamazoo K750HB Hybrid Fire Grill handles the cooking duties with ease, while a pair of refrigerated drawers keeps food chilled, even in the hottest temperatures, until it's ready for the grill. The addition of a sink means there's no need to head into the house for washing up. Even with the large grill, refrigeration, sink, and plenty of weather-tight storage cabinets, the outdoor kitchen is neatly tucked into the corner of the deck, just steps from the back door of the house. Proximity to the house is a particularly important detail, as the homeowners love to cook throughout the frigid Michigan winters, so accessibility is key.
Every design decision made ensured the outdoor kitchen would be a dream to cook in. No detail was overlooked, from big components, such as choosing the right grill, to smaller elements, like incorporating ample task lighting and plenty of electrical outlets.
This outdoor kitchen has been a welcome addition to the home, giving the homeowners a new way to enjoy their beautiful backyard. What could be better than savoring a delicious meal hot off the grill, while watching the sun set over the river?
GET STARTED WITH OUR OUTDOOR KITCHEN PLANNING GUIDE
Our outdoor kitchen design team has compiled this handy guide chock-full of great advice and recommendations. It includes tips on getting started, planning your kitchen layout, selecting products and some key mistakes to avoid.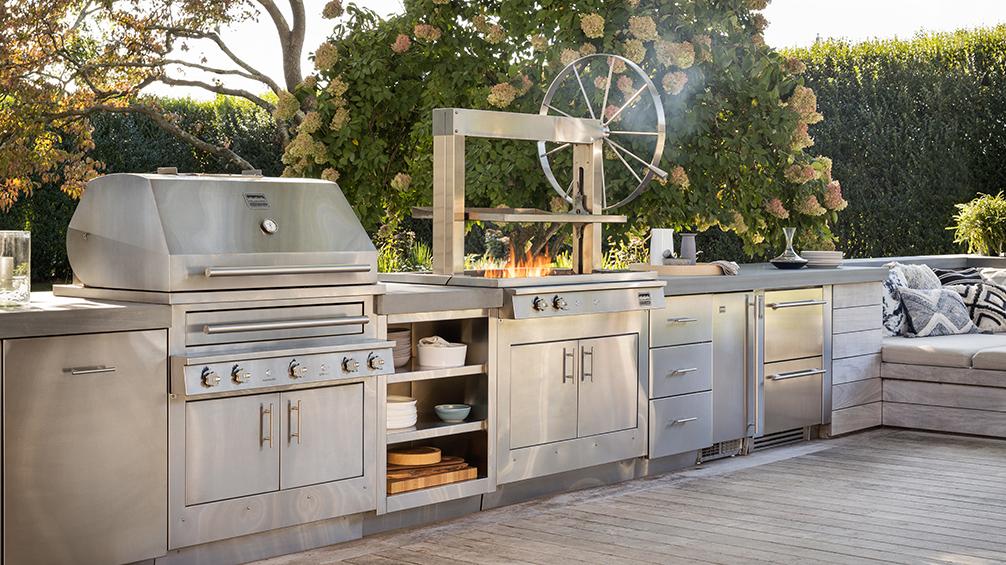 EXPERT DESIGN SUPPORT AT EVERY STAGE
Our team of expert designers is here to help create your dream outdoor kitchen. From space planning to product selection to installation support and everything in between, we can help. Leverage our experience to create an outdoor space to enjoy for many years to come. Let's get started today.