Manitowoc, Wisconsin
A summertime oasis with a fully functioning outdoor kitchen, pool and bocce ball court makes for endless family fun.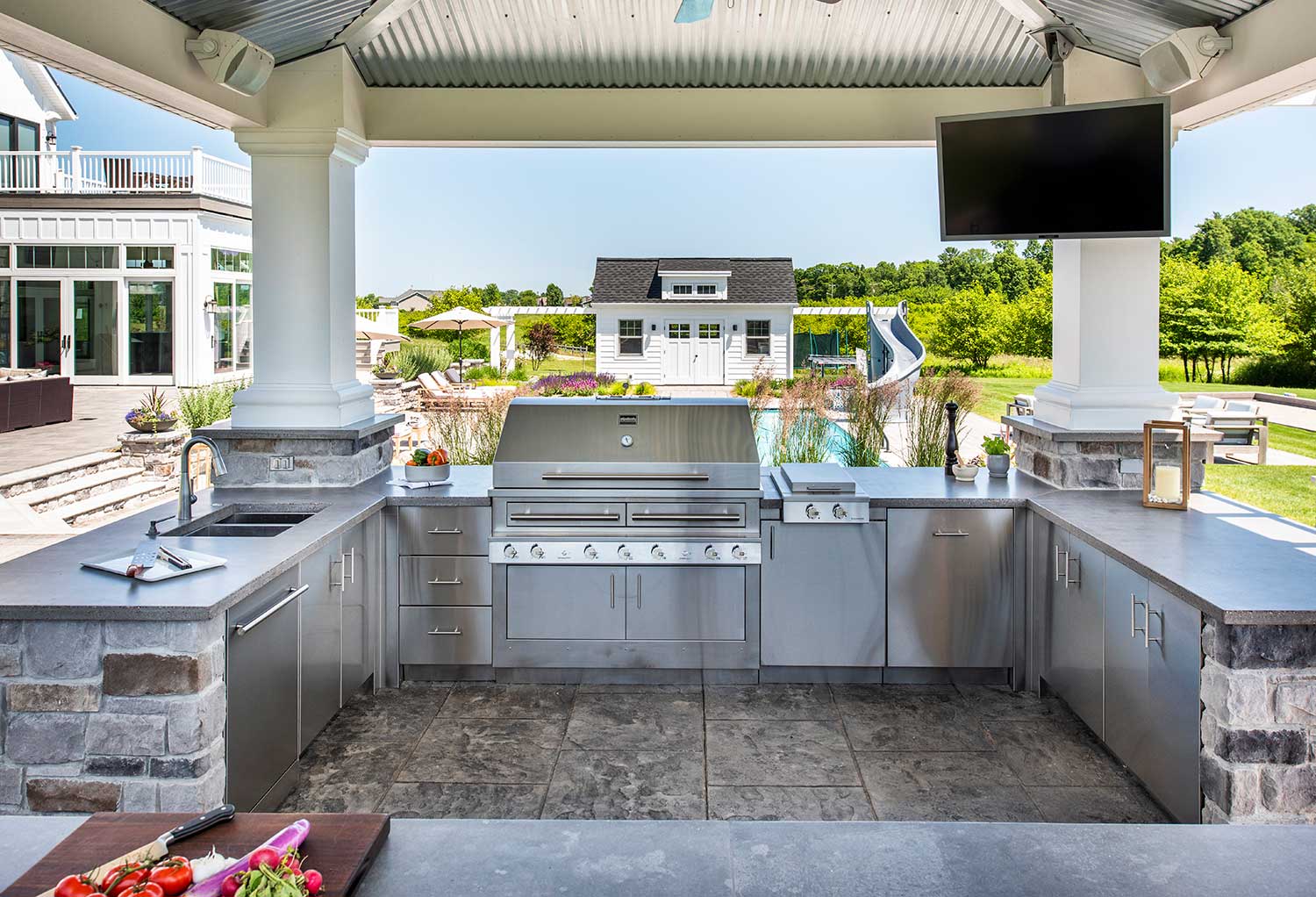 Manitowoc, Wisconsin
By Landscape Associates
A summertime oasis is located in the backyard of this spectacular property on the outskirts of town in Manitowoc, WI. The homeowners took the lead in designing their modern farmhouse, but said Jessie Jerabek of Braun Building was key for technical aspects. "He was amazing at taking our pictures, ideas and sketches and bringing them to life."
With the colorful plants, tall grashes, small pond and surrounding acres of trees, this backyard, designed by Landscape Associates, is a lush respite that homeowners can escape to during the warm months.
Following the pathway from the two-story garage, the Kalamazoo outdoor kitchen is situated underneath a large overhead structure, with fans, installed with comfort in mind. The homeowners worked closely with John Koss Builders to construct the outdoor kitchen. The Kalamazoo Hybrid Fire Grill is the heart of the outdoor kitchen. The homeowners chose it because it allows them to cook with wood, charcoal or gas in any combination. "We love to be able to use the outdoor kitchen to cook fish so we don't have to do it inside. It's a great way for everyone to participate after catching the fish themselves in the pond," the homeowners said of their favorite food to cook on the grill.
The versatile Hybrid Fire Grill and cooktop overlook the pool and lounge area, "We love that we can be with our friends and family while we are cooking. We created a few different seating areas centered around the outdoor kitchen so that everyone has options."
Surrounding the grill is ample stainless steel weather-tight cabinetry built-into masonry that allows the homeowners to store utensils outside all year long due to the hand-welded rain gutters surrounding every drawer and door opening that channel water and debris away. In addition to quality and convenience, cooking performance and functionality were big priorities for the homeowners when designing their outdoor kitchen. Powerful, reliable refrigeration was also important to have: "Our main goals were to be able efficiently prep food, cook food, have ample space to serve the food and be able clean up after meals outside…"
Meals can be enjoyed underneath the stars as a large wooden pergola extends from the outdoor kitchen. The adjacent eating area features an expansive hand-crafted dining table made by Brandan Gauthier of Gauthier Furniture from reclaimed wood that seats 12.
"Our outdoor kitchen has become the focal point of our backyard and instantly becomes the area that everyone is drawn to…", said the homeowners.
The homeowners love to entertain and enjoy being outdoors and there is no shortage of options in this backyard. Mornings can start with sipping on coffee from the upper deck overlooking the backyard and days can be spent lounging by the pool or having a quick bocce ball game. After a long day, friends and family, can cook dinner and relax by the firepit to extend the warm weather season.
GET STARTED WITH OUR OUTDOOR KITCHEN PLANNING GUIDE
Our outdoor kitchen design team has compiled this handy guide chock-full of great advice and recommendations. It includes tips on getting started, planning your kitchen layout, selecting products and some key mistakes to avoid.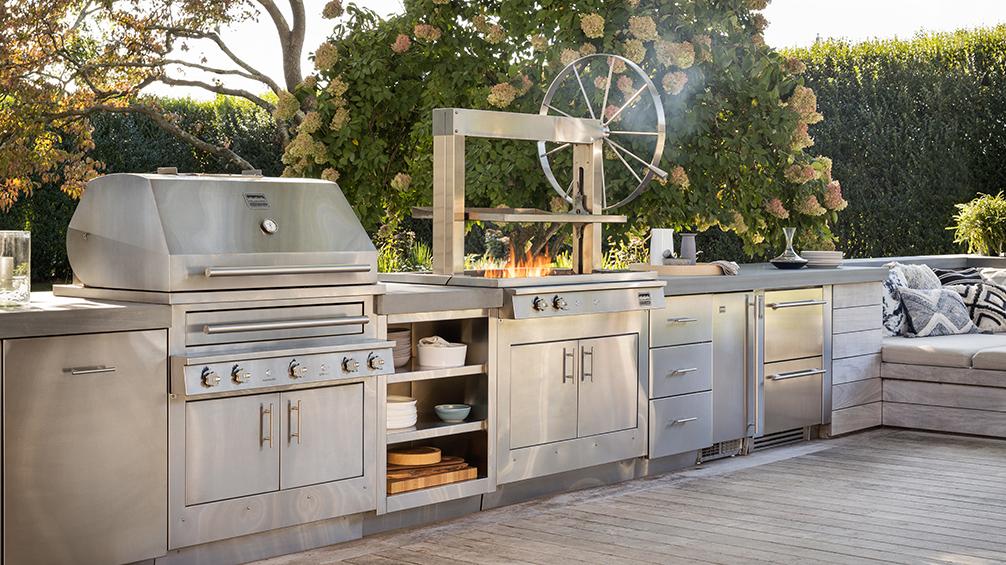 EXPERT DESIGN SUPPORT AT EVERY STAGE
Our team of expert designers is here to help create your dream outdoor kitchen. From space planning to product selection to installation support and everything in between, we can help. Leverage our experience to create an outdoor space to enjoy for many years to come. Let's get started today.