Lakeview, Chicago, Illinois
A Sonoma-inspired design brings vacation home amenities to a forever home's expanded backyard.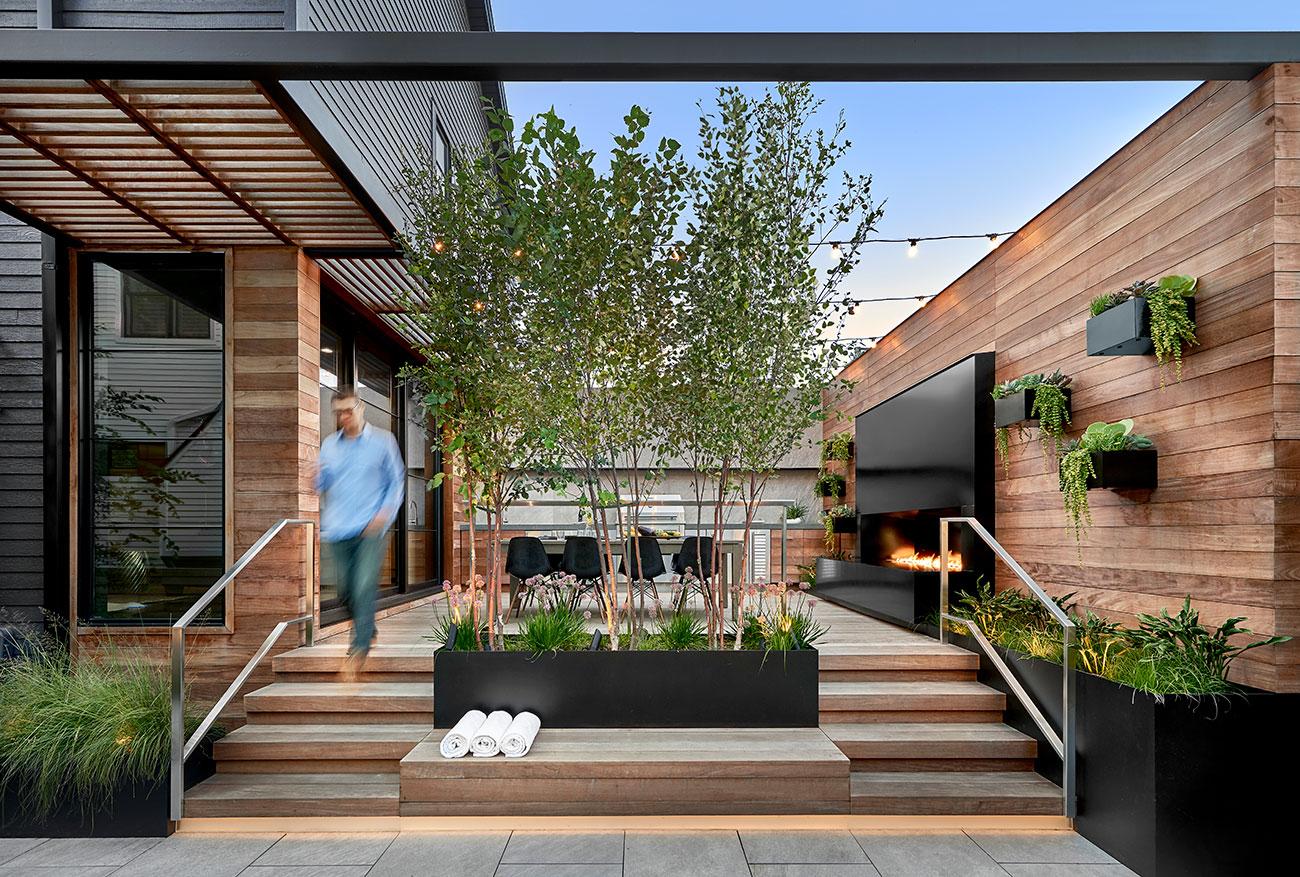 Lakeview, Chicago, Illinois
By Kevin Toukoumidis
A beautiful city home in the Lakeview neighborhood of Chicago now features an outdoor space inspired by open-air living in California wine country, where the homeowners have roots. dSPACE Studio's architects, Kevin Toukoumidis and Bob McFadden, worked with their clients to create a backyard that not only works well as a primary home for weeknight dinners and afternoons in the yard but also has a vacation-like feel for Chicago summers and entertaining.
To accommodate the homeowners' desires, the architects reconfigured the outdoor space into four zones, each defined by a different elevation: a spa terrace with pool, TV lounge, side yard and kitchen and dining area. "Gentle transitions between the multilevel zones create a gradual slope from the first floor of the house down to the street-level side yard," Bob explains. Another important wish list item was a seamless indoor/outdoor experience. To achieve this, the team installed sliding glass pocket doors along the entire back of the house leading directly to the outdoor kitchen, creating a single large space that's ideal for hosting big family gatherings.
In search of a product suite that could support cooking for large parties as well as informal family meals, the homeowners and their design team visited Kalamazoo's Chicago showroom to touch, see and cook on the products - and ultimately identify the exact models that would suit the family's needs. "Quality was the number one priority," Kevin says. "They wanted well-designed products that lived up to their expectations. The variety of products and our ability to experience them in person made Kalamazoo the first choice for this one-of-a-kind custom outdoor space."
The K750HB Hybrid Fire Grill was selected for its powerful gas grilling and flexibility for large- or small-scale cooking. A built-in Smoker Cabinet was added for its exceptional American BBQ capabilities, a favorite cooking style for this family. The addition of a beverage center, icemaker, sink, and weather-tight Signature Series storage cabinets make the outdoor kitchen completely independent from the indoor kitchen while creating a sleek, cohesive look across the entire space. "The stainless steel cabinetry and appliances really complement the design - which includes a warm palette of ipe wood, black steel and porcelain tile that resembles stone," Kevin says.
"We wanted great design and products that will last - and we found them with Kalamazoo," Kevin says. The collaboration between dSPACE Studio, the homeowners and our Kalamazoo team resulted in a truly customized home that the family can enjoy together for years to come.