Hanalei, Hawaii
Situated on a picturesque seaside estate, this outdoor kitchen was designed to be highly functional and self-contained.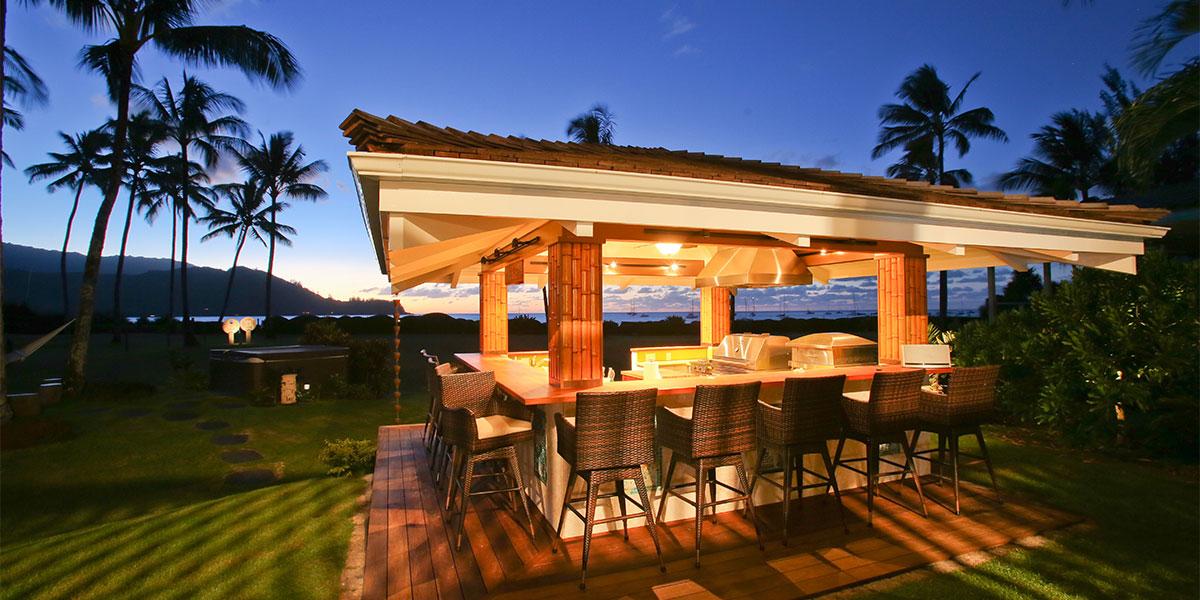 The owner of this impressive outdoor kitchen in Hanalei, Hawaii, also doubled as the designer. Situated on a picturesque seaside lot, in front of the main residence, the outdoor kitchen was designed to be highly functional and fully self-contained.
It includes a Kalamazoo Hybrid Fire Built-In Grill which offers power, convenience and versatility, as it can cook with any combination of gas, wood and charcoal. The stainless steel weather-tight cabinetry has a seamless rain gutter that surrounds every door and drawer opening, to keep the elements out. The innovative weather-tight technology is ideal for saltwater climates such as this one, because cabinets can be hosed down directly without water seeping in and destroying the contents. Powerful outdoor refrigeration was incorporated so that the homeowner can store groceries without the worry of spoilage when external temperatures soar. An outdoor pizza oven sits neatly on the countertop, and can heat to 800 degrees in just 45 minutes.
The homeowner designed a gourmet outdoor kitchen that rivals the functionality of some high end indoor kitchens. The result was a fully independent space that is usable year around, and is perfect for entertaining, and enjoying the outdoors with family and friends.