Bethesda, Maryland
Entirely independent of the indoor kitchen, this outdoor kitchen features everything a cook could need.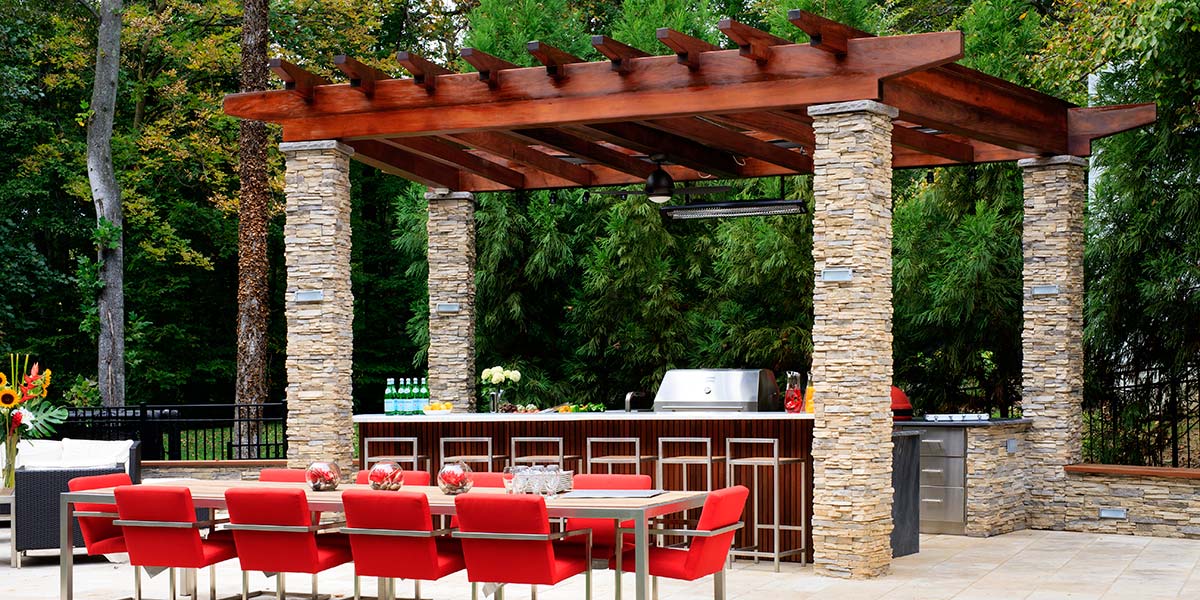 Surrounded by woods, a ravine, tennis and basketball courts, and an infinity pool, the outdoor kitchen still manages to be the focus of this Bethesda, MD backyard. The homeowners take outdoor cooking very seriously and wanted to be sure they had a kitchen that could keep up with all the cooking and entertaining they do. With a Kalamazoo K750HB Hybrid Fire Grill, a two-burner cooktop and a Big Green Egg, this kitchen is just as capable of cooking for the immediate family as it is when it's a full house. Which, with six barstools and a dining table that seats 10, is no small feat. The Kalamazoo outdoor warming cabinet, ice maker, and keg tapper certainly help with the bigger crowds this beautiful kitchen draws.
For this project, it was essential that the kitchen be completely independent of the kitchen inside. In fact, the homeowner was so adamant that it be independent, that the outdoor kitchen has its own set of flatware, linens, dinnerware, pots and pans. All of this is kept clean, dry, and ready for the next dinner party thanks to a full array of stainless steel weather-tight cabinetry. Food and drinks can be stored at the perfect temperature in a combination of outdoor freezers and refrigerators. And when it's time to clean up, the Kalamazoo outdoor dishwasher and deep sink make quick work of things.

Some other stand-out features of the kitchen include a white onyx bar that, once the sun goes down, is lit from within. An ipe pergola with a retractable roof is both visually appealing and highly functional, and fans and heaters over the grill and bar ensure that guests are comfortable year round, despite the climate. Full granite on all other surfaces, and a limestone floor round out the luxurious look and feel of this outdoor kitchen.
GET STARTED WITH OUR OUTDOOR KITCHEN PLANNING GUIDE
Our outdoor kitchen design team has compiled this handy guide chock-full of great advice and recommendations. It includes tips on getting started, planning your kitchen layout, selecting products and some key mistakes to avoid.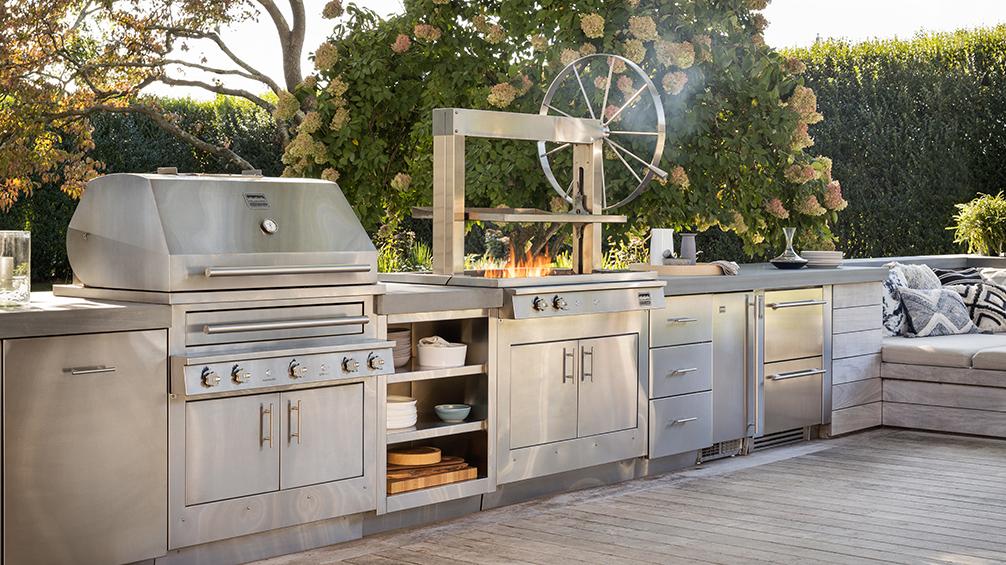 EXPERT DESIGN SUPPORT AT EVERY STAGE
Our team of expert designers is here to help create your dream outdoor kitchen. From space planning to product selection to installation support and everything in between, we can help. Leverage our experience to create an outdoor space to enjoy for many years to come. Let's get started today.