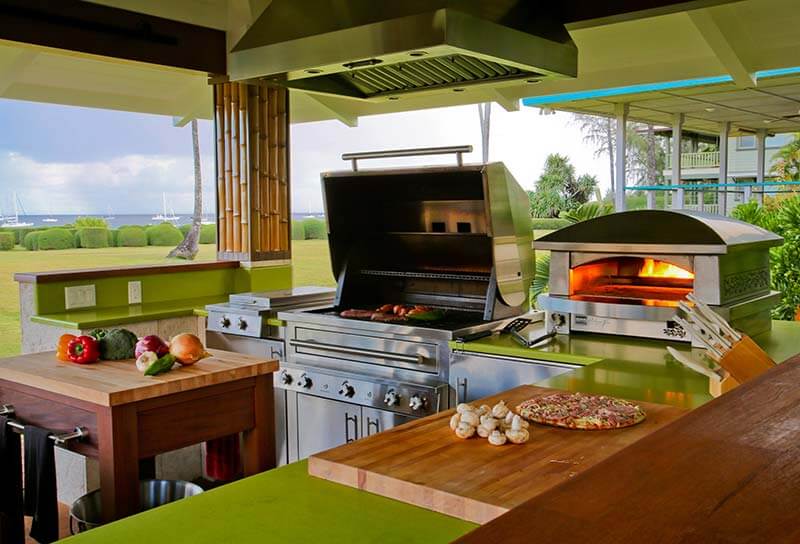 April 30, 2014
Ocean Home magazine
The popularity of outdoor kitchens is on the rise, and with this trend comes a host of increasingly sophisticated outdoor kitchen products. Kalamazoo is at the forefront of this movement, recently being named an industry leader and expert by Ocean Home magazine. Find out how outdoor kitchens have evolved to rival high-end indoor kitchens.
---
Luxury Outdoor Kitchens
"This (Kalamazoo) outstanding company is a market leader because it builds outdoor kitchen equipment exclusively. The architect of the revolutionary Hybrid Fire Grill, the first of its kind to offer outdoor cooks the ability to grill with gas, charcoal and wood – all at the same time – Kalamazoo adheres to the highest quality craftsmanship.
With a heritage of innovation and an extensive product line featuring cutting-edge grills, weather-tight cabinetry, refrigeration, a unique pizza oven, outdoor dishwasher, and a custom design program, Kalamazoo knows kitchens inside and out.
New for 2014 is the redesigned Artisan Fire Pizza Oven, an outdoor pizza oven that heats to more than 800 degrees and bakes homemade pizzas in less than three minutes. Powered by natural gas or liquid propane, the updated oven offers more power control (and a stylish new look) to cook pizzas, bake breads, and roast vegetables, meat and fish."