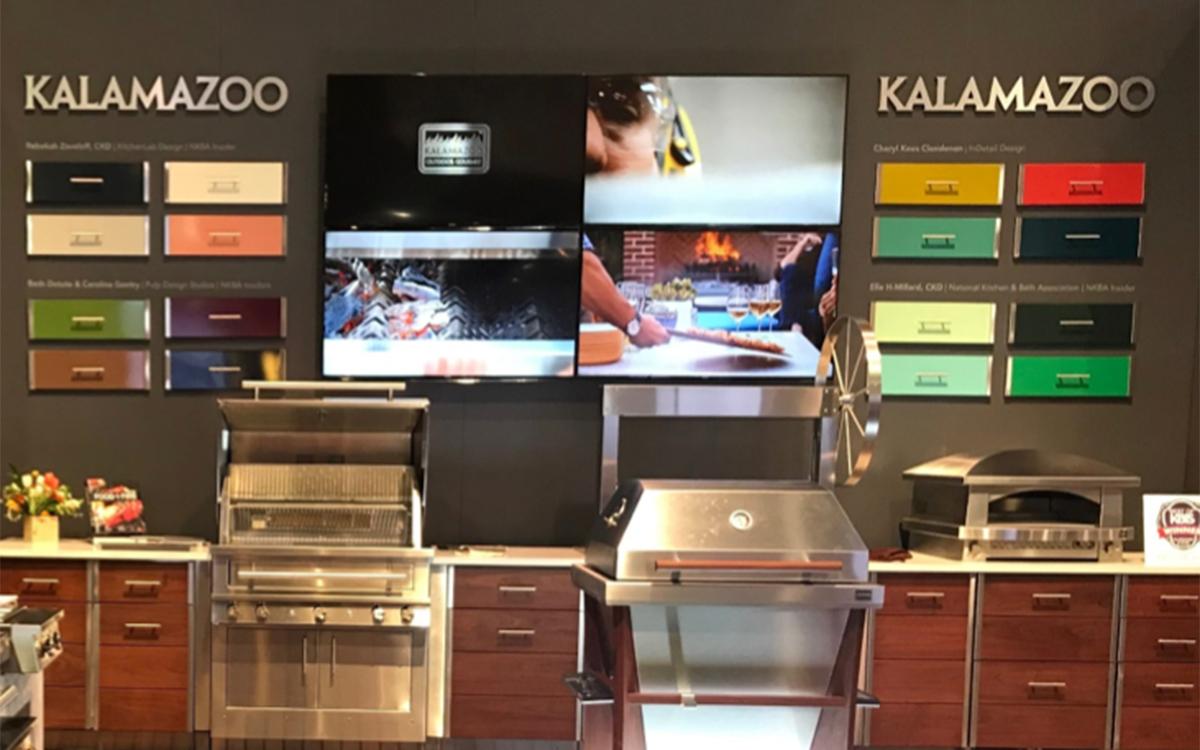 The reign of the all-white or stainless kitchen is officially over, replaced by a rainbow of bold colors. Forbes' Jamie Gold notes that this beautiful new trend was front and center at several design shows in early 2019, including at the Kitchen & Bath Industry Show, where Kalamazoo Outdoor Gourmet unveiled new color options for its Arcadia Series outdoor cabinetry.
Color is key to creating indoor and outdoor kitchens that are more layered, personal, and memorable. At KBIS, Kalamazoo partnered with award-winning designers to introduce new, curated color palettes for the Arcadia Series. The palettes were designed to inspire homeowners who are looking for a way to use color to make a personal statement in their outdoor living spaces. "Judging by designer response on social media and at the show, the colorful new releases are welcome additions," says Gold.
The Arcadia Series offers not only a wide range of color options, but also more possibilities for custom sizes. This level of personalization did not go unnoticed amongst the show attendees; Kalamazoo was honored to accept the Best of KBIS award for its Arcadia Series cabinetry.
---
White and grey have been extremely popular for kitchens and baths in recent years, but color really surged at this year's Design & Construction Week in Las Vegas. The combined International Builders Show and Kitchen & Bath Industry Show event was vibrant with emeralds, plums, cobalts and colorful patterns.
Cosentino, known mostly in the U.S. consumer market for its Dekton and Silestone countertops, showcased a new glossy green that looked more like polished glass than ceramic or quartz. True, a refrigeration manufacturer with commercial and residential divisions, showed off its newest color for the home, Emerald, which can be paired with an array of six hardware finishes. (Brass and matte gold were among the most popular metals at the show this year.) Kalamazoo Outdoor Gourmet showed off its colorful outdoor Arcadia kitchen cabinets, for those bored with stainless steel, masonry or wood. The company brought in a group of designers to choose color palettes to inspire the show crowd.
Dacor and Victoria + Albert offered clients the opportunity to select their own exterior colors on their appliances and tubs, respectively. BlueStar, known as a premium cooking appliance manufacturer, went a step further in customization: The company can take virtually any image and print it on a range, hood or refrigerator. It was shown off at DCW on a prototype Nova Series pro style range with a playful floral stripe from the aptly-named Madcap Cottage design firm.
Any pattern can be printed on the front of this pro style gas range from BlueStar.
BLUESTAR
Smeg, popular for its quirky, retro appliance styles, has also played successfully with pattern, introducing a boldly-colored Dolce & Gabbana appliance suite at past DCW shows that went from custom (as a test) to mass-produced on its large appliances, and now available on countertop appliances, including toaster, juicer, stand mixer, blender, coffee maker and kettle.
Judging by designer response on social media and at the show, the colorful new releases are welcome additions. The Arcadia series from Kalamazoo even won a Best of KBIS award. A burst of color allows you to personalize a room, providing that the homeowner is comfortable with a non-neutral in a major feature. Countertops, appliances and bathtubs are not easy or inexpensive to change later. Design trend surveys show that homeowners do want personal touches in their space, and color can help them achieve that. After all, if every kitchen and bath has grey floors, white shaker doors, marble look counters and bar handles, it's hard to put your stamp on a space.
Navy blue has been easing its way onto the design scene in the last year or two as a substitute for black on counters and cabinetry, but the new hues shown at DCW this year were more fun and festive.
For those clients who want color, but on a smaller scale, companies like Blanco introducing a suite of changeable faucet wraps and accessories gives buyers a chance to update their look more easily. Kitchen faucets are more easily changed after a remodel than kitchen sinks or shower faucets. Or you can add a pop of color and pattern with textiles and countertop elements. There's a color immersion opportunity for everyone at whatever level you seek.