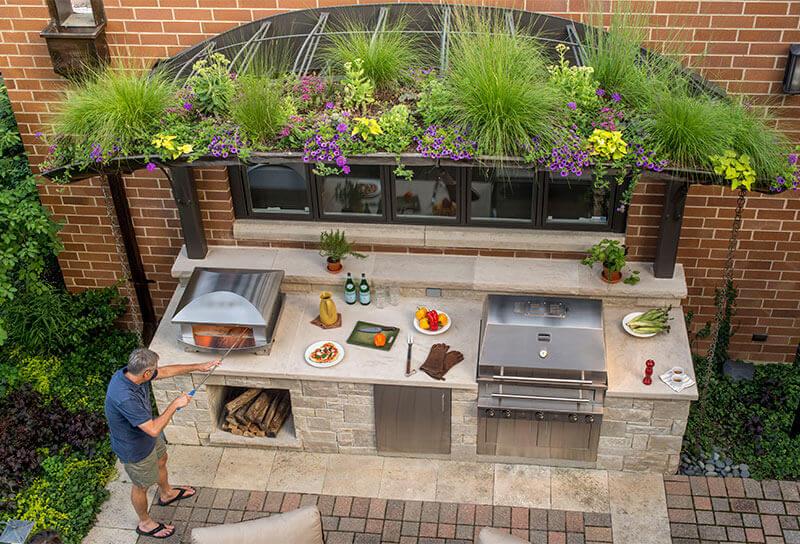 May 14, 2013
Crain's Chicago Business
The Great Recession continues to coax people into staying home, forgoing an expensive night out for something lasting instead. Kalamazoo Outdoor Gourmet continues to grow despite the sluggish economic climate, because they provide ongoing value to people choosing to invest in their home lifestyles. Kalamazoo also had the pleasure of cooking for Crain's Chicago. Click here to watch our Hybrid Fire Grill in action and read the full article. Photo by: Kendall Karmanian.
The $29,000 Grill: For More Than Just Hot Dogs
This grill is not for chumps.
Tipping the scales at 440 pounds, boasting a capacity of 109,000 BTUs and carrying a $13,495 price tag, Kalamazoo Outdoor Gourmet LLC's grill is the Maserati of grills. If you've got the space and the means, and you want that kind of firepower, this grill is just the beginning. To round out a fully equipped outdoor kitchen, Kalamazoo offers more than 70 components, such as a pizza oven, wine chiller, refrigerator and keg tapper. Of course you want them. Your tab: $28,987, plus tax and installation.
A lot of folks would cringe at spending that much even if they had the cash. But the Loop-based company, which manufactures the luxury gas grills and accessories 150 miles away in its namesake town, says it has increased sales by 20 to 40 percent annually over the past five years. Grill envy is one explanation. But the bigger reason more people—including celebrity chefs Rick Bayless and Michael Chiarello—are shelling out so many simoleons for these handcrafted hunks of stainless steel and brass is the same one boosting much of the high-end home-entertainment sector: The Great Recession and a sluggish economy continue to coax people into staying home, forgoing an expensive and ephemeral night out for something lasting instead.
"Kalamazoo has created quite a niche," says Leslie Wheeler, spokeswoman for the Hearth, Patio and Barbecue Association in Arlington, Va. "Homeowners are not just flipping burgers anymore; they are cooking the whole meal outside."
The competition, pardon the pun, is heating up. The Summit series from Weber-Stephen Products LLC of Palatine tops out with a unit that comes with six burners, including one for smoking and another for rotisserie, and an infrared searing station ($2,699). Viking Range, a subsidiary of Elgin-based Middleby Corp., has a line with a halogen light for after-dark grilling and add-ons like warming drawers and infrared burners ($2,999 to $3,299).
Garry Eades, (pictured above) an information technology director at a Chicago law firm, installed his Kalamazoo grill and waterproof cabinet in September. "The grill became the center point for doing our outdoor kitchen," he says. After putting in long hours at the office, Mr. Eades and his wife, Debby, an attorney, prefer experimenting with recipes in the comfort of their North Side home. Just the night before, they had cedar plank salmon, which came out just right.
He attributes his success to Kalamazoo's galactic grill top—33 inches wide and 22 inches deep—which allows users to cook with indirect heat. (Kalamazoo also boasts the only hybrid grill capable of cooking with gas, charcoal and wood simultaneously.) While city living prohibits the couple from constructing a full outdoor kitchen, they have big plans for their new Colorado vacation home. They might pass on the $6,495 pizza oven, however. "You have to eat a lot of pizza," Mr. Eades says. "And we are pretty diet-conscious."
COME RAIN OR SHINE
Memorial Day marks the start of grilling season. For 80 percent of Kalamazoo customers, though, a grill is for all seasons. "When it snows, we shovel a path to the grill," Mr. Eades says. He doesn't have to bother with clearing away any accumulation on the grill itself. It can be cranked up to 1,200 degrees Fahrenheit, hot enough to melt lead, tin, zinc and almost aluminum.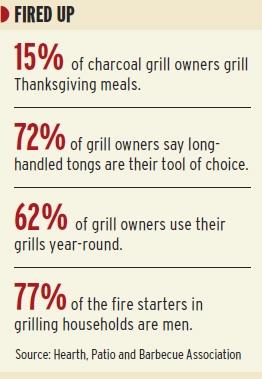 "We're finding that outdoor kitchens are getting bigger and more complex," Kalamazoo President Steven Adolph says. "People want to be able to do everything they can do inside, outside."
Do they ever, say high-end grill dealers like Dan "the Barbecue Man" Marguerite, co-owner of the Backyard Barbecue Store in Wilmette. "The outdoor kitchen, even in our climate, expands every year," he says.
A month ago, Kalamazoo, which is owned by Synetro Group LLC, a Chicago private-equity firm, added a second shift at its central Michigan plant to keep up with demand for the made-to-order grills, which take about two weeks to craft. If you're inclined to brand your dinner, Kalamazoo will laser-cut a grill surface with up to three customized letters (standard is $199; cursive is $399).
"From a male perspective, there are a few things you talk about: your cars and your grills," says William Peluchiwski, a senior managing director in Chicago at Los Angeles-based investment bank Houlihan Lokey Inc. His backyard kitchen includes two Kalamazoo grills, plus a refrigerator and cabinetry from the company. "If there was anywhere where I was going to support the industrial base in the country," he adds, "this was a good place to start."
And you don't need to stop there. Kalamazoo just expanded its line with an outdoor dishwasher. It's yours for $3,995.