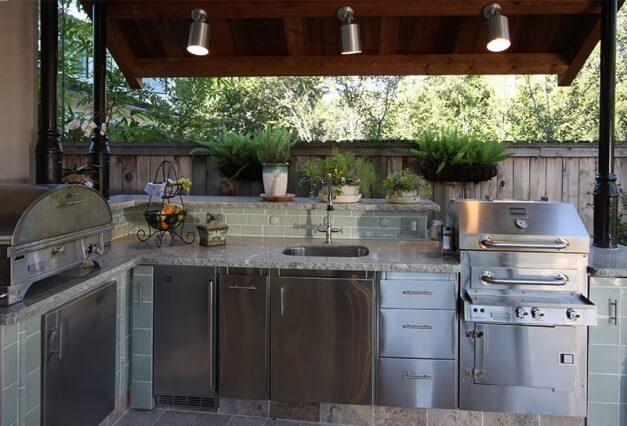 November 29, 2012
Casual Living
Cooking Up Business | BBQ Today
Bellaire, Texas is a quintessential American Dream city. Springing up after World War II just outside of Houston, it's where GI's went to buy their first homes, start their post-war lives and raise families. Like many places in the Unites States, Bellaire evolved with the times, a new definition of the American Dream took hold as one generation gave way to the hopes, aspirations and style of another.
Having shed its bucolic prairie past as a small town on the outskirts of a bustling city to become a popular enclave in the Houston metro area, it's where one family decided to put down roots and grow their version of the American Dream – a beautiful home that keeps them comfortable but also meets their entertaining needs and feeds the spiritual side of their lives.
For this homeowner, those parts of her family's lives are best served outdoors, in the back yard under the big Texas sky. She wanted to take her existing space, a loggia at the back of the house, and fit within it an outdoor kitchen, a dining area and a sukkah. The outdoor kitchen helps fulfill part of her family's spiritual life. One of the holidays they observe is Sukkot, an important feast day for the Jewish religion. It is an observance that requires the faithful to eat all of their meals in a special area of the house called the sukkah. One of the design professionals she consulted gave her the thumbs up and said everything would fit without a problem.
The homeowner had her doubts there was going to be enough room for her cigar-loving husband, her son, the family's two dogs and all of the people they like to entertain on a regular basis. She brought in Dena Brody for a second opinion.
Brody gave her two options: limit what you put into the outdoor kitchen and living space or extend it. In order to fit the homeowner's lifestyle, there was no choice but to enlarge the patio. The original plan plowed in too many things – lounge seating within the kitchen where there already wasn't enough room and certainly not enough counter space for the kitchen, she said.
And Brody is emphatic about the proper way to design an outdoor kitchen. "Your designer has to know how to do an outdoor kitchen. There is no margin for error. It has to work. It can't just be pretty," she said.
Fitting All This Stuff
"People have this concept that you can fit all this stuff into certain space," she said. "It's like going to a furniture showroom, finding a sofa and saying it'll fit without measuring it."
In order to meet her functional outdoor kitchen mantra, Brody had to overcome some obstacles. The kitchen had to fit within the loggia, she was locked into where to place it because there are three doors across the back of the house, she needed some very specific pieces to capitalize on the space allotted and make the kitchen functional, and it had to be comfortable in and withstand the elements.
Brody created a fairly typical L-shaped outdoor kitchen that included an ice maker, a sink, three pieces of cabinetry, a grill and a pizza oven. To put all the pieces in place she had to create a little magic.
"An L-shape is better to work on," Brody said. "It gives you an area to mount things." She said the original plan was to run the countertop straight across the far-right edge of the loggia. With the pizza oven placed on the far left end of the countertop it would have taken away too much working space on the counter top, so she had to add a "return" on the left side of the kitchen, running it along the back side of the house.
The return is a leg of the kitchen that gives more counter space to the main work areas around the sink. Brody viewed this as a critical change that made the kitchen a workable one. She said without counter space there is nowhere to place small kitchen appliances, cooking utensils, nor is there anywhere to prepare food to cook.
It also created bonus room. Under the pizza oven, a hollow space behind a cabinet door is used to hide garbage cans. Another way Brody captured more storage space was to take advantage of areas in the cabinet runs that could be considered dead zones. She had a craftsperson create pull-out storage areas to the left of the ice maker and to the grill.
Another trick she incorporated to gain space was to orient the sink to run perpendicular to the edge of the countertop. Doing this gave the homeowner the ability to place a large sink in a relatively compact space.
To make a cook's work easier when the sun goes down, Brody had task lighting installed in the ceiling. Each was strategically placed over the grill, the sink and a prep area
Ceiling fans, heaters and misting systems were also installed throughout the kitchen, eating and living areas to make outdoor entertaining comfortable when the elements don't cooperate.
All of this can be instructional. Outdoor kitchens are getting bigger and more sophisticated, and homeowner expectations are changing. What once was the provenance of landscape architects is now seeing a flood of new design immigrants. Interior designers. Kitchen and bath designers. Architects. They all want a piece of the business represented by outdoor kitchens.
Not Going Away Anytime Soon
Retailers have to keep up. It's not enough to only be familiar with outdoor kitchens. To capture the business of all design professionals, the casual furniture business professional has to know the ins and outs of the industry, to be able to speak the language, have a functional knowledge of outdoor kitchen design and knowledge of the appliances, technologies and creature comforts homeowners and designers will be asking for.
Dawn Whyte, a nationally recognized kitchen and bath designer and owner of Designs by Dawn in Petoskey, Mich., said kitchen designers bring a different viewpoint to the outdoor cooking space."The outdoor kitchen has become a more comprehensive space through the guidance of kitchen designers. It is no longer just a grill with minimal countertop space on either side," she said "All the function and features of an indoor kitchen can be brought outside."
Whyte added that kitchen designers are also focused on the aesthetics of the space and understand the necessity of making the outdoor kitchen blend with the design and style of the home's exterior, as well as the surrounding landscape."
The outdoor kitchens we are designing are being incorporated into homeowners' outdoor living spaces," said Don Sivesind, vice president of sales for Kalamazoo Outdoor Gourmet. "If you're holistically looking at the entire space, whether it is a pool or dining area, it may open up opportunities to sell additional furniture. You may go from selling pieces for a casual seating area to adding a full dining ensemble."
For those who think outdoor kitchens are a fad that will diminish over time, Jodi Bech, publisher of Garden Design magazine, has another point of view. "Outdoor kitchens are a trend that is not going away anytime soon. We are seeing manufacturers who just used to make furniture jump into the outdoor cooking/kitchen game. If a dealer isn't carrying outdoor kitchen/cooking goods they either should look into carrying those goods or form a strong partnership with a dealer who only carries those products," she said.
Visualizing The Dream
To capture the outdoor kitchen business," said Whyte. "Casual furniture retailers need to create an experience. People want to take the outdoor kitchen for a "test drive" just as they would with a car or other major purchase. Having a live (hooked up and working) outdoor kitchen that clients can be taken to is vital. Allowing clients to see how these spaces weather with exposure to the elements and how they actually function is a great sales tool."
Bech said a trend they are seeing is people loving to use these outdoor kitchens/ dining areas just like they would inside. "They are using glass wine glasses and their nice flatware. They are putting lovely outdoor rugs under their outdoor dining table," she said.
Since this is how people are living outdoors, Bech recommends "that dealers help the consumer visualize that dream and really dress up a dining table with plate settings that would normally be used inside andshowcase outdoor rugs and lighting under and over that dining table."
She added, "By showing lighting and rugs, the dealer will not only be showcasing 2 of the biggest emerging trends we're seeing right now, they'll also be increasing their bottom line because they are showing off a complete picture, helping [the homeowner ]visualize their new outdoor living space. If consumers don't know these options are out there, they are never going to buy them."
If you want to live in your outdoor kitchen like you do your indoor kitchen, you have to be able to stay there," said Sivesind. "Technology has advanced to where refrigeration can keep food safe outdoors and cabinetry moves rain and snow away from interiors so that linens, pots and pans, and dishes can be stored in them."
"The technology of outdoor kitchens will continue to evolve, just like other types of technology. More and more appliances and devices will become suitable for outdoor use. Homeowners can even buy outdoor televisions these days," said Whyte. "As people continue to push the envelope on what outdoor living is and really see the outdoor space as an extension of their home, manufactures will capitalize by introducing more and better outdoor products."
---
Learn more about outdoor kitchen design.
View the Kalamazoo outdoor kitchen gallery.
Check out sample outdoor kitchen plans and designs.