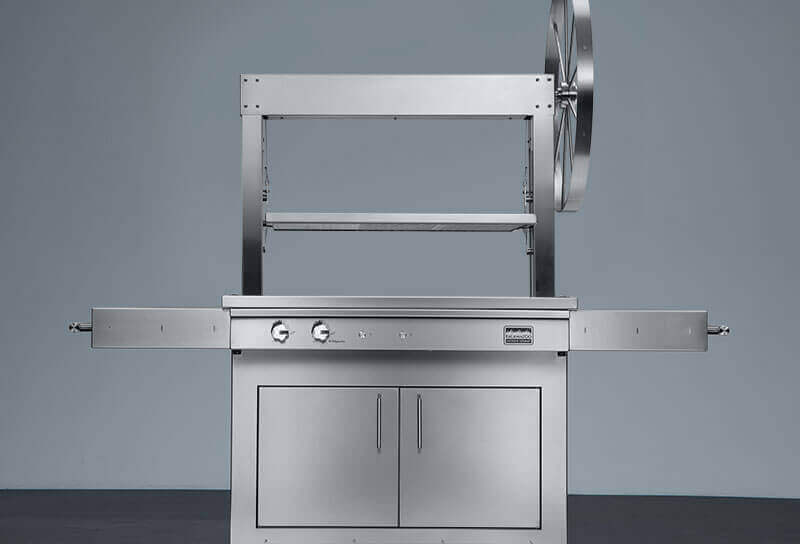 March 17, 2016
Kalamazoo Outdoor Gourmet
As Kalamazoo pioneered the art and science of outdoor living, our heritage is deeply rooted in innovation. And we're always looking for ways to make our products even better.
We're excited to announce two product advancements that improve form and function: we've updated our Gaucho Grill and extended our Artisan Fire Pizza Oven collection with a freestanding model.
With the redesigned Gaucho, the ratchet mechanism has been eliminated to allow for one-handed raising and lowering of the grill grate and motorized rotisserie spit. Meanwhile, the freestanding Artisan Fire Pizza Oven is a mobile solution that offers more flexibility for outdoor cooks.
Both products are currently available online through our website, Kalamazoo dealers or certified design professionals.
---
New advancements enhance outdoor cooking experience
Kalamazoo Outdoor Gourmet continues to advance the capabilities of outdoor kitchen equipment through a focus on improving form and function, which is seen with two newly redesigned products: the updated Gaucho Grill and freestanding Artisan Fire Pizza Oven.
Both offerings reflect the company's expertise in outdoor kitchen design and cooking. Like the full line of Kalamazoo products, these new items set the industry standard for design, performance and quality.
"Our heritage is deeply rooted in product innovation. We're always pursuing ways to make our products even better – and ultimately, enhance the outdoor cooking experience," said Russ Faulk, chief designer and head of product for Kalamazoo Outdoor Gourmet. "Power, versatility and convenience are hallmarks of Kalamazoo products – both products exude these qualities in their own way."