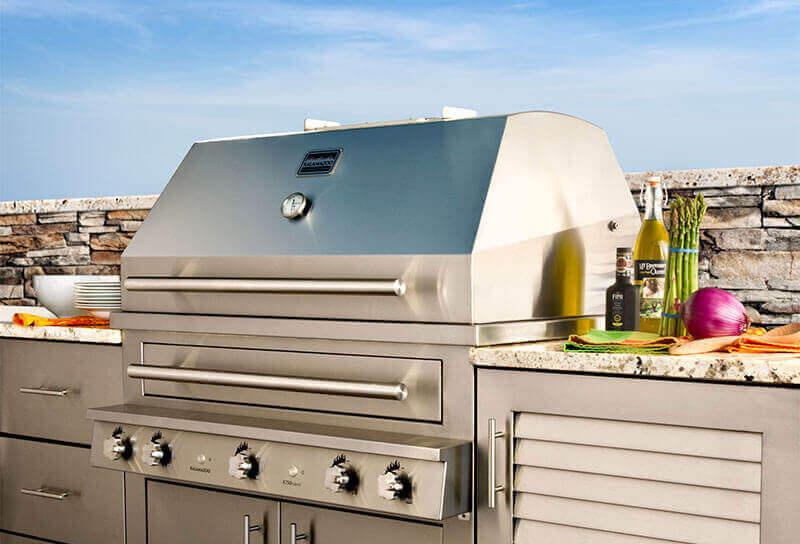 Kalamazoo Outdoor Gourmet Grills are updating their line of famous Hybrid Fire Grills to include more unique features and a sleeker, more modern look. Whether you need to replace the grill at your fall/winter home or are getting ready for football season and need a bigger, better grill for cookouts, the new line is sure to please even the most particular of home griller.

Kalamazoo Outdoor Gourmet's Hybrid Fire Grills are the only grills in the industry that let cooks choose their fuel, as each grill is designed to use wood, charcoal and gas. "The introduction of these grills definitely raises the bar for the entire industry," said Pantelis A. "Pete" Georgiadis, president of Kalamazoo Outdoor Gourmet.

"The Hybrid Fire Grills are the most versatile grills in the market, allowing the cook to be creative and enjoy cooking with any imaginable technique. They will outperform and outlast any other product in the market." Hybrid Fire Grilling System drawers allow the user to choose whether they want to cook with the convenience of gas or the subtle nuances of wood or charcoal.

Four different sizes and more than 12 model variations ensure that each grill master has their preference; while lighting options make cooking at night more convenient than ever, especially as the days become shorter. The streamlined models blend in seamlessly with patios and outdoor kitchens already in place.

The newly streamlined grills will be available at the end of summer, just in time for fall cookouts, with prices starting at $9,995. For more information, visit KalamazooGourmet.com.