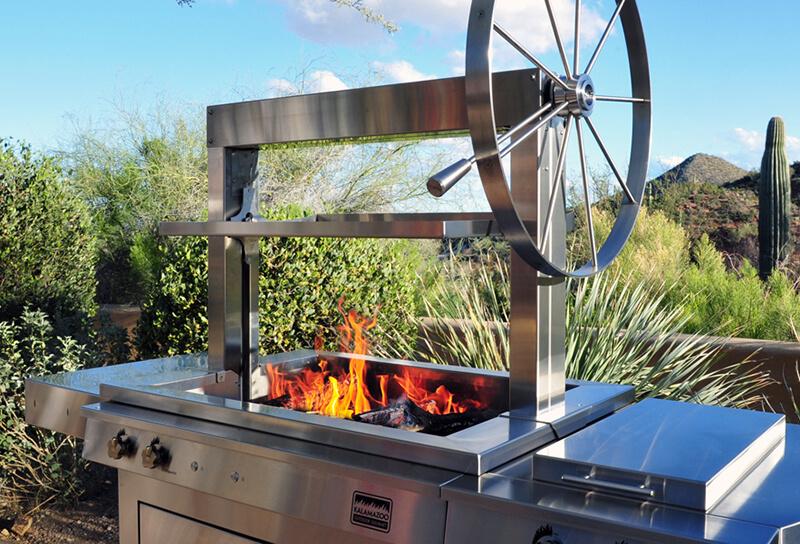 Just in time for grilling season, Forbes writer Larry Olmsted – with the help of barbecue expert, TV host and author Steven Raichlen – unveiled their top 10 grills and smokers. The Kalamazoo Hybrid Fire Grill and Gaucho Grill both made the list.
"If I could only have one grill on the high-end, it would be the Kalamazoo Hybrid Fire Grill," said Raichlen. He goes on to describe it as an "object of beauty" that's "built like a tank."
Meanwhile, Olmsted describes how Argentinian-style grills are picking up momentum among homeowners, including our Gaucho Grill. Raichlen describes cooking prime rib steaks on our Gaucho. Explaining his technique, he "spit-roasted a whole prime rib over a wood fire to about 100°F internal temperature, then cut it into three-inch thick steaks." He then used direct grilling to cook the steaks over a wood fire.
Over the years, Raichlen has had a lot of firsthand experience with our grills through his BBQ University and TV programs, including his latest, Steven Raichlen's Project Smoke, which is also the title of his latest book. Olmsted also enjoyed testing out our Hybrid Fire Grill, calling it "the Rolls Royce of Barbecue Grills." His full review is available on Forbes.
---
10 Best BBQ Grills & Smokers With Steven Raichlen: Ultimate Buyer's Guide
"If I could only have one grill on the high-end, it would be the Kalamazoo Hybrid Fire Grill. It burns wood, charcoal, and gas or any combination of the three. It's an object of beauty and it's built like a tank, with very unique laser-cut stainless steel grates. It's the only gas grill I know of that's actually effective for smoking. It puts out about a million BTUs. Military strength rotisserie. High style design. And more expensive than a lot of cars." It tops the scales at just over twenty grand, and I did a detailed write up of the super-grill here at Forbes. Raichlen forgot to mention that it is lovingly hand built in Michigan, the rotisserie also has two infra-red burners for a total of four fuel possibilities, and it can sear at an unbelievable 1,000°. It comes in both freestanding and built-in versions for year round outdoor kitchens.