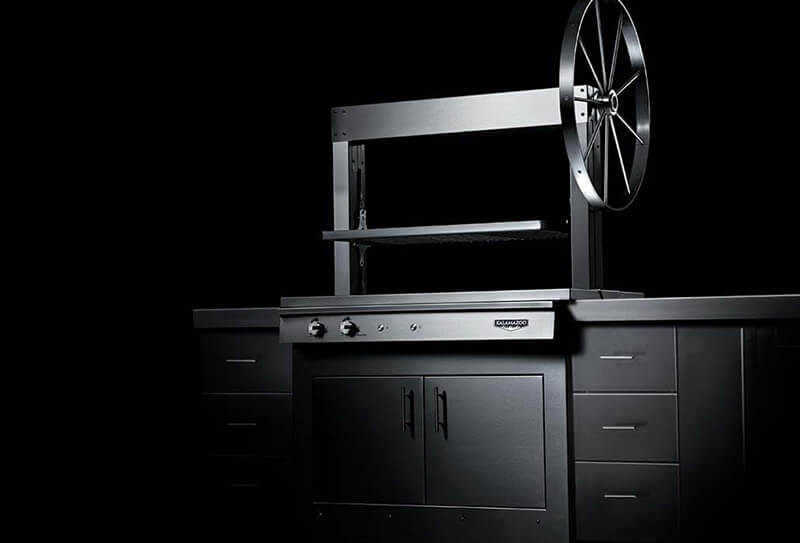 October 19, 2018
Kalamazoo Press Release
The Kalamazoo Gaucho Grill, an authentic Argentinian-Style Grill developed by Kalamazoo Outdoor Gourmet has been awarded an AD Great Design Award. The award was created by Architectural Digest magazine to recognize distinctive products that are best in class. Each winner is carefully selected with the publication's tastemakers, influencers, and design enthusiasts in mind.
"At Architectural Digest, we realize the design world is an exciting yet increasingly crowded space," said Amy Astley, Editor in Chief, Architectural Digest. "With our annual AD Great Design awards, we elevate just 100+ products throughout the year to present truly best-in-class design, offering a unique curation for our audience of tastemakers, influencers and design enthusiasts."
The Kalamazoo Gaucho Grill is one of only three grills to receive the award in 2018. The Gaucho Grill makes a design statement with its impressive 30-inch spoked wheel that regulates cooking temperature by raising or lowering the grill grate over a wood fire. The time-honored tradition of wood-fired grilling is upgraded with modern conveniences including a powerful gas starter system that gets the fire going quickly. Several other exclusive features make the Gaucho Grill the best in its class, including rachetless engineering so that only one hand is needed to raise and lower the grates, and a deep firebox design for maximum insulation and easy ash cleanup.
The Kalamazoo Gaucho Grill is available in freestanding or built-in options with or without an additional side burner. Each Kalamazoo Gaucho Grill is built-to-order and hand-assembled in Kalamazoo, Michigan and bears the signature of the craftspeople who built it.
View the Kalamazoo Gaucho Grill in the November issue of Architectural Digest on newsstands now and on architecturaldigest.com.