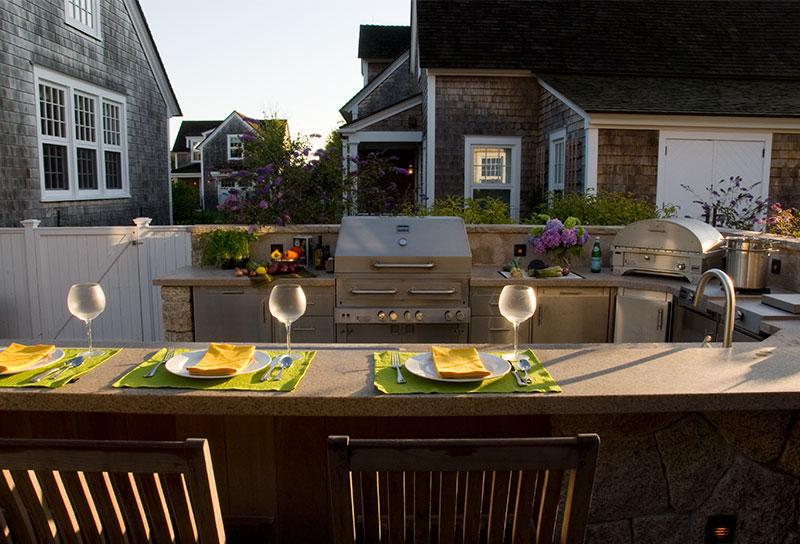 The days of wheeling the grill out of the garage for those few precious months of barbecue weather are long gone. Today's at-home chefs demand outdoor equipment that rivals the performance of their indoor appliances and Kalamazoo is meeting those demands at every turn with complete outdoor kitchens to satisfy every need.
A History of Precision Welding
The company was actually founded as Kalamazoo Sheet Metal in 1906. Over the years, it developed a reputation as an expert in sheet metal manufacturing, creating custom products for the pharmaceutical and dairy industries. Welders whose work meets the stringent standards for these industries are considered highly-skilled artisans.
In the 1990s, the company turned its attention and the skills of its craftsmen to the great outdoors and hasn't looked back. Today, Kalamazoo's sole focus is on building equipment for gourmet outdoor kitchens with an eye to changing the way at-home chefs cook and entertain outdoors.
Changing the Outdoor Cooking Scene
The big changes came in 1998 when Kalamazoo launched the Hybrid Grill. The new design gave outdoor chefs the ability to grill with gas, charcoal and wood -- all at the same time. Now, all those items that once had to be cooked inside and brought out could be cooked with ease in the same space and hosts could engage with guests throughout the entire cooking process.
More changes would come in the ensuing years as Kalamazoo introduced weather-tight cabinetry, the Outdoor Artisan Pizza Oven, "forced-air" under-counter outdoor kitchen refrigerators, 15-inch-wide refrigerated drawers for the outdoors, and, most recently, an outdoor dishwasher designed not only to withstand the elements, but to meet the hefty washing demands specific to outdoor cooking.
Outdoor Specifics
These are sturdy pieces of equipment designed not only to outsmart whatever Mother Nature throws their way, but to satisfy the most demanding outdoor gourmets.
On the Hybrid Grill for example, the custom cast stainless steel Dragon Burner generates 50,000 BTUs per burner, weighs in at 12 pounds and is warranteed for life; the grilling surfaces are custom cut from 1/4-inch slabs of stainless steel and weigh in at an average of 25 pounds; the surfaces also are equipped with patterns specified for meat, vegetables, fish, or hibachi-style cooking; to infuse meats and vegetables with new flavors, pear, apple, grape, pecan and cherry woods can be used in Kalamazoo's hybrid grilling drawers; and the K900HS, the company's flagship free-standing grrill, weighs in at more than 500 pounds, with a grilling surface of more than six square feet.
Dedication to the Outdoor Chef
Kalamazoo takes the creation of each individual outdoor kitchen very seriously, engaging directly with homeowners and their designers to create outdoor cooking and entertaining areas that suit each individual environment. The company employs an internal design team, experts in Kalamazoo's equipment and in building inspiring, appropriate outdoor kitchens in environments around the country -- from Manhattan to Manhattan Beach, Calif. and everywhere in between.
And once that kitchen is complete, one can continue to be inspired by Kalamazoo experts with the monthly newsletter produced by the company's Grillmaster. The newsletter focuses on recipes that have been cooked in and on Kalamazoo equipment and on bringing the outdoor cooking experience to a whole new level.